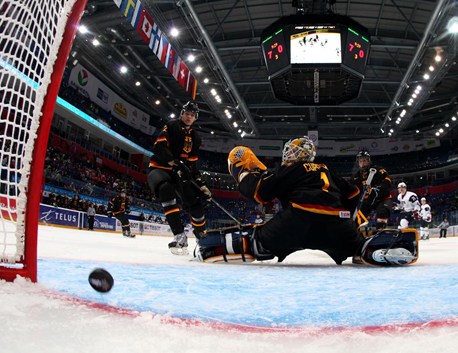 It's beginning to look a lot like winter in parts of the northern United States, which means only one thing.  NHL hockey finally?  Not so fast.  Important hockey has just begun, but across the pond, in Ufa Russia.  That's right, the World Junior Championship has arrived just in time for Christmas and New Years.  *Thank Santa here*
The US is playing in the same pool as Canada and Russia, so they definitely have their work cut out for them.  After two precompetition games last week which saw the US defeat Sweden 3-2 in overtime and Finland defeat the Americans 5-1, the Preliminary Round is now underway.
Game one was today at 9:00 AM ET and Sean Kuraly scored only 19 seconds into the game.  (To emphasize how quick the goal was I merged 2 sentences together)  Anyway…the US took on Team Germany.  The Americans dominated the faceoff circle early on, and dictated the flow of play.  After the puck was thrown on net 8 and a half minutes into the period from behind the German goaltender Marvin Cupper, it quickly came back to the point, and Jacob Trouba unleashed a quick low wrist-shot that beat Cupper.
Later in the period, Alex Galchenyuk was given way too much time and space as he took his time to pivot and skate down the middle to roof the puck with a lightning fast wrister (only 1:24 seconds after Trouba's goal).  This made it 3-0 halfway through the first period.
The 2nd period had only just be—Galchenyuk to Riley Barber, SCORES! 15 seconds into the 2nd period.  After a German defenseman slipped behind his own net, Alex Galchenyuk stole it, dished it to Barber, and Barber put it past Cupper.  Fast-forward 7 minutes to when Shayne Gostisbehere got a crisp fake slap shot pass from one point to the other and slapped it past Cupper on the powerplay with 13 and a half minutes left in the second period.  On a 2-on-0, and on a rebound from a Blake Pietila shot, Ryan Hartman slipped it past Marvin Cupper and the score was 6-0.  That score would stand after 2.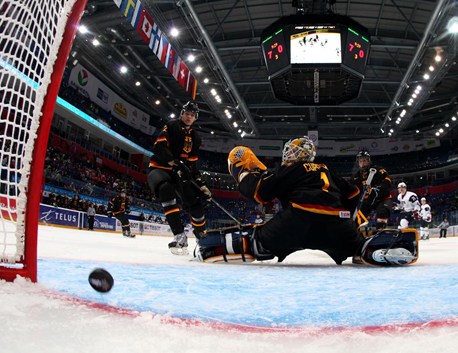 But the scoring was not over.  After killing off a lot of long penalties including a 2-man advantage early on, J.T. Miller stole the puck, split the defense, and went 5-hole to make it 7-0.  A few minutes later, Seth Jones made it 8-0 after he sniped a perfect wrist shot over Cupper's glove to solidify the final score of the game.
This game was as one-sided and lopsided as they come.  It was as if someone playing foosball grabbed their end of the table and tilted it so much that the ball would always be in the offensive zone.  That was the story of the game.  Team USA dominated territorially and play was always in Germany's defensive zone.  Marvin Cupper cannot be fully to blame for the German defensive lapse every couple minutes.  Giveaway after giveaway.  Germany played a much more physical game, but the US's finesse game won over big time.
John Gibson (1st and 2nd periods) and Jon Gillies (3rd period) teamed up for a 26 save shutout (7 saves for Gillies).  They did not see much action throughout the game, even on the two 2-man advantages that Team Germany had.  On the US's powerplays, the Americans demonstrated calm and collective puck control, and they spread out, using every square inch of ice.  The German penalty kill diamond formation could not stop the shots from the point and the screens.  Phil Housley should be really happy with his team's performance today.  Although this win was a decisive one, Team Germany didn't exactly pose as a big threat to any team in the tournament.
Look for the Russians to use their home-ice-advantage tomorrow morning, when they take on the US at 9:00 AM ET.  All coverage of Team USA's World Junior Championship play will continue to be covered by the NHL Network.
Follow me on Twitter @yungspork
Love Reading About Hockey?

Subscribe to keep up-to-date with the latest and most interesting hockey news!
| | |
| --- | --- |
| | We hate spam just as much as you |