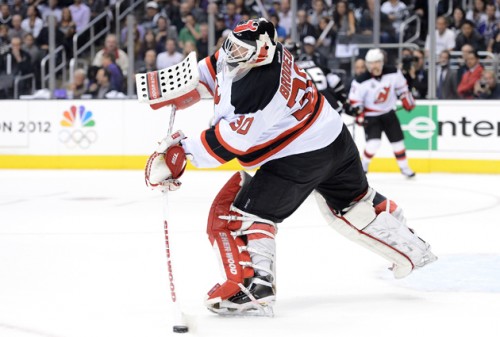 Who ever said the goalie can't contribute offensively in the game? So far to date, eleven goaltenders have scored a total of fourteen goals in an NHL game. It's a rare site with an opportunity window to happen typically at the end of a game given the right circumstances. However, recently it has occured a few times so what better excuse then to visit all the goals scored by those who's job is to normally make saves:
#1 – Billy Smith
When: November 28, 1979
Against: Colorado
He helped take the New York Islanders to four consecutive Stanley Cup Championships in the 1980s during their dynasty days and would also become the first goalie in NHL history to be officially credited with a goal although it was by accident.
#2- Ron Hextall
When: December 8, 1987
Against: Boston
Then eight years would pass until Philadelphia Flyers' Ron Hextall would became the first goalie to score by doing it on purpose.
#3 – Ron Hextall
When: April 11, 1989
Against: Washington (Playoffs)
Ron Hextall went on one-upping the ante as he would become the first to score twice and also become the first goalie to do it in the playoffs.
#4 – Chris Osgood
When: March 6, 1996
Against: Hartford
Nearly seven more years would pass until Chris Osgood of the Detroit Red Wings would put the puck into an open net late in a game against the Whalers.
#5 – Martin Brodeur
When: April 17, 1997
Against: Montreal (Playoffs)
A year later, Martin Brodeur would get in on the fun by scoring a goal while holding a two-goal lead against the Montreal Canadiens in the first game of the first round of the playoffs.
#6 – Damian Rhodes
When: January 2, 1999
Against: New Jersey
Damian Rhodes (American born) became the first non-Canadian goalie to score a goal after being credited by an own goal put in the New Jersey net by Lyle Odelein.
#7 – Martin Brodeur
When: February 15, 2000
Against: Philadelphia
Martin Brodeur would tie Ron Hextall on the list of career goals by a goalie during a game against the Flyers, ironically.
#8 – Jose Theodore
When: January 2, 2001
Against: New York
Jose Theodore would become the fourth NHL goalie to record a goal as the result of an actual shot on net.
#9 – Evgeni Nabakov
When: March 10, 2002
Against: Vancouver
Evgeni Nabokov (Kazakhstan-born Russian) became the first goalie born outside North America to score a goal in the NHL.
#10 – Mika Noronen
When: February 14, 2004
Against: Toronto
Mika Noronen got credit for an own goal netted by Robert Reichel of the Toronto Maple Leafs on Valentine's Day of 2004.
#11 – Chris Mason
When: April 15, 2006
Against: Phoenix
Mason got the credit when Phoenix's Geoff Sanderson put the puck in his own net on a delayed penalty midway through the 3rd period. Fun Fact: Chris Mason and Damian Rhodes are the only goalies to be credited with a goal both in the AHL and the NHL. (**Mason's goal is at the 1:30 mark of this video as there are no individual videos of it out there that I could find**)

#12 – Cam Ward
When: December 26, 2011
Against: New Jersey
Cam Ward became the 10th goalie in NHL history to score a goal when Ilya Kovalchuk would end up putting the puck in his own net late in a one-goal game.
#13 – Martin Brodeur
When: March 21, 2013
Against: Carolina
Martin Brodeur would become the all-time goal leader among NHL goalies adding yet another record to his Hall of Fame resume.
#14 – Mike Smith
When: October 19, 2013
Against: Detroit
Smith became the most recent addition to score a goal as a netminder as he would just barely beat the clock with his shot on net.