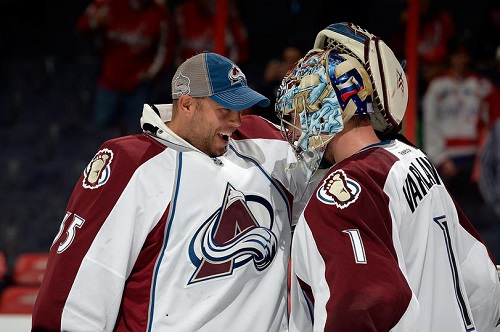 The Colorado Avalanche are currently carrying three goalies on their roster and each one registered a loss in the last three games. But their similar stories stop there.
JS Giguere is mulling retirement at 36 years old. He has a Stanley Cup ring and a Conn Smythe Trophy to his name with the Anaheim Ducks. He has climbed the mountain of NHL teams and came away with the ultimate prizes. Nothing left to prove he has been the humble backup in Colorado for the last two seasons.
Coach Patrick Roy did him a solid by giving him the start last Tuesday in Montreal, his hometown, only to fall victim to the Canadiens 6-3. He had 30 saves in the game on 35 shots, three of those goals belonged to Thomas Vanek, his first three goals since being traded from the New York Islanders. Giguere (10-6-0) looked out of sorts in his last start, at one time being drawn completely out of position to allow an easy wide open goal for Vanek.
He seems ready to hang up his skates. In his six losses he has given up four or more goals four times (4, 7, 5 & 5). He has been a solid backup for starter Semyon Varlamov, but with the announcement that he is planning on retiring it is time to hand over the job to someone else.
That someone else is going to be Reto Berra, the newly acquired tender from the Calgary Flames at the trade deadline. Unfortunately he didn't fare well in his first start the night after Giguere's as he was the losing goalie in a 5-4 overtime loss to the Winnipeg Jets.
Berra believes he can be better. "It was not my best game. For sure I can play better," Berra told the
Denver Post after Friday morning's skate. Coach Roy would seem to believe he is right because he and Joe Sakic wouldn't have traded their second round draft pick for him. Roy's opinion on goalies is one I would lean on.
Then there is Varlamov, one of the best goalies in the NHL this season at 34-14-5. The obvious star of much of the Avs success this season, his night in net Friday only added another loss to the Avs now three game losing streak (1-3-1 in their last five). The Boston Bruins, winners of 11 in a row now, secured their playoff spot in Denver after a 2-0 win against Varlamov and Colorado. The Avs were the only team in the NHL to not be shutout all season at that point. Varlamov is the clear number one as he only gave up two goals on 30 shots. Patrice Bergeron scored his own rebound in the first period and Carl Soderberg wristed one in traffic for the second goal during the second period of play.
Varlamov, even in a loss, looked like the steadfast goalie he has been all season, facing last season's Eastern Conference champs and Stanley Cup losers. The Avs didn't lose due to lack of effort, outshooting the Bruins through the first two periods. They just couldn't get anything past Chad Johnson, Tuuka Rask's backup.
With Varlamov in net, the Avs are set with their starter. Their backup situation is yet to be determined with Giguere heading out the door and Berra being untested. The new backup has a 9-17-3 record between the Flames and Avs this season, so hopefully he can turn that around next season by being on a better hockey club.