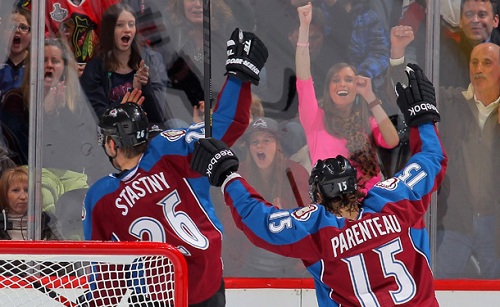 Plodding through the few remaining games of the season, I'd like to be more positive about the 2013 Colorado Avalanche season by going over my "Best of" the shortened campaign. It wasn't a pretty season and it has been a downright disappointing product to watch, but the love for hockey can conquer all. Right?
Most Improved Player: Matt Duchene
Duchene was plagued with scoring droughts and injury during the 2011-12 season. The young center put up 57 and 66 points in his first two seasons, and then the next season he wasn't himself. Only scoring 28 last season, Duchene has rebounded with 39 this year in 43 games (58 played the year before). This season, Duchene has been a key player and pulled his weight for sure. Duchene is back!
Check out this awesome end-to-end goal by Duchene against Nashville
Moment of the Season: Snapping the Chicago Blackhawks 45-point streak
It was great to see Peter Forsberg have his jersey number retired after all he gave to this club and the rings he helped make possible, but luckily there was one magical game in March where the Avalanche played like a real hockey team. The Chicago Blackhawks made their way to Denver after beating Colorado two nights prior, bringing with them their 45-consecutive point streak. What happened after that was nothing short of a nightmare for Chicago as they watched the Avs smear their record by dealing them their first regulation loss of the season.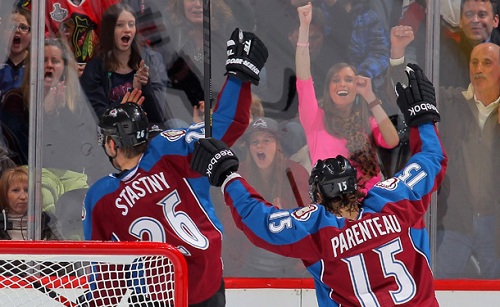 Best Signing: PA Parenteau
Here is a guy that jumped ship during the lockout and played his way to the top of the Avs stat table. Parenteau has been worth every dollar so far of his four-year/$16 million contract.
Team MVP: PA Parenteau
He makes the list twice because his play is that nice. Parenteau has racked up 41 points so far and has easily been the Avs best player, hands down. Duchene has been right there (39), but Parenteau has truly been the difference maker –for what it's been worth. I love having him on the team and hopefully he is made good use of in the future.
Honorable Mention: Duchene's Non-Call Offsides Goal
It still stands out in my mind because it looked so good, but there was that pesky blue line and luckily no ref called it. Yeah, it's one of those things where you hate if another team benefits from a non-call but what I liked best about it –besides the goal counting- were the funny memes that followed.
I'm glad the season is coming to a close because it has been a difficult team to watch and it kills me that this team has some key ingredients for a great team, but still struggle to win enough games to not be an utter embarrassment. Some pull their weight evenly and others are either part of the problem or trying not to be. I feel bad for the few that play hard and the ones who mail-in their effort need an adjustment.
I hope that the Avs score the #1 pick and pick up Seth Jones and I hope that there is a shakeup with management and the coaching staff. This franchise has gone stale and it's finally time for an organizational enema. There is chatter that Avalanche legend Joe Sakic may be handed the reigns as GM but I'll hold my breath for that. I'm not sure Sakic wants that responsibility. As I've written before I am praying that former DU hockey coach George Gwozdecky gets his next job with the Avalanche and brings a different philosophy and look to the Avs.
I can only hope. Either way there's always next season …