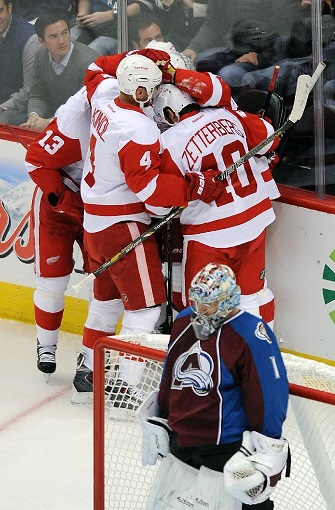 The win streak to open the Colorado Avalanche season wouldn't last forever, and it would only be apropos that their first loss would come against the Detroit Red Wings. Falling 2-4 to the Wings Thursday night, the Avs put up a tough fight but ultimately couldn't hold off their newly realigned former rivals.
I say former rivals because the rivalry between the Avs and Wings really only exists in the minds of the fans. Maybe that bitterness will return after the ejection of Cody McLeod when he blew up Nicklas Kronwall just over two minutes into the game. The hit earned McLeod a game misconduct and Kronwall a trip off the ice on the spine board. Kronwall was reported during the game to only have a concussion and a laceration.
It wasn't a dirty hit, but it looked bad at full speed. McLeod had zero time to pull up as Kronwall was beginning to turn back while chasing the puck to the board but ultimately lost his bucket as McLeod finished the hard hit.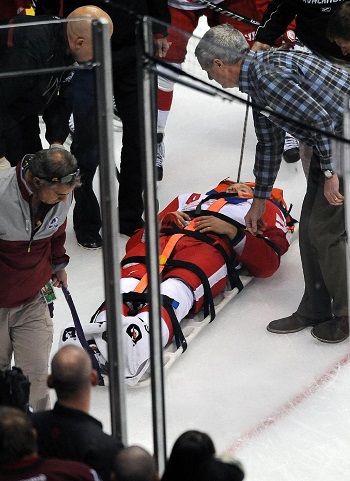 Opening up the score sheet, Detroit's Johan Franzen went top shelf in the first period off a well placed pass from Henrik Zetterberg in front of Semyon Varlamov. The Wings then made it 2-0 with a timely rebound cleanup from the magic man Pavel Datsyuk.
The Avs didn't take it lying down, in the second with a goal from Erik Johnson, his first of the season, with an assist from Varlamov as Johnson went cross country to net the puck on Jonas Gustavsson. Gabriel Landeskog put his first puck in to tie the game up at 2-2. The Avs skated fast and peppered the net with shots at different points of the game, but ultimately Detroit's defense stayed in the way and Gustavsson showed why he is now 3-0.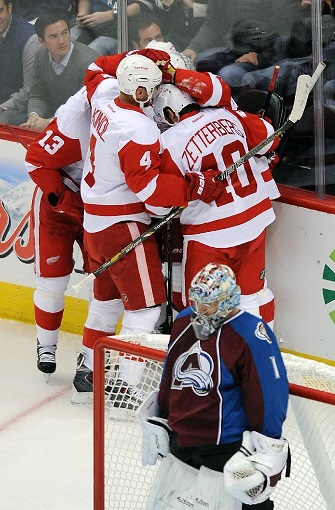 The third period was a "coin toss" to who would win, according to Matt Duchene after the game. That was the truth, the Avs and Wings dueled for a bit before Franzen and Datsyuk scored their second goals of the night. 4-2, the Avs kept pushing latre in the third but Gustavsson shut them down and Colorado had to swallow their first loss of the season.
Overall it was a good game and while the Avs got off to a slow start they stayed in the game and didn't give up like they normally would have last season. The game was physical, fast and well played despite the hit early on Kronwall. That first loss wasn't going to come from Dallas on Tuesday, but Detroit rolled into Denver looking to snap the streak, and they did.