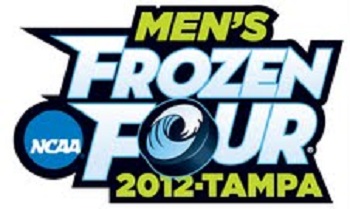 Tonight live in Tampa Bay, the Frozen Four semi-finals will take place. First up will be Ferris St VS Union at 4:30 PM (EST) followed by Boston College Vs Minnesota at 8PM (EST).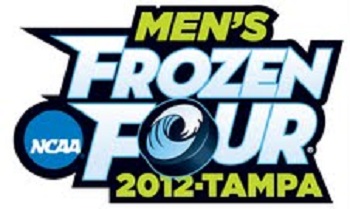 Ferris St VS Union
As everyone who has been following college hockey knows, both these teams are in there first ever appearances in the Frozen Four. All year these teams have been ranked nationally with Ferris St, being No.1 for many weeks. Union had no trouble advancing through their regional with a 3-1 win over Michigan St, and a dominating win over UMASS Lowell 4-2. Ferris State defeated Denver 2-1 in the Midwest semis and then beat Cornell 2-1 also. Both teams have strong goaltending and great defense. Union and Ferris St. are physical teams that wear you down and have some of the best goaltending in the country. Jeremy Welsh of Union was the most outstanding player in the east regional while G Taylor Nelson was the outstanding player for the Midwest.
These teams have the strengths that are vital for playoff hockey, goaltending, defense, and special teams. Union has had one of the best goalies in the country this season. Troy Grosenick was second in Goals-against-average (1.64), Save-percentage (.936), and winning percentage(.783), also he had 5 shutouts (4th nationally). He is the first Union player to ever be in the final 10 of the Hobey Baker Award. Taylor Nelson of Ferris St, has a win% of .741, 2.10 GAA and a .923 save %. Both goaltenders have the ability to shut down the opponent and steal a national championship.
Ferris St has a strong penalty kill at 85.8% (6th in the country) and a power play at 19.2%. Union has a strong power play scoring 24.3% of the time which is 4th best nationally and a strong penalty kill of 84.8% (10th). Special teams could very well decide this game as Union ranks top in the country in defense, 1.80 Goals allowed a game and Ferris St ranks 5th with 2.17 Goals allowed a game.
Union scores a lot of goals scoring 3.55 a game ranking 4th in team offense for the season. Ferris state is behind Union at 2.93 goals scored a game. Therefore, Goaltending in this matchup along with special teams will most likely be the deciding factor in this game. Both teams shut down there opponents and the goaltenders are playing great hockey. This game can go either way but Ferris St needs to stay out of the penalty box. Expect a low scoring physical battle that could end up going into overtime, (I sure hope so! ). While everyone believes these teams don't have a change in the title game, I think either can win the whole title. These teams are deserving of the national stage.
Prediction: Union Defeats Ferris St 3-2 (0T).
Minnesota VS Boston College
Two of the most prestigious programs in the country square off for a place in the title game. Unlike the new comers in this year's frozen four, these programs have a combined 37 appearences in the frozen four and 9 national titles. The favorite Boston College is on a 17 game win streak and shut out both teams on their journey to the frozen four defeating Air Force 2-0 and dominating defending national champion Minnesota Duluth by a score of 4-0. Minnesota defeated Boston University 7-3 and then North Dakota in the West Regional Final 5-2. Goaltender for BC, Parker Milner, posted back to back shutouts in regional games for the first time since another BC goalie (Corey Schneider) did it back in 2006. Minnesota goalie Kent Patterson earned MVP honors in the west region.
Both these teams can score. Minnesota averages 3.67 goals a game which is the best in the country while Boston College scores 3.50 goals a game which is 6th. However, Boston College has the 2nd best team defense in the country allowing only 2.07 goals a game. Minnesota ranks 9th allowing 2.21 goals a game. We know the goaltenders are hot right now, and no one is hotter than Milner right now who seems to be a unbreakable wall. Milner has a win % of .844, has a 1.70 Goals against average (4th in the country), and a save percentage of .935, 3rd best. Minnesota's Patterson is tied with the most shutouts producing 7 in 42 games. He has a win percentage of .679, a GAA of 2.23, and a save percentage of .911.
Playoff hockey is always about special teams. Boston College's Power play ranks 11th in the country, converting 21.5% of the time, while Minnesota converts 23.2% of the time, ranking 5th. The Penalty Killing is the big difference, this is where BC has a big advantage. Boston College is 3rd in the country killing 88.0% of the time. Minnesota ranks 36th in the nation, only killing off 81.0% of penalties.
Boston College was the favorite coming into the tournament. They seem to be clicking on all cylinders and will be very difficult to beat. Minnesota can defeat BC no question and is playing outstanding in the tournament. If either team wants to advance they will have to play their best no question. Minnesota will have to stay out of the penalty box otherwise it will be difficult to beat BC. Minnesota has a prolific offense and Milner will have to make some outstanding saves to keep Minnesota at Bay. Look for an intense game that will be an all-out battle with the victory being the favorite in the national title game. I think Milner plays well enough to hold the Gophers to 2 goals and Boston College's power play is the decider over the Golden Gophers penalty kill.
Prediction: Boston College Defeats Minnesota 4-2
Love Reading About Hockey?

Subscribe to keep up-to-date with the latest and most interesting hockey news!
| | |
| --- | --- |
| | We hate spam just as much as you |