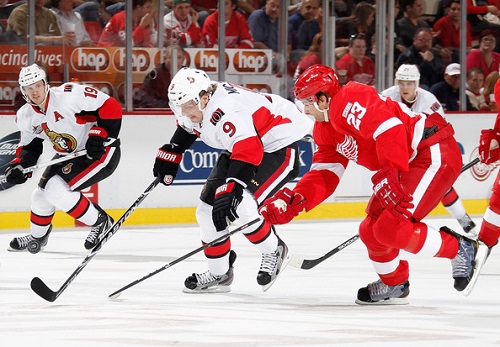 On July 19, the NHL released the upcoming schedule, the official re-aligned divisions and details on the the new playoff format.
Here's how these changes will affect the Ottawa Senators this season beginning with division re-alignment.
With the League compressing four divisions into two in each conference, there had to be some geographic swapping. One of those swaps includes the Detroit Red Wings transitioning to the eastern conference. That makes two Goliath-like teams in the new Atlantic division.
If the Sens are counted as a contender, and they very well should be, that makes three dangerous squads in the same division. And what happens if the Leafs, Canadiens or Lightning contend for a third and fourth finish in the Atlantic? It all makes for a great race to the playoffs, right?
Well, with the new playoff seedings, the three top regular season teams from each division will make the playoffs (12) followed by the the next top two teams from each conference, based on points, regardless of division (16). Those final four top teams will be the recipients of the first legitimate wild card in NHL history. And yes, that means one division may send more teams to the playoffs than the other.
The division winners will face the wildcard teams. The division winner with the most points will play the wildcard team with the fewest points, and the division winner with the second most will play the wildcard team with the second fewest, both regardless of division. The remaining teams ranked second and third from each division will play each other in the first round.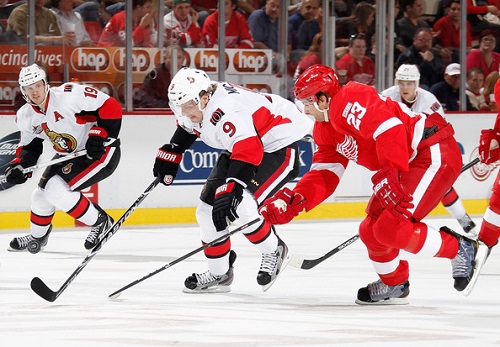 The winners of each series will play each other in a conference semi-final, followed by the conference final and finally, the Stanley Cup final.
With that understanding, likely playoffs implications can now be projected for the Sens.
Based on a comparison of both divisions, I think it's fair to say the Atlantic division is tougher than the Metropolitan. The Penguins, Rangers and Capitals, in various combinations, will make up the top three in the Metro with some stragglers who may compete with the Leafs, Canadiens, Lightning and perhaps the Sens for the last 2 wildcard positions.
If Ottawa can go toe-to-toe with Boston and Detroit for the majority of the season, and fend off the Leafs and Canadiens, they have a very good chance at third place in the Atlantic, guaranteeing them a playoff spot.
For the Sens, making the playoffs this season may be easy, but a third place finish will solidify a first-round showdown with Boston or Detroit. At the same time, a wildcard finish would likely get them Pittsburgh, Detroit or Boston.
So, the team needs to go into this season with two mentalities: one, where they set the bar high for a first-place Atlantic division finish.
The other, an assumption that they're going to face a good team no matter what.