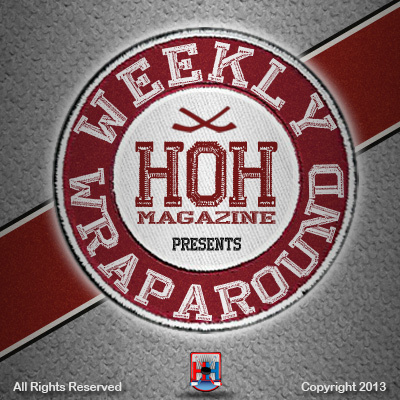 Welcome to this week's edition of the Weekly Wraparound. There have been unexpected trades, surprising bottomfeeders, overachievers, and there's still a team without a regulation loss! Last Tuesday night, the San Jose Sharks and the Chicago Blackhawks faced off in an offensively charged matchup. The Hawks' schedule included a 6 game road trip (8 in 9 games), of which they lost just two games in shootouts (last road game on trip is today in Nashville). By beating the Sharks 5-3, they proved to the league that they are the team to beat this year. The St. Louis Blues have dropped in the standings with their starter out of the lineup, and Anaheim has had a lot of help from their first-year NHL goalie call-up that has moved the Ducks into 1st place in the Pacific Division (2nd in the conference). New Jersey is proving that last year's trip to the Stanley Cup Finals was no fluke, and they have found their way to 1st in the Eastern Conference.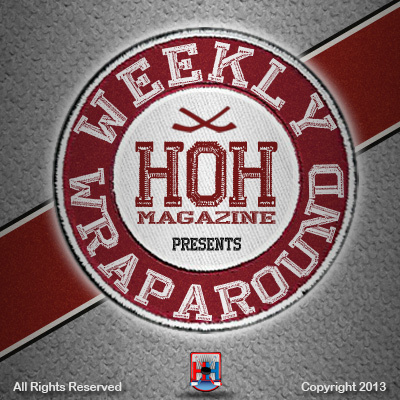 Here are last week's storylines:
Washington Woes: The Washington Capitals have continued to struggle under new coach Adam Oates. Alex Ovechkin has been all but invisible, and Braden Holtby's starting job has been relinquished to Michal Neuvirth. Neither one has been able to win more than 2 games with Holtby's record of 2-4-0 and Neuvirth's record of 1-4-1. The team seems destined for last place this season, but the transition between coaches is almost never smooth. Oates, a recent inductee into the Hockey Hall of Fame, recorded 1,079 assists in his playing career, which is probably the reason that Ovechkin can't play under his system.
No Vacancy in Vancouver…yet: The goalie carousel in Vancouver continues. Luongo has won his last 3 games (3 goals against combined), one in regulation, one in overtime, and one in a shootout, proving that he's still the elite goaltender that led Team Canada to the gold medal three years ago. On the other side of the coin is Cory Schneider. He has won 4 of his last 5 games (the exception is a loss to San Jose), including a shutout against the Anaheim Ducks and a one-goal-against win against the Calgary Flames (last night) and the Minnesota Wild. Luongo: 1.53 GAA; .940 SP Schneider: 2.25 GAA; .927 SP. Keep flipping that coin Alain, it's working out well.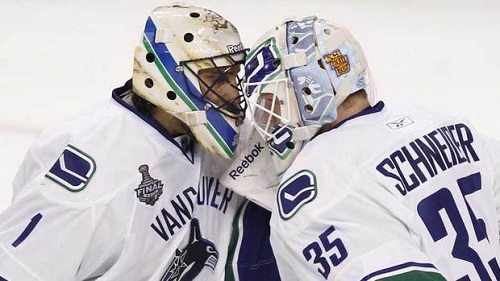 Tim Thomas Traded…Well Sort of: Before you go out and add Thomas to your fantasy roster with an excited giggle, don't. Thomas is seemingly done playing hockey for good (although he keeps mentioning something about returning next season and somehow beating Jonathan Quick, Ryan Miller, and the other Team USA goalie candidates for the starting job in net in the Olympics).
Craig Anderson is Human?: It took Anderson 5 games to give up 2 goals in one game. It took 9 games to give up 3 goals in a game (he won that game). The game after that he gave up 3 goals again. In his defense, his back is probably injured, due to carrying the entire Senators roster on it.
Either Vanek is Being Controlled By Some Kid Playing NHL 13, or He's Using Performance Enhancing Drugs: Possibly the most unbelievable story of the season so far is Thomas Vanek's outstanding start. In 11 games he has scored 11 goals…and 12 assists for 23 points. In total, his team has scored 38 goals, which means that Vanek has contributed to 61% of his team's total production.
What's Wrong With Marleau?: Marleau's month of January consisted of 14 points (9 goals, 5 assists) in 7 games. He scored 2 goals in each of his first 4 games…and then nothing. His last 5 games have seen Patrick go scoreless, while carrying a -3 rating. Fantasy owners are probably wondering what happened? He obviously realized he's still playing for the Sharks, and whenever the Sharks finish first…well you know what usually happens (or doesn't happen) come playoff time.
Fast Start from Fasth: Although Viktor Fasth may not be a household name, he's no rookie. He's a 30 year old veteran playing his first season in the National Hockey League. After Jonas Hiller started 73 games last season, it was probably time to find someone to back him up, or in this case, take over shortly after. His first NHL game resulted in his first NHL win (and first NHL shootout win). After scolding himself for giving up one goal against the Wild and the Sharks, he saw that he needed to improve. So the next game he gave up zero goals, recording his first NHL shutout. St. Louis defeated the Ducks last night 6-5 in a shootout, so expect Fasth to make up for that horrendous start by refusing to give up any goals for the next month.
More Goalie Magic: Not to be outdone, rookie call-up and Czech superstar Petr Mrazek was called up to the Detroit Red Wings from the Grand Rapids Griffins. His debut was even better than Fasth's debut. Mrazek allowed just one goal against the St. Louis Blues (Fasth's rival now). Petr has now won 4 debut games. His first game for the Toledo Walleye of the ECHL, his first game for the Griffins of the AHL, the AHL All-Star Game, and his NHL debut all resulted in wins. Oh and he reminds everyone of a young Dominik Hasek, which has to mean something right?
Marty Being Marty: Martin Brodeur, who turns 41 this season (May), has won his last 3 starts, and improved his record in the National Senior Citizen Hockey League (NSCHL, I'm sure it exists) to 6-1-2. His GAA of 2.29 and SP of .911 is incredible, playing on a Devils team that nobody thought would win games after the trading of Zach Parise. His career win total is now 662, so expect him to have 800 before he retires.
I Should've Written This Earlier: Apparently everyone went crazy without last week's edition of the Weekly Wraparound, because according to ESPN, 1.1% of all fantasy owners have added Tim Thomas to their roster (he's now 2% owned, which means 0.9% of people drafted him). After regaining my composure and scrolling further down the list of available goalies, I found much worse. Marty Turco, is retired, and is now working for the NHL Network as an in-studio analyst. However, this did not stop diehard Stars' fans, hoping for a comeback, from signing him. 0.3% own Marty.
Apparently I should've specifically stated sometime between last summer and today that Dominik Hasek, is in fact, not returning to the NHL. 0.1% of all fantasy teams own the future Hall-of-Famer. The odd thing is however, that Hasek was 0% owned last week, and then his ownership increased by one tenth of a percentage in the past 7 days. One person must know something I don't.
In all seriousness, he's about to pass Rick Dipietro (0.2% owned), who is actually active on the Islanders' roster for once, I think…Let me check…Hmm…Has anyone seen Rick…..Someone call his hotel room. Who left Rick unattended? … What do we do? OK I'll make the call. "Timmy?"
Mikael Tellqvist, who has not played a game in the NHL since 2009, and is currently playing for his 4th team (and 3rd league) in 4 years. 0.1% own him as well, the same percentage of teams that own Al Montoya and Peter Budaj. Although acquiring a retired goalie won't ruin your goalie stats like those two, but I digress.
Listen if you're gonna pick up Tellqvist, at least look at the next page. Let's see…hmm…Cloutier, Fernandez, Legace, Cujo, Kolzig, Raycroft…What is this 1997 ESPN? Why are these goalies still available? I specifically remember that after Scott Niedermayer retired, they removed his name from the list. Apparently Curtis Joseph is more likely to return.
Are They Related?
Tom McCollum – Goalie – Grand Rapids Griffins (Left)
Wins games for a living, occasionally gives up a bad goal that's nothing to laugh about.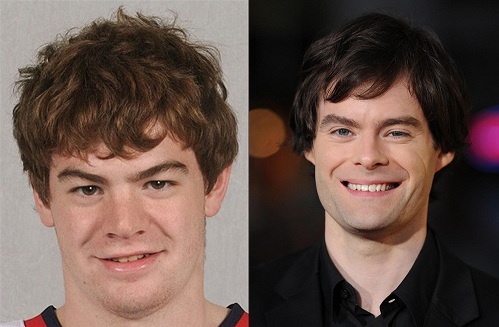 Bill Hader – Actor – Saturday Night Live (Right)
Wins movie roles for a living, occasionally has a joke that no one laughs at.