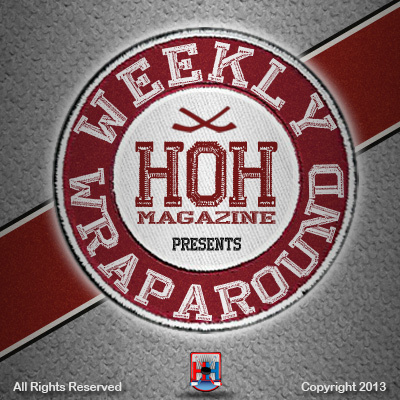 Welcome to Week 4 of The Weekly Wraparound. Here are last week's storylines: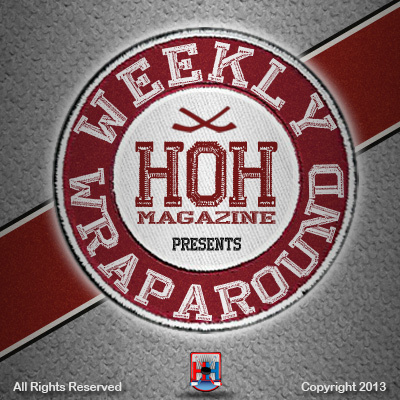 More Viktories Increase Anaheim's Fasth Start (Double-pun!): Viktor Fasth has improved his impressive start to his career to 8-0-0, winning 8 straight games. The record for longest undefeated streak by a goaltender from the start of his career is Patrick Lalime's 16 wins in 1996-97. The record for most consecutive wins by a goaltender in his first NHL season is George Hainsworth's 11 wins in 1926-27.
No suspension for Gra-Bite-Ski: Mikhail Grabovski was not suspended for his alleged bite on Max Pacioretty. Shanahan must have been too busy watching the Charlestown Chiefs, er the Toronto Maple Leafs fighting. You know teams fear you when you have two guys named Fraser (Mark Fraser, Frazer McLaren, close enough).
Karlsson Out for the Year: Erik Karlsson was injured last Wednesday when he was recklessly run into the boards by who else , but Matt Cooke. Whether it was intentional or unintentional, this is a tough loss for Ottawa. Jason Spezza is already out for the year with a herniated disc. If Craig Anderson gets injured, it's gonna look like NHL 94 for the opposing team, with every player using that cheap breakaway move and winning 99-0.
More Clipped Wings: Johan Franzen and Todd Bertuzzi have found themselves on injured reserve, and Pavel Datsyuk is day-to-day with a shoulder bruise. They join, Mikael Samuelsson, Darren Helm, Jonas Gustavsson, Jan Mursak, Brendan Smith, Carlo Colaiacovo. With Datsyuk out, the Red Wings called up his clone, Gustav Nyquist, to take his place temporarily.
Oilers Rally: Last night, the Edmonton Oilers rallied to score 5 straight goals against the Colorado Avalanche. The Oilers set a team record with 56 shots on net, breaking the previous record of 55 shots that was set in 1986 against the Minnesota North Stars.
First Shutout for Scrivens: Ben Scrivens of the Toronto Maple Leafs recorded his first career shutout in a 3-0 win against the struggling Ottawa Senators.
Big Mac in Calgary: Veteran netminder Joey MacDonald was claimed off waivers by the Calgary Flames, after the Detroit Red Wings attempted to move him to the Grand Rapids Griffins. Leland Irving was also demoted back to the American Hockey League, as the Flames chose to bring up Danny Taylor instead. Miikka Kiprusoff remains on injured reserve, and the Flames hope that MacDonald can save their season.
Howson Fired, Kekalainen Hired: Scott Howson was let go by the Columbus Blue Jackets last week, and Jarmo Kekalainen was brought on. Kekalainen is the first European general manager in NHL history.
Jagr Continue To Make History: Jaromir Jagr passed Luc Robitaille for 10th all time in total goals scored. He is now 22 goals away from passing his former teammate Mario Lemieux, for 9th all-time.
Selanne Right Behind Him: It's like a NASCAR race with Selanne driving right behind Jagr. Selanne needs 3 goals to leapfrog him. Up for grabs? The title of highest scoring European player of all-time. Teemu has 667 career goals currently.
Anderson Continues To Impress: Craig leads the NHL in save percentage at .948. He's second in goals-against-average at 1.61 (behind Luongo). He's also tied for second in the league in wins, with 7.
Vanek Still Leads League in Goals, Points: Thomas Vanek's 11 goals (tied with Tavares and Neal) and 23 points adds to his explosive start.
Hawks Soar High: The Chicago Blackhawks still have yet to lose a game in regulation. Their record of 11-0-3 and 25 points is tops in the league.
Strong Teams Still Bottomfeeding: The defending champs Los Angeles Kings are just 2 points ahead of the Columbus Blue Jackets, who are last place in the league. The Tampa Bay Lightning, Philadelphia Flyers, and Washington Capitals are not currently in playoff contention.
A Capital Loss: Washington continues to struggle under new coach Adam Oates. They are last in their conference (5-8-1), and have allowed 9 more goals than they've scored.
Are They Related?

Chris Barnes (Left) – Professional Bowler – PBA:
Bowled the PBA's 22nd ever televised 300 game, leaving 0 pins standing, in a semi-final match in 2011.. Is the fastest player to have reached $1,000,000 in career earnings, after 220 events. Was ranked #26 on the PBA's 2008 list of top 50 greatest players. Has trouble in televised finals, has the most TV finals appearances without a victory in PBA history.
Rinne (Right) – Professional Goalie – NHL
He recorded a shutout in the conference semi-finals in 2012, allowing 0 goals. Currently has 3 shutout wins this season, giving up 0 goals in each. Fastest Nashville netminder to reach $7,000,000 in yearly salary. Took him 250 games to earn the contract. Was ranked #28 on TSN's list of the top 50 players. Has trouble making it to the Conference finals, has the Nashville record for most playoff games by a goalie without a finals appearance.