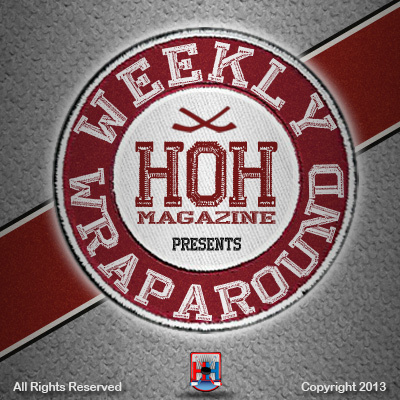 One of last week's main headlines was the firing of the NHL's longest-tenured coach, Lindy Ruff. He was at the helm of the Buffalo Sabres for 15 (and a half ) seasons. His career record was 571-432-78-84 through 1165 total games coached. Interim coach Ron Rolston was hired to finish the season.
The biggest story of last week however, was the breaking of the record for most consecutive games without a regulation loss. The Chicago Blackhawks on Friday broke the record with their 17th game in a row. They are quickly running away in the President's Trophy race. They lead the NHL by 6 points (over Anaheim – 25). They lead the Central Division by 10 points, over Nashville (21) and St. Louis (20). Their next chance to extend their newly owned record is tonight at 7:00 ET against the Columbus Blue Jackets.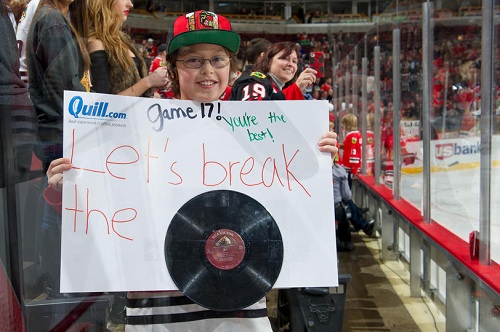 Here are the other headlines from the past week:
DiPietro Waives Goodbye, For Now: The New York Islanders waived goalie Rick DiPietro Friday afternoon, and after no team picked him up, he was assigned to AHL Bridgeport. It is not known whether Rick was injured walking out of Nassau Colliseum or not. But it's safe to assume…he did.
Malkin Concussed? Last year's Hart Trophy winner, Evgeni Malkin, is showing signs of concussion symptoms. No one knows for sure if this resulted from sitting too close to Crosby on the bench. Pittsburgh will take caution, although this is the first time Malkin has had such symptoms.
More Concussions?? Jeff Skinner of the Carolina Hurricanes is now on the sidelines with a concussion of his own. A timetable for his return is not known.
Islanders Allow 7, not Dipietro's Fault: You read that correctly. This loss was not caused by Rick DiPietro. The New York Islanders, with Evgeni Nabokov in net, allowed the Philadelphia Flyers to score three times on six second period shots in the rout. When Bryzgalov saw Nabokov give up 7, he thought to himself "one day I'll beat that record."
Hartnell is Back: Scott Hartnell returned to action last night in the Flyers' contest versus the Winnipeg Jets. He played 14:54 of ice time and took 5 shots on net. He's a key piece to the Philly puzzle, so expect him to make a difference soon.
Pavelec Plays Milestone Game: Winnipeg Jets netminder Ondrej Pavelec played and won his 200th career game last week, defeating the Buffalo Sabres and only allowing 1 goal on 30 shots.
Jannik Hansen Suspended: Just as Marian Hossa returned from a concussion this season, Jannik Hansen of the Vancouver Canucks "reached out to grab a puck" and ended up punching Hossa (well, his forearm) in the back of the head. Regardless of intent it was a reckless move, and he was suspended one game.
Landeskog Closer to Return: Gabriel Landeskog of the Colorado Avalanche is closer to a return, as he has been skating with his teammates and taking part in the team's drills. He is still recovering from a concussion sustained when Brad Stuart ran into him.
Fasth Fast to Resign: 30-year old Viktor Fasth of the Anaheim Ducks signed a 2-year contract extension, after his amazing 8-0-0 start to this season. Ducks management wasted no time securing the Swedish superstar.
Burke is Back: The Anaheim Ducks brought Brian Burke back onboard as a part-time scout. Burke was recently fired from the Toronto Maple Leafs, and is best known for being the general manager of the Ducks when they won the Stanley Cup in 2007.
Anisimov Taken to Hospital: Artem Anisimov of the Columbus Blue Jackets was taken to the ER after he and Red Wing defenseman Kyle Quincey got tangled up in the second period of last week's contest. Quincey's forearm (and the full weight of Quincey himself) landed on Artem's neck. Fortunately, Anisimov never lost consciousness, was released from the Detroit Medical Center, and traveled back to Columbus a day later.
Re-Alignment Rumors: The master of reliable rumors, Elliotte Friedman, on the CBC Hot Stove segment last night mentioned another proposal for a 4-conference format, with the potential for a wild card slot involved. The idea is very intriguing, and could be very beneficial for many teams in terms of travel and rivalries.
Heritage Classic Returns, Plus More Outdoor Games? Also on the Hot Stove last night, the Heritage Classic was rumored to be returning in 2014 (next season). The proposed locations were Vancouver and Edmonton. According to thefourthperiod.com, the NHL is considering up to four outdoor games. Rumored locations include (in addition to Michigan Stadium for WC and VAN/EDM for HC) Dodger Stadium in LA (seriously?), Yankee Stadium in NY (getting warmer, er colder?). If any of this is true, it would ruin the special aura that the Winter/Heritage Classics bring. At least that's my opinion. What do you think?

Loading ...
Are They Related?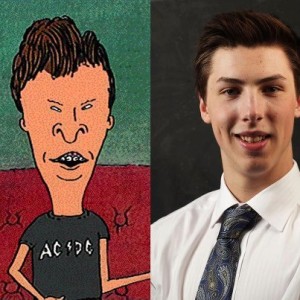 Butt-head (Left) from the Beavis & Butt-head animated cartoon series. Ryan Nugent-Hopkins (Right) #93 forward on the Edmonton Oilers.
Follow me on Twitter @yungspork