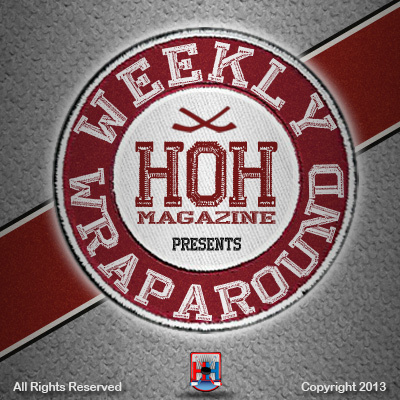 Here are your storylines from the past 7 days: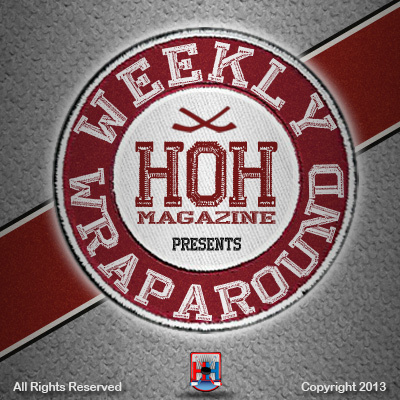 Hawks Extend Streak Again…and Again, and Again…and Again? The Chicago Blackhawks won all 4 of their games last week (and yesterday's game) to extend their record 17 game point streak to start the season, to 21 games. Their last 8 games have been wins. Goalies Corey Crawford and Ray Emery have been equally outstanding. In the entire month of February, Crawford only allowed 3 goals once, and Emery allowed 3 goals once, but in a shootout (stats-wise that doesn't count against him). In their last 8 games, they won by a margin of one goal 6 times, so they only have their goalies and clutch defense to thank.
Holtby and Ersine extended: The Washington Capitals extended goaltender Braden Holtby and defenseman John Erskine to 2 year deals. Holtby responded by winning the following game. Erskine responded by…scoring a goal in the following game? No that can't be right…*checks notes*…apparently he actually did, his 14th career goal in 438 games played. 7.14% of his entire goals total was scored in that game. That's an impressive feat.
Old Goalies Decide to Wait Until Healed, Rather Than Tend the Nets with a Walker: Nikolai Khabibulin (40 – groin) and Martin Brodeur (40 – back) have been placed on injured reserved with standard old-age injuries (kidding). As usual, Marty's injury was likely caused by having to carry the entire Devils team on his back.
Bottom-Feeders Might Actually Make Playoffs: The Capitals and Panthers are the worst in the Eastern Conference by far. However, with that whole "every division is represented in the playoffs" thing, either one of those powerhouses could sneak in come May. And who wouldn't love to have a Hawks-Panthers Finals?
DiPietro Healthy, Playing (Kind of) in AHL After Demotion: After clearing waivers and being assigned to the American Hockey League, Rick joined the 3rd worst team in the conference (hey like AHL like NHL right?). In his first game in the league, Rick allowed 5 goals on 12 shots (.583) and was pulled for a rookie goalie on an AHL tryout. His next game was surprisingly a win, although he gave up 3 goals. After two games he has a GAA of 6.00 and SP of .784.
After Short Return, Kesler Again Out Long-Term: After an extended period of rehab following last year's season-ending shoulder surgery, Ryan Kesler's return to the Vancouver Canucks was cut short. After playing just 7 games this season, he will miss 4-6 weeks with a broken foot.
O'Reilly to Calgar…Nevermind: Ryan O'Reily of the Colorado Avalanche still has yet to play a game this season due to contract negotiations. Last week the Calgary Flames signed him to an offer sheet. However, almost immediately after, the Avalanche matched the offer and O'Reilly stayed in Colorado.

Are They Related?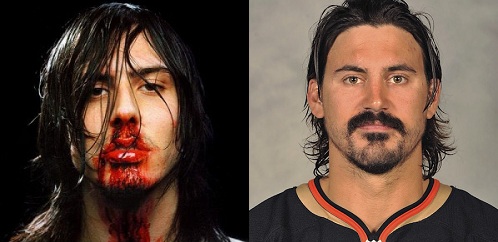 Andrew W.K. – Musician (Left) and George Parros – Florida Panthers (Right)
Follow me on Twitter @yungspork