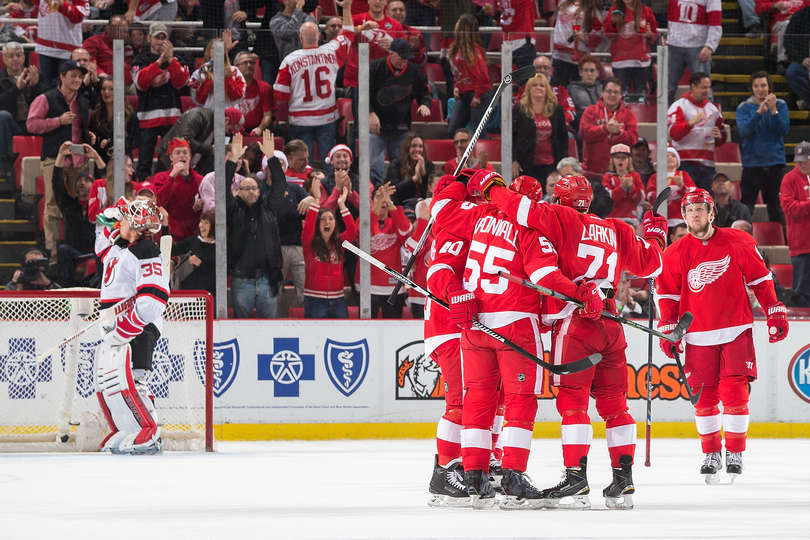 The Detroit Red Wings' four-game home stand concluded Tuesday night as they fell to the New Jersey Devils by a score of 4-2.
Jimmy Howard started this contest for the Wings but the night would not go well for the veteran netminder. At the 12:05 mark, New Jersey's Kyle Palmieri put the Devils on the board with a power play goal. It was the result of an intentional shot against the boards which caromed back to Palmieri for a backhand shot.
42 seconds later, former Red Wings tough guy Jordin Tootoo deftly redirected an Andy Greene point shot past Howard. Detroit provided no crease protection and it allowed for an easy goal.
Only 1:30 after, David Schlemko scored his team's third goal on just their sixth shot of the game. Howard was pulled and Petr Mrazek replaced him.
With 1:28 left in the first, Dylan Larkin wristed a shot past goalie Cory Schneider and Detroit found their momentum swing to carry them into the middle frame. The goal came on the power play.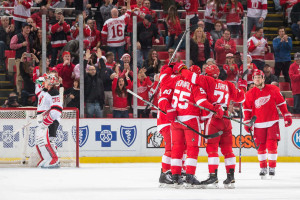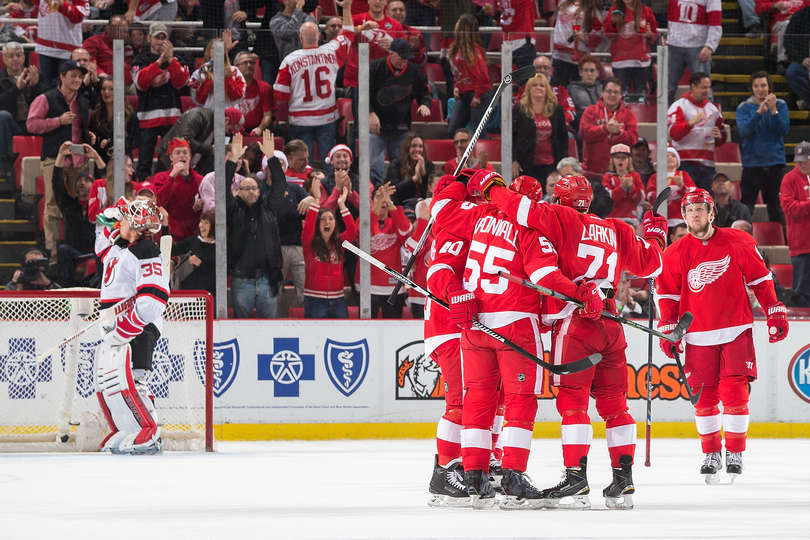 Midway through the second, a Mike Green slap shot brought the Wings to within one, also on the man-advantage. The play was set up nicely by veteran forward Brad Richards.
Early in the final stanza, a costly giveaway by defenseman Jakub Kindl would restore New Jersey's two-goal lead. Kindl attempted to reach a teammate with a pass across the slot, but it would be intercepted by Jacob Josefson with Sergey Kalinin finishing the play with a rebound goal.
The turnover would prove to be detrimental as Riley Sheahan's goal at 14:23 would not tie the game. It was a great individual effort as Sheahan fired a shot far-side under the glove of Schneider.
Although Detroit continued to press, they would not be able to match the four-goal performance by their opponents.
Larkin Roughed Up
Throughout the night it appeared that Detroit rookie Dylan Larkin was being targeted by the Devils. In the second period, Larkin was driven hard into the boards by defenseman John Moore. Larkin did not have possession of the puck. When he hit the boards his neck appeared to take the brunt of the hit. He also received a knee to the head after the follow-through. The play was similar to the Connor McDavid hit. Additionally when Larkin tried to get the puck Damon Severson ran into Schneider. Severson then retaliated against Larkin, apparently trying to pin blame on the rookie. Justin Abdelkader would step in after Severson was roughing up Larkin and he would get a penalty. Larkin would leave the game briefly before returning.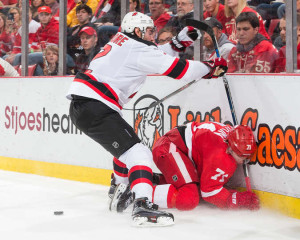 "It was a pretty innocent play that happens a lot of times through the course of a game," Moore said after the game. "I thought he kind of went limp there to sell a (penalty) call. I'm certainly not going to run a guy from behind. It was more that I was taking him into the wall."
After declining to comment on the Larkin hit, Detroit coach Jeff Blashill then answered a similarly worded question.
"I think we're going to have to continue to do a good job of defending him," said Blashill. "And I think referees throughout the league have to know that young stars in the league, when they get targeted, they've got to make sure they do a good job of calling penalties, even if they're close, because we don't want our young stars in the league getting targeted and we don't want lots of fighting anymore, so we better make sure we look after them a little bit that way. So if it's close, let's make sure we look after them."
He does have a point. The NHL has been trying to eliminate fighting in this game, which has allowed players to take liberties with certain players without fear of retaliation. Abdelkader, when stepping in to defend his teammate, received a penalty after none was called on Moore.
"That hit from behind, I haven't seen the replay but it looked like you almost have to make a call there," said captain Henrik Zetterberg.
Road-Heavy Schedule Begins
After the NHL breaks for Christmas during a three-day period, play resumes this weekend. Of the next ten games, nine are on the road, including a western trip. It will be a tough stretch for the team but their record of 6-3-3 is respectable.
"I think every game in this league is a huge challenge," said Blashill. "If you're at home or on the road, it's a huge challenge. I think we have lots of confidence that we can go on the road and win. We've done it already this year. I think it comes down to playing good hockey. Obviously, there's some buildings that are tough and we're going to go into some tough buildings but it still comes down to who executes at a higher level. I think lots of teams in the league have proven they can win on the road. I think we've proven it, but we better go prove it here in this next stretch."
Standings Watch
The Atlantic Division is proving to be the most competitive division in the league this season. Top six teams are within six points of each other. Montreal has lost five consecutive games while Florida has won five in a row. Boston has won six of ten and Detroit is right in the middle.
The Red Wings' next game is in Nashville when they face the Predators Saturday at 8:00 ET.
Love Reading About Hockey?

Subscribe to keep up-to-date with the latest and most interesting hockey news!
| | |
| --- | --- |
| | We hate spam just as much as you |