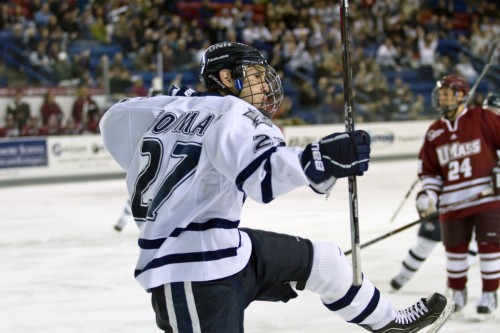 A flurry of third period goals combined with another solid start from freshman goaltender Danny Tirone helped the UNH hockey team to its third Hockey East win of the season and avoid a sweep at the hands of the UMass Minutemen. Four skaters netted goals for the Wildcats and Tirone added 18 saves to push the Wildcats to a 5-2 win and improve to 8-12-2 this season.
If you weren't in your seat for puck drop, you might have missed the first goal of the game as Matias Cleland gave UNH a 1-0 lead just 18 seconds in. Firing a shot from the point, Cleland's wrister hit the calf of a UMass defenseman and trickled past netminder Henry Dill for his third goal of the season.
Senior Grayson Downing added two goals in the game, extending his scoring streak to an astonishing 14 points (10g, 4a) in seven games. In that span, he's scored multiple goals four times and now has seven multi-point games on the season, the most on the team. When asked what he thought contributed to his scoring streak, Downing jokingly responded with "motherly love", saying "the Christmas socks I've been wearing [since the holiday] that Mom got me."
"It's one of those things where everyone is contributing and I'm playing with some good players. They're finding me and tonight was no different."
Despite the quick start for UNH, both teams settled in and finished the period with the score at 1-0. UNH head coach Dick Umile felt his team wasn't outplayed, despite a 7-3 disadvantage in shots. "After last night, I told my team we needed to start with a sense of urgency." Umile was happy with his team's first-period effort, noting that UMass blocked nine shots in front of the net and liked his team's offensive zone presence.
The Wildcats were hit with two surprises before the game, as leading-scorer Tyler Kelleher and top defenseman Brett Pesce were made inactive. Kelleher had what was called a "stomach bug", while Pesce's ailment was classified as an upper respiratory system. As if that wasn't enough, forward Warren Foegele left the game in the second period with similar symptoms to Kelleher, forcing Umile and his team to play with three lines. "Pesce's [sickness] was a surprise," Umile said. "We didn't even know [until today]. It was kind of a crazy day."
In his third start of the season since joining the team after Christmas, Tirone earned his third career win. Umile was unsure if he would be the guy going forward, saying "we'll evaluate his performance next Thursday and make a decision for Friday [at Maine] … we'll take it one game at a time but he's obviously competing for [the starting spot] for sure." Tirone has been stellar in his three starts with a goals against average of 1.66 and a save percentage of .935 so far.
UMass got on the board with under two minutes to play in the second period on a goal from Steven Guzzo. Guzzo raced into the UNH zone with the puck and, from the left faceoff circle, fired a shot that passed over Tirone's glove-side shoulder and into the top corner of the net, tying the game at one goal apiece. Carrying that momentum into the third, Riley McDougall gave the Minutemen a 2-1 lead, putting a shot off defenseman Ryan Randall's skate and fluttered past Tirone at 4:59 of the first.
UNH flipped the switch however, starting with a goal by Downing that was called back because Dill lost his helmet on the play. Jamie Hill's responded with his first career goal fewer than two minutes later, knocking in a rebound off the stick of Kyle Smith.
Andrew Poturalski scored the eventual game-winner and his seventh of the season a minute and a half later. Poturalski almost scored about 15 seconds prior, putting a shot on the Dill just got a piece of that slid past the stick of fellow freshman Shane Eiserman. Gathering the puck behind the net, Poturalski took it himself and fired a shot from the right faceoff circle that beat Dill and gave UNH a 3-2 lead.
"I think we all realized that we needed to bear down and we weren't going to lose two games in a row, especially in our own building," Poturalski said. "That one chance was really good right before, I don't know how it didn't go in … originally I tried to wrap it around and I just waited a second. The shot was open, so I took it and was fortunate enough to score."
Downing added the last two goals of the game, the first on a deflection from defenseman Cameron Marks at 9:49 in the period. UMass pulled its goalie with about 2:22 to play, but that backfired as a turnover gave Downing the puck and he buried his fourteenth goal of the season to bring the game to its final score of 5-2.
Umile pointed out that the team mentality would benefit from the win because they have momentum going into Maine week. With the win fresh in their minds, the team will look to pick up more points in Hockey East in a home-and-home series. This will be the third and fourth times the teams will meet this season, as they played a non-conference, neutral-site series on Dec. 12-13 in Manchester, N.H. and Portland, Maine. Maine won the first match up 5-2, but UNH rebounded the next night behind a four-point game from Downing to win 7-4. The teams play in Orono, Maine on Friday night, then return to the Whittemore Center on Saturday.