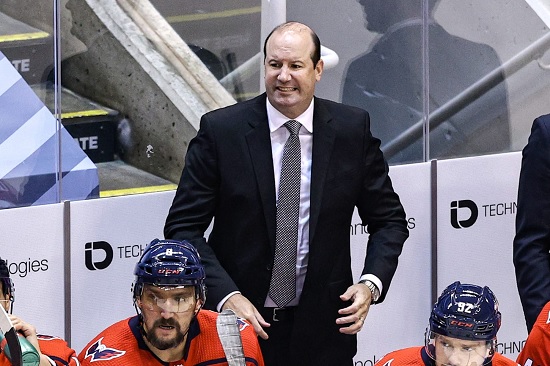 In a turn of not so shocking news, the Washington Capitals announced that they have fired Todd Reirden after once again being eliminated in the first round of the Stanley Cup Playoffs.
The firing comes just three days after Washington was eliminated by the New York Islanders, and former Capitals coach Barry Trotz, in five games in the Eastern Conference First Round in the Stanley Cup Playoffs.
The Capitals lost to the Carolina Hurricanes in seven games last season after blowing a 2-0 and 3-2 series lead.
Reirden went 89-46-16 in two seasons with the Capitals helping coach the team to a first place finish in the Metropolitan Division each season.
"We have higher expectations for our team, and we felt a fresh approach in leadership was necessary," Capitals general manager Brian MacLellan saiid. "We would like to thank Todd for all of his hard work and efforts with our organization. Todd has been a big part of our team for more than half a decade, including our Stanley Cup run in 2018, and we wish him and his family all the best moving forward."
Todd Reirden was named head coach on June 29, 2018 after serving as a Capitals assistant/associate for four seasons under Trotz and helping Washington win the Stanley Cup for the first time in 2018. The 49-year-old was promoted to replace Trotz, who resigned on June 18, 2018 after being unable to agree to a new contract and was hired by the Islanders three days later.
The Capitals only scored eight goals in the five games against the Islanders, including three at even-strength (all by Alex Ovechkin). Washington scored more than 2 goals once in its eight postseason games – a 3-2 victory in Game 4 against New York — after ranking second in the NHL during the regular season by averaging 3.42 goals per game.
Discipline was a major issue all season for the Capitals, who took a League-high 267 minor penalties during the regular season and then 23 more against the Islanders – the most in the NHL in the first round of the playoffs.
The Capitals have not yet announced a replacement hire.