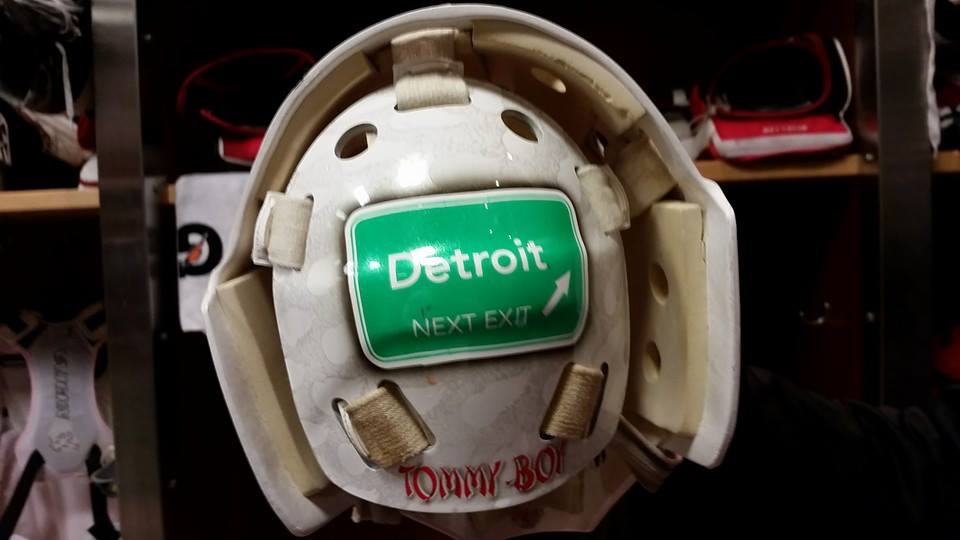 Nearly seven years after he was drafted 30th overall in the first round of the 2008 draft, goalie Tom McCollum was finally able to record his first NHL win.
Petr Mrazek was slated to start in back-to-back games after recording the victory over the league-leading Nashville Predators on Saturday night.
Both goalies spent the last three seasons platooning the crease for the Grand Rapids Griffins of the AHL. The pair was a formidable duo in the 2012-13 season, when they succeeded in securing the Calder Cup as league champions.
Always with too many goalies in the fold, there have not been many opportunities for McCollum to prove himself to the organization.
His last appearance came four seasons ago when the Red Wings were plagued by injuries. While Jimmy Howard and Chris Osgood (then in his last season) were sidelined, Joey MacDonald was called upon to man the crease. However, when he was pulled one game, it was McCollum's chance. Unfortunately for the young netminder, the appearance did not go as planned. He would allow three goals on eight shots, and would be pulled in favor of MacDonald returning to the contest.
"That's really why I've wanted to get back and prove that that one game I was 20, 21," said McCollum. "At the time, I definitely wasn't ready, and now I'm 25, I'm a lot older, I have more experience, and I'm definitely more comfortable, and I feel like I belong."
His mask symbolizes his journey in the Red Wings organization, with a freeway exit sign leading to Detroit painted on the back.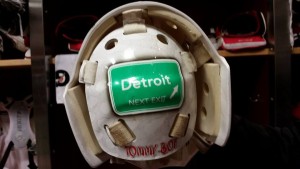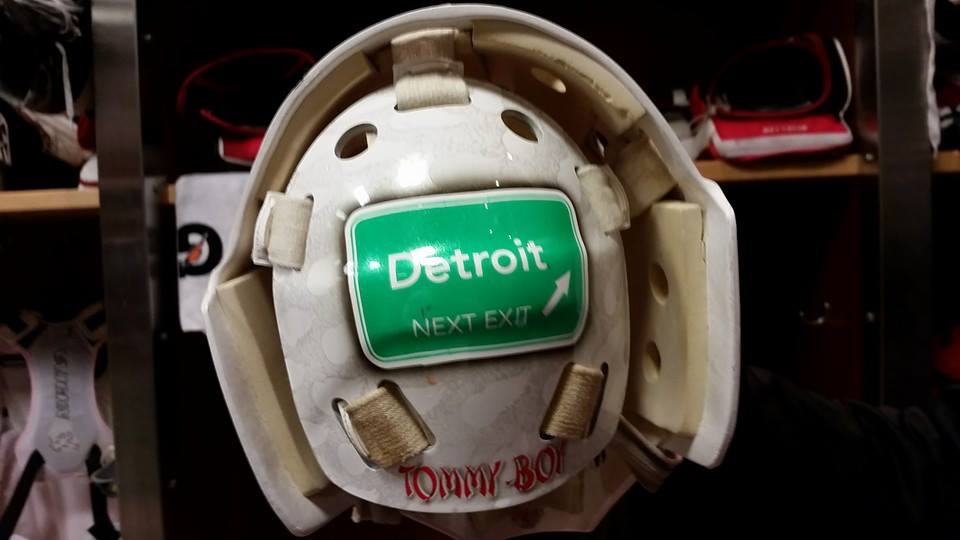 "We've always talked about how Grand Rapids is the road to Detroit," he said. "Brad Thompson, who's our equipment manager in Grand Rapids designed my masks, so he decided you know, it was kind of, going to be my next stop, so he put that on there."
Describing all the ups and downs of his career, he continued the freeway metaphor.
"[I] took a lot of different exits, about seventeen different detours, and I think I went the wrong way ten times too, and fortunately I found my way on the right path."
*Fast forward four years.*
Mrazek, who has been stellar in Howard's absence going 8-3-1, would allow three quick first period goals to the reeling Buffalo Sabres, who were trying desperately to end their ten game slide.
In what was surely a case of 'I know the feeling,' McCollum entered the contest following Mrazek's three goals on seven shots performance.
Asked if he thought it was easier to not have too much time to think about it before entering the game, he said,
"Honestly I think it was probably easier. I didn't really have any time to think about it. I honestly didn't even see the third goal go in. I was looking down at the faceoff sheet, and you know, I heard everybody kind of groan, and Babs was telling me to go in, so I didn't really have any time to think about it. Just kind of, get your stuff, get out there, and make the best out of it."
The time had finally come for the 25-year old to erase his last appearance and finally earn his first NHL victory.
The Sabres, not known for recording high shot totals, had registered only three shots on McCollum in over a half an hour since his entrance. It is not always easy for goalies to maintain focus when they do not face any shots. Many prefer to have higher shots against because it keeps them in the game.
McCollum was sent in to stop the bleeding. Already 3-0, it looked to be the beginning of a rout for the away team.
However, in the second period, the Red Wings offense came alive, scoring three consecutive goals, one each from Gustav Nyquist, Drew Miller and Tomas Tatar, rallying to tie the game in miraculous fashion.
Keeping with the trend of scoring in the first two minutes of periods, captain Henrik Zetterberg gave the Wings their first lead of the night. He then added a power play marker three minutes later to make it 5-3.
The Sabres managed to score one goal on McCollum to make it 5-4 before Zetterberg finished his hat trick fewer than four minutes later, securing the win.
McCollum would at last record his first NHL victory, a well-deserved two points for the team and for the hard-working netminder.
"Obviously not the way I imagined it would have happened," he said. "It's a great feeling, I'm just really with the team, really turned it around after I got in there."
He said his parents were in attendance, so he was fortunate that they were there to witness his milestone achievement.
"At one point I was starting to [wonder if it would ever come]. After hearing that Howie was going to be out for a couple weeks, I was sort of hoping I would get a chance. Obviously you'd like for that to come from a start, but things happen, and fortunately we were able to take advantage of the situation."
"It's a huge difference [since last time]," said McCollum. "Last time, four years ago, I was kind of a little unsure. This time, I went out there, I wasn't worried at all. I was honestly excited, because I knew that I could play in this league, and I've just been itching for that opportunity here the last couple years."
It was not just any win for Detroit; it moved them past the Montreal Canadiens for second place in the Atlantic Division. Further, only three teams in the NHL have accumulated more points than the Wings.
Ironically, his first NHL win came against his hometown team, as he's from the town of Cambria, New York, a short 30 minute drive from Buffalo.
"I know a lot of my friends at home probably aren't too happy with me right now (laughs). But you know, I'll definitely take it that way."
Jimmy Howard will be out at least until the All-Star break, and possibly a bit longer. Mike Babcock will likely go with Mrazek come Tuesday, but you never know what will happen down the road.
"After this journey, it's extremely exciting. It definitely makes you hungry for more, and hopefully I can get another crack at it."
When I asked him if there was any talk about him earning a start in the time before Howard returns, he said there hasn't been mention of it as of yet, but that he's learned to take everything day-by-day, and that there is no sense guessing about the future, which is the best mindset to have.
Follow me on Twitter @KevinSporkaHOHM