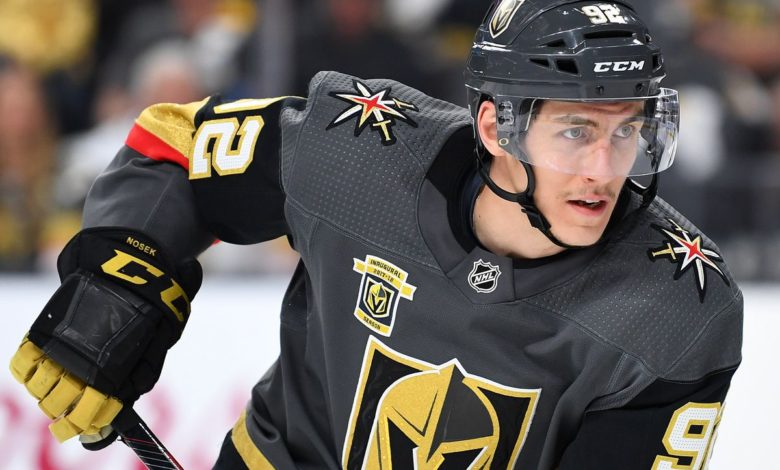 Tomas Nosek has signed a two-year deal with the Boston Bruins ($1.75m AAV).
Tomas Nosek agrees to 2 years $3.5 deal with the Bruins. AAV $1.75 mil

— Darren Dreger (@DarrenDreger) July 28, 2021
The Vegas Golden Knights gave Nosek his first chance to play regularly in the NHL after they selected him from the Detroit Red Wings in the 2017 NHL Expansion Draft. They're happy they did.
Nosek scored one goal in 17 games with the Red Wings in 2015-16 and 2016-17. Given more playing time, he produced 15 points (seven goals, eight assists) in 67 games in 2017-18 while holding down a bottom-six role for the Golden Knights.
He was even better in the Stanley Cup Playoffs, finishing with six points (four goals, two assists) in 17 games. Three of his four goals came during the Cup Final against the Washington Capitals, including the winning goal in Vegas' 6-4 victory in Game 1.
Nosek scored eight goals in each of the next two seasons, earning more playing time and showing he could be an effective penalty-killer and depth scorer.
The Red Wings had signed Nosek, an undrafted free agent forward from the Czech Republic, to a two-year contract on June 14, 2014. He spent all of the 2014-15 season with Grand Rapids of the American Hockey League. He earned his first call-up to the NHL during the 2015-16 season and made his NHL debut against the Nashville Predators on Dec. 26, 2015. He was scoreless in six games before being sent back to Grand Rapids.
Nosek had one goal in 11 games with the Red Wings in 2016-17. After being sent back to the AHL, he led Grand Rapids with 22 points (10 goals, 12 assists) in 19 games to help the Griffins win the Calder Cup championship.