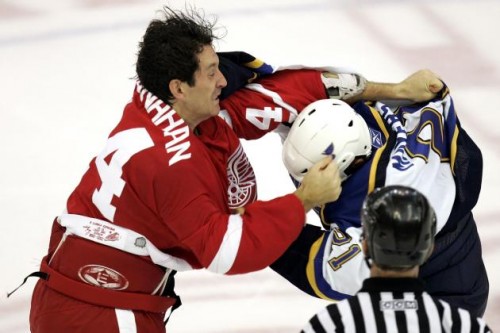 I have compiled a list of the top ten fights in Detroit Red Wings playoff history, but with one exception. Included on this list are fights that have video evidence to supplement the description. So without further ado, here it is. Enjoy.
Honorable Mention (AKA fights without video)
The 1984 brawl with the St. Louis Blues. The Detroit Red Wings would end up losing this first round matchup 3-1, but it was chock full of excitement in categories other than goals and points. Things started heating up when Detroit winger Joe Paterson took on Blues defenseman Dwight Schofield in Game 1. In Game 2, there would be six fights. Former league disciplinarian (Sheriff Shanahan's predecessor) Colin Campbell (Detroit) would fight twice in the contest: once against Perry Anderson and once against Dave Pichette. Detroit captain Danny Gare would also drop the gloves twice: once against Rob Ramage and once against Brian Sutter. 19-year old rookie winger Lane Lambert started things off with a fight against Gilbert Delorme earlier in the game, his first of two fights in the short series. He would also take on Ramage in Game 3. Although the Red Wings lost the series, they were only outscored 13-12. Game 4 was decided 3-2 in overtime.
The 1985 brawl with the Chicago Blackhawks. One year later, Detroit would again lose in the first round, this time being swept in convincing fashion. They were outscored 23-8 in the three games, but the brawl on April 10th (Game 1) saw Ron Duguay (Detroit) take on Troy Murray, John Barrett (Detroit) take on Ken Yaremchuk, Brad Smith (Detroit) take on Al Secord, and Joey Kocur take on Jerome Dupont. Three of those fights were in the first period alone. The Red Wings lost the contest by a score of 9-5.
The entire 1987 playoffs.
Round 1 – Chicago Blackhawks. If it's possible to categorize an entire playoff run as one giant brawl, this is it. The date is April 8th, 1987. Detroit is set to take on the Chicago Blackhawks. The Wings were coming off a horrendous 1986 campaign that saw them finish 17-57-6 (40 points). They improved that record to 34-36-10 (78 points) this year, but still remained dead last in goals scored. Chicago had seven players with 100+ penalty minutes heading into the post-season, with three of those players flirting with the 200 PIM plateau. Detroit had eight players with 100+ PIM, three with 200+, and one with nearly 300 minutes in Joey Kocur, so who better to start things off than Kocur? The 22-year old grinder fought 23-year old Gary Nylund (190 PIM) in Game 1, while Gerard Gallant (221 PIM) took on Secord (196 PIM). In Game 2, Dave Barr took on Wayne Presley. Game 3 saw Kocur take on Secord, and Game 4 saw both Gallant and Rick Zombo take on Murray and Secord respectively.
Round 2 – Toronto Maple Leafs. After sweeping the Hawks in four games, the Maple Leafs posed much more of a problem. Detroit quickly fell into a two-game hole, being outscored 11-4. Kocur and Probert took on Todd Gill and Al Iafrate respectively in Game 2. However, Detroit would win four of their next five games, including two shutouts in the last three. Five more fights took place in the series, including another from Kocur and one by Gallant.
Round 3 – Edmonton Oilers. The Red Wings and Oilers fought seven times in the Conference Semi-Finals. Kocur fought four of the seven (including two against Marty McSorley), while Probert fought once as well. After taking Game 1, Edmonton would rain on their parade and win four straight. In total, Detroit accumulated 20 fights in the '87 playoffs.
#10 – Pavese vs. Raglan 4/21/88
This really isn't a memorable fight, but it involved a lot of emotion. Detroit would take the game 6-0, so the Blues weren't going to let them have it easy. #8 on this list also took place in this game.
#9 – Kocur vs. McSorley 5/7/87
#8 – St. Louis Brawl of 1988: Norwood vs. Cavallini, Nill vs. Roberts, Zombo vs. Sutter 4/21/88
This conflict started when Todd Ewen of the St. Louis Blues confronted Adam Oates after he hit Rick Meagher along the boards. It appeared that Jim Nill planned to fight Paul Cavallini (one of the two Cavallini brothers on the Blues team). Lee Norwood ended up fighting Cavallini, while Gordie Roberts catches Nill off-guard with a sucker punch. Zombo and Sutter also paired off in a fight of their own. This clip features a classic call by Mickey Redmond.
#7 – Sheppard vs. Kennedy 5/14/95
Ray Sheppard rarely found himself in the penalty box over the course of his career. In 817 career games, he accumulated just 212 minutes in the sin bin. However, in Game 4 of the Western Conference Quarter-Finals, he found himself going head-to-head with forward Mike Kennedy of the Dallas Stars, who didn't fight much in his very short professional career.
Sheppard landed numerous blows on Kennedy before completing the win with a perfectly executed takedown. Also in this particular clip, Detroit forward Kris Draper (#33) can be seen hitting Stars forward Richard Matvichuk so as to make him grind along the edge of the Red Wings bench Tony Hawk style.
#6 – Konstantinov vs. Foote, Brown vs. Ricci, Fetisov vs. Deadmarsh
This fight was the result of Colorado defenseman Adam Foote taking a run at Detroit forward Slava Kozlov. The Avalanche were down 6-0 in Game 4, a loss that would make the series 3-1 in favor of the Red Wings. It came exactly one month after the brawl with St. Louis in Round 1.
Claude Lemieux (Colorado) and Sergei Federov (Detroit) needed to be separated. Kozlov and what appears to be Sandis Ozolins exchanged some words, while forward Doug Brown and defenseman Slava Fetisov also find themselves in the mix. Brown took on Mike Ricci and his mullet while Fetisov took on Adam Deadmarsh. When Fedorov headed to the box, he tossed the water bottle over to the opposing penalty box that was occupied by Lemieux. Lemieux, in turn attempted to destroy the microphone and camera in his box. You can't make this stuff up.
The Avalanche would have their revenge in Game 5, when they would turn the tides and reverse the same score in their favor, but it was not enough to stop the Cup-destined Wings from winning the series in Game 6.
#5 – Grimson vs. Odgers 5/25/95
This might be my personal favorite on this list. Mike Ramsay was roughed up in the corner by Shean Donovan of the San Jose Sharks, who was only 20 at the time. Right-winger Jeff Odgers hits Ramsay while Donovan appears to have him in a headlock. Stu Grimson comes to the rescue. Grimson and Odgers exchanged words, while the latter grabbed his jersey with two hands and proceeded to shove him repeatedly.
This apparently made Grimson very angry, so he decided to end the jawing with one hulk-punch to the jaw (see what I did there). Odgers was dropped barely two seconds into the fight (if you can call it a fight). Odgers' head immediately started to bleed upon hitting the ice as his ear was cut from the punch. He would receive 17 minutes in penalties including a misconduct, while Grimson only received a fighting major.
Detroit would take Game 3 by a score of 6-2 in San Jose, before completing the sweep two days later at home. Detroit would score exactly six goals in each of the four games, outscoring the Sharks 24-6 in the Western Conference Semi-Finals.
#4 – Shanahan vs. Corbet, Bowman vs. Crawford
This matchup came just 7:07 after the Konstantinov-Foote fight. It also came 4:16 after forward Aaron Ward (Detroit, now an NHL analyst for TSN) took on Sylvain Lefebvre. Also at the 13:26 mark of the 3rd period, Joey Kocur received a double roughing penalty along with a misconduct. Lefebvre, Ward, Rouse, Lemieux, Mike Keane, and Darren McCarty all received misconducts as well.
This all started when Martin Lapointe (Detroit) threw a hip check at Eric Lacroix, who didn't appear to have the puck at the time. Rene Corbet steps in and receives a hard shove from Lapointe. Meanwhile Lacroix gets up and joins Corbet. Brendan Shanahan (former league disciplinarian and now President of the Toronto Maple Leafs), seeing that Lapointe is being tag-teamed, jumps in. Shanahan goes to town on Corbet with an onslaught of jabs.
This turn of events caused a battle of not-so-nice words between Detroit coach Scotty Bowman and Colorado coach Marc Crawford. Steve Yzerman defends his coach while Stephane Yelle (no pun intended) tried to restrain Crawford.
#3 – St. Louis Brawl of 1991
This brawl occurred in Game 5 of the 1991 Playoffs. Detroit came into the night up 3-1 over the St. Louis Blues in the Western Conference Quarter-Finals.
The fight starts late in the second period with Randy McKay (Detroit) taking on Darin Kimble. Both players took a number of face hits with Kimble getting the upper-hand. In the third period, Marc Potvin (Detroit) fights Dave Lowry just 1:18 in. Potvin causes Lowry to "turtle" and wins the fight easily.
5:22 later, Bobby Dollas (Detroit) takes on Kelly Chase (now an analyst on the NHL Network). Every player on the ice bunches up and begins to throw punches into a crowd of other players. Glen Featherstone pulls Keith Primeau (Detroit) out of the scrum and they begin fighting right next to Potvin (his second tilt) and his new dance partner Mario Marois. Meanwhile Dollas and Chase play an intense game of "punch me as hard as you can without hitting the official's head." After those two are separated, Primeau and Featherstone really start going at it.
20-year old sophomore Rod Brind'Amour joins in and wants a piece of Primeau, but Primeau's teammate Jimmy Carson won't let that happen. When it appeared that things were winding down, all of a sudden Potvin and Marois start back up again until one man is left standing.
With 3:45 to play in the contest, it all fell apart again. Kevin Miller (not to be confused with current player Kevan Miller of the Boston Bruins. Yes that's Kevin with an "a.") (Detroit) and Dan Quinn exchange some words. Then there's another line brawl. McKay fights a guy by the name of Garth Butcher (who in their right mind would ever fight a guy with the last name "Butcher." Also the antithesis of Garth Brooks. Don't ask me why I always picture Garth Brooks when I read Garth Butcher. It just sounds so similar.) Fight count: 8
#2 – St. Louis Brawl of 1997
This brawl begins with Jamie Pushor (Detroit) exchanging blows with Mike Peluso. Afterward, Slava Kozlov (Detroit) confronts Peluso and the brawl ensues. Martin Lapointe (Detroit) and Ricard Persson (St. Louis) also step in to defend their respective teammates. Every one pairs off, notably Lapointe and Steve Leach. Lapointe (#20) can be seen hammering Leach with a fury of punches. Tomas Sandstrom (Detroit) and Chris Pronger pair off as well. Pronger appears to be distracted after a few blows are exchanged, and then proceeds to sucker Sandstrom in the face with a strong right arm (near the 1:11 mark). Bob Rouse (32, Detroit) and rookie Craig Conroy pair off in a veteran-rookie matchup.
Persson, seeing that Conroy needed some help, skates in to defend his teammate. Red Wings goalie Chris Osgood now sees that this is a 2-on-1 fight and skates in to defend Rouse against Persson. All of a sudden 34-year old veteran netminder Grant Fuhr comes barreling in and levels Rouse from behind. Pronger re-joins the fray along with Lapointe. Fuhr pins Rouse to the ice, who was in the process of pinning Persson to the ice (is this some sort of deranged hockey version of Human Centipede?).
When Rouse and Persson manage to stand up, they immediately resume the tussle. While the linesman restrains Osgood, Fuhr tries to provoke him. Right next to the Rouse-Persson fight, Lapointe and Steve Leach square off.
St. Louis would win the contest 4-0 at home when all was said and done. The win evened the series at two games apiece (second shutout win for the Blues). Of course we all know that Detroit would win the next one at home 5-2 before clinching the series 3-1 back in St. Louis. And that was just Round 1 of the '97 Playoffs.
#1 – Probert vs. Curran 4/9/88
No helmet? No problem. While Bob Probert lost his helmet, his opponent Brian Curran still had his. Instead of letting this become a problem, Probert decided to punch just a little bit harder in order to get past this extra layer of protection. Most players would have had their knuckles broken after punching that much helmet, but not this guy. This is a prime example of the master at work. God only knows what kind of damage Curran would have endured had he not had that on. They can't teach you to fight like that. Playoff fighting at its finest. You're welcome.