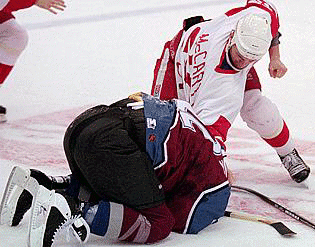 In sports, teams and their fans take their opponents very seriously. The competition of sport itself can breed a heated dislike for other teams and in many cases, certain players. Hockey is clearly no exception. The scenario may be the culmination of two organizations whose arch-rivalries have brewed over decades and fermented into full blown hatred for one another. Or perhaps, one dirty hit took place in garbage time years ago between two teams who would normally be very civil and sportsmanlike to one another, and that moment remained in fans memories ever since; festering into something much more. Mental notes are taken, payback lists get made, and before you know it, a player can find himself to be one of the most hated in the entire league to a particular fanbase.
Before we get started, something should be made clear. Just because these players have landed themselves on Colorado's (poop) list, doesn't take anything away from their time in the NHL (with the exception of maybe one- I think you all know who I'm talking about). All of the players mentioned had great hockey careers and the numbers speak for themselves. I'm sure some of them are also among some fanbases favorite all-time players.
But without further ado, here is a look at the 5 most hated opposing players in Colorado Avalanche history:
5. Eric Lindros
In the 1991 NHL draft, The Quebec Nordiques drafted Eric Lindros and were quickly snubbed by the eventual NHL All-Star. Popular opinion was that Lindros refused to play for a franchise in a small market and would have much rather preferred belonging to a team where his stardom would shine brighter; such as New York or Los Angeles. Others said the decision had more to do with national pride and that Lindros did not want to play for a province that at the time appeared to be moving in a different direction than the rest of Canada. Quebecers were furious with Lindros and he ended up going back to play for his minor league club, The Oshawa Generals. Of course, Eric would have had no idea that the franchise would have eventually been relocated to Colorado four years later, but the damage was done to his reputation among many. The Nordiques did end up getting a good deal out of the trade with the Philadelphia Flyers however, acquiring talent such as Peter Forsberg, who will be inducted into the NHL Hall of Fame in November.
4. Brad May
Brad May was the man that "put out the bounty" on Avalanche player Steve Moore after Moore punished Vancouver Canucks captain Markus Naslund with a hard (but perfectly legal) hit. What resulted because of May's threatening declaration would end up being one of the most disturbing and uncalled for incidents in league history (but more about that later). May was involved in numerous incidents both on and off the ice; including a 20 game suspension for slashing the face of Steve Heinze of the Columbus Blue Jackets, adding to his polarizing notoriety among fans of the league. When Colorado added May a few years later to it's own roster, much of the dislike was squashed, but many fans remained salty and he still received collective jeers at home games for a time.
3. Jeremy Roenick
In the 1996 Western Conference Semifinal Series between the Avalanche and the Chicago Blackhawks, Jeremy Roenick and Patrick Roy went back and forth with each other via media interviews. Roenick had made it known that he felt he should have been awarded a penalty shot after being brought down on a breakaway late in the 7 game series. Roy replied stating that he would have made the save regardless. That didn't sit well with Roenick, as he was quoted saying he'd "like to know where Roy was in Game 3 … probably trying to get his jock out of the rafters." Roy provided a rebuttle in a way that only he could, saying "I cannot really hear what Jeremy says because I've got my two Stanley Cup rings plugging my ear." The Avs went on to win the series and eventually the Stanley Cup. In January of 2014, Roenick (now an NHL analyst) was doing a segment on Matt Duchene for NBC. The Denver media asked Roy, who got two more rings after the famous 1996 series, if he could hear anything Roenick said to Duchene during the visit.
"I had the other two rings in my mouth so, I couldn't say anything to him," Roy said. The entire war may have been a verbal one, but with the help of the media, it was one that Avalanche fans would forever remember.
2. Darren McCarty
In the heated Colorado Avalanche/Detroit Red Wings rivalry, the images that come to most fans' minds are those of the ice littered with equipment and pads, every player involved in either handing out a beating to their foes or receiving one themselves. Two players that always seemed to find each other in the midst of the chaos, were Darren McCarty of Detroit and Claude Lemieux of Colorado. After Lemieux had delivered a heavy blow to Kris Draper in a previous game, McCarty was out for revenge on March 26, 1997 (a night that was nicknamed "Fight Night at the Joe"). Lemieux fell to the ground after a punch from McCarty, and Darren resumed throwing blow after to blow to Lemieux's head. The two went on to engage in multiple fights with each other in games following; sometimes waiting only until the puck was first dropped. Fans of both sides learned to hate the player clad in the opposing colors and in Colorado, McCarty was public enemy #1 for a long time … until another player relieved him of his post …
1. Todd Bertuzzi
On March 8, 2004, in the third period of a game that was over in terms of the score (Colorado beat Vancouver 9-2), Todd Bertuzzi went onto the ice and tried to instigate a fight with Steve Moore of the Avalanche. Moore refused to oblige, so Bertuzzi pursued Moore, slugged him in the jaw from behind, and drove him headfirst into the ice. Moore lay motionless on the ice for about ten minutes, unconscious. The injuries to Moore included three fractured neck vertebrae, a concussion, and various facial scratches. The video shown below speaks for itself:
Moore's hockey career was ended and his life was changed forever. Bertuzzi was officially charged with "assault causing bodily harm." He was given 80 hours of community service, and 1 year of probation. Other lawsuits were brought upon Bertuzzi as well. He was banned from the NHL for a period of time and returned to the Canucks in 2005-2006. When Bertuzzi played games at the Pepsi Center in Colorado, the boos were almost deafening. Personally, I hope no man ever tops Todd Bertuzzi on this list because frankly, I don't even know what a player would have to do to become more unliked by Colorado fans than Bertuzzi.
Obviously, this lineup is arguable and many players not mentioned could have been named. Reflecting back on the franchise's brawls with Detroit at the end of the last millennium, this list probably could have gone twenty players deep. I should also note that all of these players have since retired, making way for a new generation of players to work their way into the club of Avalanche antagonizers.
Next week: a look at the 5 most adored Avalanche players/alumni. I'd like to hear from you about your opinions on them!
Love Reading About Hockey?

Subscribe to keep up-to-date with the latest and most interesting hockey news!
| | |
| --- | --- |
| | We hate spam just as much as you |