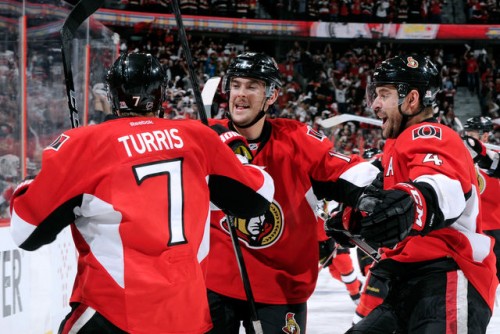 Over 20 seasons spanning from 1992 to 2012, the Ottawa Senators have made the playoffs 15 times. Pretty impressive. And though they have not yet succeeded in winning a Stanley Cup, rest assured by the following Senators playoff moments that total victory is within grasp. Caution: the following may contain graphic images of Daniel Alfredsson dominating as an Ottawa Senator.
8. "First Blood Sens"
The Senators gave themselves a bit of a rugged reputation in their 2013 playoff series with the Montreal Canadiens. This was highlighted by Eric Gryba's collision with Lars Eller. Was the hit clean? Debatable, but the Ottawa Sun sure took advantage of the carnage with their front page photo the next day.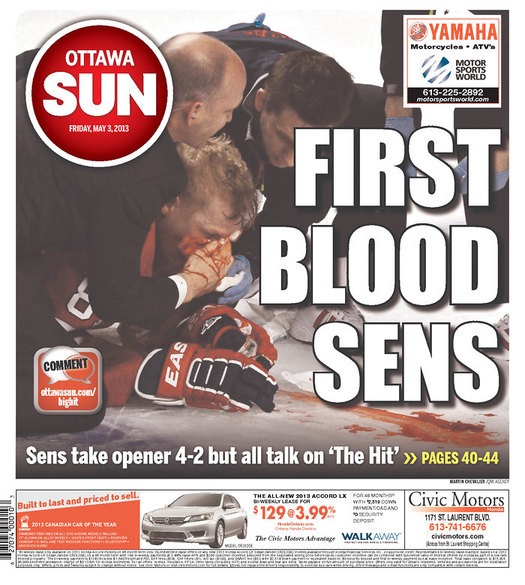 7. War of Words
In the same series, Brandon Prust made headlines after referring to Paul McLean as a "bug-eyed, fat walrus" in response to a comment from the Sens coach stating that it was a Raphael Diaz, or "number 61", suicide pass that led to the Eller hit.
6. Sens beat Leafs 5-0
Oh, the Battle of Ontario. Though the Toronto Maple Leafs have Ottawa's number in the playoffs, this was a statement game in Sens playoff history.
5. Carkner Triple-OT
On the verge of being eliminated by the Pittsburgh Penguins in the 2010 eastern conference quarter-finals, former Senators defencemen Matt Carker put one passed Marc-Andre Fleury in triple overtime to extend the series. They were, however, eliminated in the next game.

4. Sens Crush Habs 6-1 to move onto Semi-Finals
P.K. Subban seemed confident that his Montreal Canadiens would complete the comeback from a 3-1 deficit in the eastern conference quarter-finals in 2013. The Senators plundered his hopes, smashing the Habs 6-1 en-route to the semi-finals. Sens fans will be tender after watching the fourth goal.
3. Kyle Turris Blows One by Lundqvist
This 2012 quarter-final series went back and forth with the New York Rangers ultimately sealing the deal in game seven. Despite this, Kyle Turris surely solidified his presence with that shot.
2. Phillips Forces Game 7
Chris Phillips has been around the Senators organization for the majority of its existence, and though he isn't overly skilled, the native of Calgary brings leadership and stability to the team. His goal that forced a conference final game seven against the New Jersey Devils in 2003 is just one example of that.
1. Sens beat Buffalo in overtime to win Eastern conference championship
It still stings … this Daniel Alfredsson tally brought the Senators their first Stanley Cup Final appearance in team history with this goal against the Buffalo Sabres.
The Ottawa Senators are a young team and a smaller market franchise. Total success, a Stanley Cup victory, has not yet come — but do not fret. If the right moves are made and everyone is working hard, this team has the potential to do wonders that even surpass the ones above.