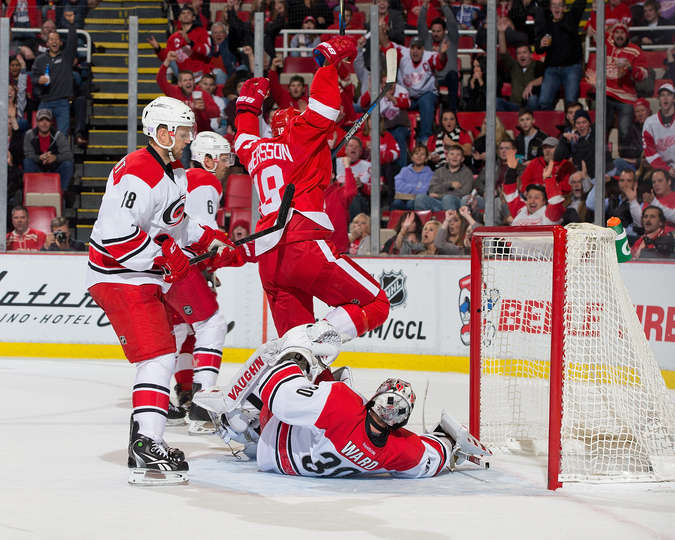 It is bound to happen eventually. With a skillful puck-moving goaltender, a costly mistake is inevitable. Such was the case on Tuesday night. In a tight, scoreless affair, Red Wings netminder Petr Mrazek left his net to play the puck forward to a teammate. However, the puck was thrown into the Carolina Hurricanes forward Victor Rask, who propelled the puck forward and scored into an empty net.
While many will likely criticize Mrazek for playing the puck like he did, it is helpful to look back to Saturday's game in Vancouver, where the game-winning goal was the direct result of Mrazek's pass. If he did not leave his net to play the puck forward to Gustav Nyquist with a skilled stretch pass, Detroit may not win the game. That is his style, and he isn't going to change that fact any time soon, despite a single error.
"We'd all like to have that one back, including [Mrazek]," said coach Jeff Blashill. "The one thing about a goalie that plays the puck a lot is it's going to happen sometimes. So I expect him to go back and keep playing the puck next time."
"Stuff like that happens," said defenseman Niklas Kronwall. "That goal has nothing to do with anything. The rest of us have got to be better."
This turnover was not the only one that the Red Wings committed. In total, there were 12 giveaways in the contest, which gave their opponents many more opportunities than were earned.
"Well they've (turnovers) been a concern most of the year," said Blashill. "You know, I think we're a team that, historically in Detroit and myself as a coach as well, wants to use the pop plays, wants to use, and by pop I mean pop it to the middle of the ice, wants to go tape-to-tape. Everybody talks about puck possession, now we're judging it on shots, historically it's judged on being able to use each other and handle the puck up the ice. You're going to have some turnovers, but it's got to be manageable, and we've got to get better at it, and we're not good at it. I'm not sure our team's set up that way. We're going to have to continue to know how to manage the game better."
Defenseman Jakub Kindl tied the game late in the second stanza to bring his team back in the game just five minutes after the Canes' goal. Tomas Jurco, who drew back into the lineup, had the only assist on the play.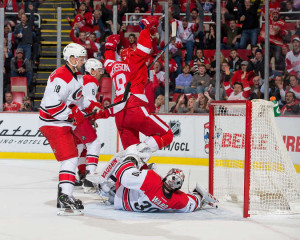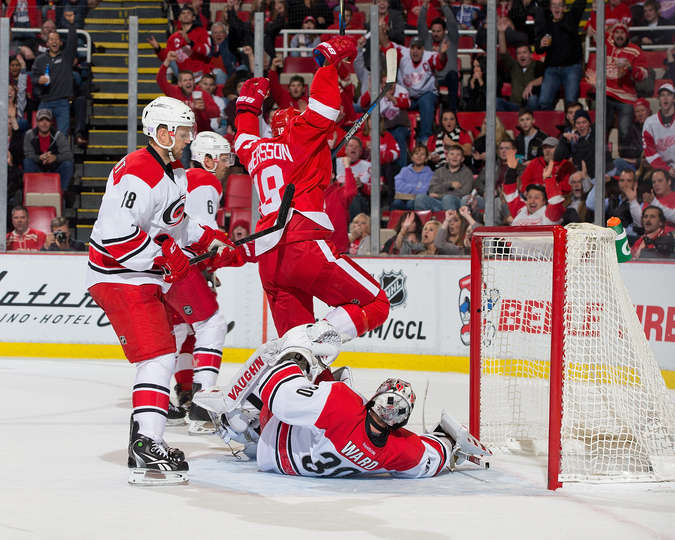 A positive result came in the shots allowed category. When Detroit and Carolina first faced off on the road October 10, the Wings were outshot 47-19, while the home rematch October 16 saw only a slight improvement with a 36-20 differential. On Tuesday, Detroit actually led the shot totals all game, while allowing only 21 by the Hurricanes.
"I thought we battled harder [this time]," said Kronwall. "I believe the last time we played them it was pretty embarrassing."
It was a great defensive game for Detroit. The problem lies not in the back end, but in their inability to score.
In the third period, on another of the giveaways, Carolina defenseman Ron Hainsey let a shot go from the blueline that found its way to the back of the net through traffic.
They would add an empty-netter with 30 seconds to play.
Perhaps Carolina's record of 2-6 coming into the night is not indicative of their potential. Or maybe Detroit just cannot solve their system, led by former Red Wings assistant coach Bill Peters.
"They've been playing us pretty tough from the start," said captain Henrik Zetterberg of the Hurricanes squad's three games.
"I think we came out decent," he added. "First period there were chances both ways, not a lot of chances both ways, but we were in it. And power play, got to produce a little bit more. We had it going in Vancouver, but couldn't really get it here today."
One thing is for sure however. A negative goal differential is not a good sign, and that will need to change quickly, as they have now allowed 24 goals to their 22 scored.
The Boston Bruins and Florida Panthers won their respective games Tuesday, and moved past the stagnant Wings, who sit fifth in the Atlantic Division as the first month of the season nears its conclusion.
Detroit will face the Ottawa Senators back-to-back nights, with the first game at Joe Louis Arena Friday night.
Follow me on Twitter @KevinSporkaHOHM