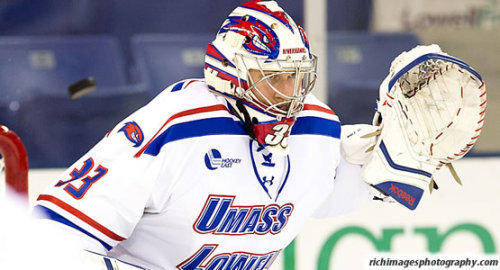 The first Hockey East match up of the year for the UNH Wildcats did not go as expected, as the Wildcats fell 2-0 to UMass Lowell in the Whittemore Center on Friday night. Lowell has quickly become one of the toughest opponents for UNH in the last few years, having ended UNH's season two years in a row. The teams met for the first time since Lowell dispatched the Wildcats 4-0 in last year's Hockey East Final.
Even without leading scorer Joe Gambardella, who was a scratch before the game started with an illness, the River Hawks were able to capitalize on their 11 scoring chances.
"It didn't seem to hurt too much tonight [not having Gambardella]," Lowell head coach Norm Bazin said. "We were missing [Adam] Chapie for the first four contests, we've been missing [Ryan] McGrath, he's a good player … it gives opportunity for others and we don't try to concentrate on who's not playing."
Adam Clark made the start for the Wildcats and played well, stopping 14 of 16 shots he faced. Lowell only put two shots on net in the final period, but that was due to their style of play by packing the defense in front of the net and not making any risky offensive plays.
"Needless to say, I'm disappointed with the outcome. I told my team we gave them basically both goals," UNH head coach Dick Umile said. "We had a lot of opportunities in the game … you need to put those in. After [taking a lead], they just pack it in and blocked shots."
Lowell got on the board first off a lucky bounce to John Edwardh. In a three-on-two chance for the River Hawks almost lost possession in the neutral zone but were able to gain the advantage on the rush. UNH defenseman Dylan Maller had a chance to knock the puck away at center ice, but opted for the safer play of staying back to not leave Brett Pesce in a three-on-one. Jake Kamrass fired a shot from the top of the right faceoff circle that went wide of the net. The puck ricocheted off the endboard and bounced right to Edwardh on the left post, who buried his first career goal.
UNH's Grayson downing had three great scoring chances, but failed to capitalize on them early in the game. The first came on a two-on-one with Dan Correale, who fed Downing with a bouncing puck. Downing mishandled it and wasn't able to get a shot on. His second chance came on a very similar play, this time with Matt Willows, but Lowell goalie Kevin Boyle was right there to make a save.
"If we just got one, it would be a different game," Downing said in regards to his missed scoring opportunities. "I just came down, looking for an opening and I thought I had something. [Boyle] showed it to me, then took it away as soon as I shot it. I'm gonna have nightmares about that for a little bit."
Just 1:56 into the second period, following a UNH penalty kill, Lowell's Zack Kamrass (brother of Jake) was called for a Hook and Downing was awarded with a penalty shot. Coming down the right side, he faked right and went to the forehand, but Boyle got his blocker in the way.
The second River Hawk goal came just 4:44 into the second period. Following a turnover, Lowell's Terrence Wallin found himself with the puck along the left boards. Despite UNH having four defenders back, Wallin's pass crossed Clark's face and A.J. White was on the doorstep to knock in his second of the season.
"The second was just a pathetic play on our part," Umile said. "We just left [White] stand out in front of net."
Boyle had one of his best games all season, stopping all 33 shots he saw en route to his first shutout of the season. This marks the second game Boyle has recorded 30+ saves (35 on Oct. 18 in a 3-3 tie against Quinnipiac).
"I thought we saved our best period for last," Bazin said. "Despite the shots [11-2 in favor of UNH], I thought the third period was our best."
The series will finish tomorrow night in Lowell as the two teams meet for the last time all season. UNH will then have a two-game homestand against Michigan State on Nov. 7-8, while Lowell looks ahead Northeastern the same weekend.