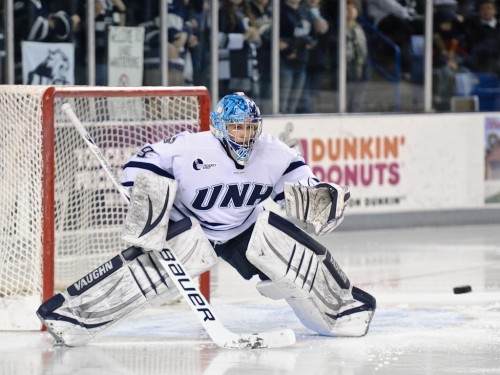 According to Foster's Daily Democrat and the Durham police department, UNH goalie Casey DeSmith has been arrested and charged with domestic violence and resisting arrest over the weekend.
A call was received at 11:59 p.m. on Saturday, August 30, from the female victim. According to Deputy Renee Kelly, the victim was "thrown to the ground, jumped on top of and was repeatedly punched and spat upon." DeSmith, "appeared intoxicated" and police said that when they arrived, the victim had "physical evidence" on her body.
DeSmith was taken to Wentworth-Douglass Hospital, and when police tried to arraign him, that was when he resisted arrest.
The University released a statement on Wednesday afternoon:
"The University of New Hampshire is aware of Casey DeSmith's arrest. The university takes the allegations very seriously and will always act to ensure the health and safety of our community. The university will treat this report with the seriousness that it deserves and in a manner consistent with our handling of similar cases involving any UNH student. Consistent with our policies regarding student athletes charged with this type of behavior, Mr. DeSmith has been suspended from the men's hockey team pending further investigation into the matter."
Junior Jamie Reagan and freshman Adam Clark will now be on position to take over the starting spot.