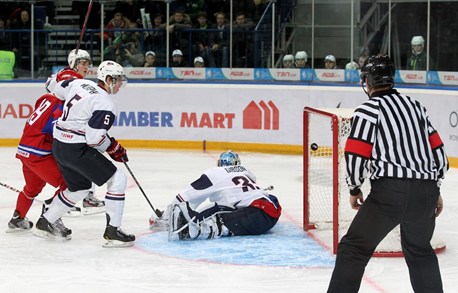 Coming off a decisive victory yesterday morning against a weak German squad, the United States took on a tough opponent this morning in Team Russia.
Russian defenseman Albert Yarullin scored for Russia not even three minutes into the game.  It followed quickly after a US penalty. It did not take long for the Russians to capitalize on their powerplay chance.  In the first period, the United States took four penalties, killing off three, but managed to outshoot Russia 10-8.  Two Russian players limped off the ice after one player injured himself blocking a Seth Jones slapshot and another after going down hard and sliding into the US net.
The second period started with an even matchup of offense and defense.  Both sides traded chances until almost 15 minutes into the period, when the United States got another prime powerplay chance.  After about a full minute of intense pressure and point shots, defenseman Jacob Trouba fired one home to tie the game at one.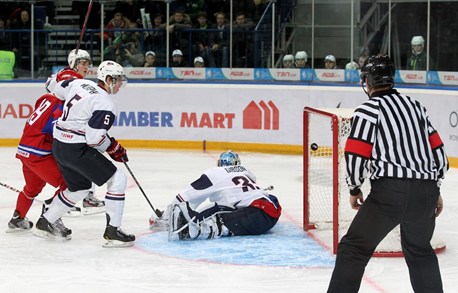 It only took four minutes for Vladimir Tkachyov to give Russia the early third period lead.  Team Russia started a neutral zone trap strategy halfway through the period to protect their one goal lead.  The Americans had a hard time penetrating into the offensive zone and the Russian defense was very solid.  Tensions were building as the period progressed, and the referees let play flow continuously without penalties.  There were a few small scrums that were allowed without consequence.
Nikita Kucherov had a breakaway with three minutes remaining in the game, but John Gibson robbed him of the prime scoring chance.  This kept the Americans in the game.  With 2:20 to play, Kapustin threw a dangerous hit from behind on Blake Pietila.  Pietila showed signs of being shaken up, as he was off balance when the hit was thrown.  On the powerplay that followed, the United States failed to get anything going.  Multiple attempts to keep it in the zone were thwarted by Nail Yakupov and his teammates, and Team Russia won this nail (no pun intended)-biting game.
The player of the game was the Russian goaltender, Andrei Makarov, who saved 41 of 42 shots (.976)
Game 3 is this Sunday at 4:30 AM ET.
Follow me on Twitter @yungspork
Love Reading About Hockey?

Subscribe to keep up-to-date with the latest and most interesting hockey news!
| | |
| --- | --- |
| | We hate spam just as much as you |