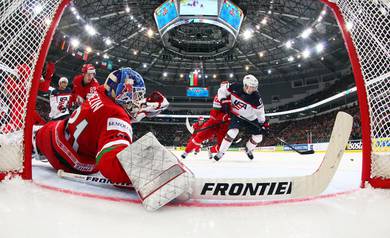 Host nation Belarus came out flying immediately against the Americans in the 2014 World Championship opener but could not capitalize on their early chances to capture a lead. Team USA however took full advantage of their opportunities, including scoring on their first power-play of the game to put themselves up by a goal through a period of play. For the first thirty-five minutes of play the two teams exchanged chances back and forth in a one goal game. Then in a span of less than four minutes, Team USA tallied three goals by Belarus' netminder, Andrei Mezin, to put themselves up comfortably 4-0.
The home crowd at Minsk Arena was stunned just as much as their own team was at how quickly the game started to get away from Belarus. With under a minute to go in the second period, Belarus finally broke through Team USA's netminder, Tim Thomas, on their second power-play of the game to make it 4-1 going into the second intermission. There was life once again on both Belarus' bench and in the crowd but it would be too little to late for the host nation to rally back against the Americans. USA would go on to add two more goals late in the third period and take the game with a decisive 6-1 margin.
Although Belarus finished their opener in disappointment, the host nation turned its attention over to celebrating the nation's holiday called Victory Day with fireworks for the evening. Team USA's victory gives them three points to start the preliminary round but the team has no time to celebrate as they must look ahead to their next game against last year's silver medial winner, Switzerland, for Saturday's matchup. Belarus will have Saturday off and will take on Kazakhstan on Sunday, where they look to rebound and pickup their first points of the preliminary round.
The opening games of the 2014 World Championship saw many interesting finishes as half of the teams participating in the tournament took the ice. There's still six more games ahead for both Belarus and USA and one can only speculate that everyone is in for quite the tournament over the course of the next two weeks.