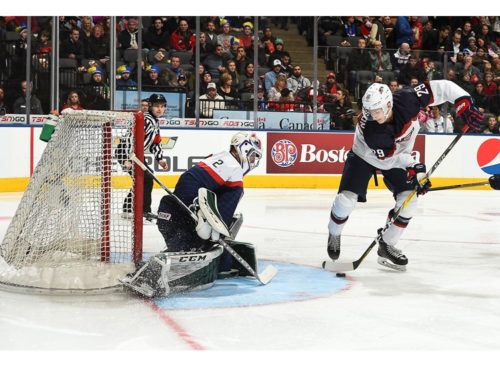 Team USA built on its improved play as its first game progressed, and the players came to the rink ready for a full 60 minutes of skating tonight.
They worked effectively in all facets of the game, beating Slovakia 5-2 and improving to 2-0 in the tournament. There were five goal scorers, and 12 players recorded at least one point for the winners.
"We were focused and ready to play," said captain Luke Kunin. "We did what we needed to do to be successful. We needed to get a good start and get pucks to the net. Everyone on the team contributed."
The Slovaks were much improved over their one-sided loss to Canada last night but were still decidedly the second best team on the ACC ice tonight. They are now 0-2.
Moving the puck with confidence and using their speed, the Americans pressured their opponents all night long and generated countless good scoring chances. In all, shots were 50-20 for the U.S., and the Slovaks have now been outshot in two games by a cumulative total of 94-26.
Slovakia coach Ernest Bokros decided to rest goaltender Adam Huska in favor of Matej Tomek tonight, and Tomek was busy and mostly impressive.
At the other end, coach Bob Motzko did the same, playing Joseph Woll and resting Tyler Parsons.
"Coach Motzko always says you have to come to the rink ready to play every day," noted defenceman Jack Ahcan. "That's what we did today. It's about our heart and our effort."