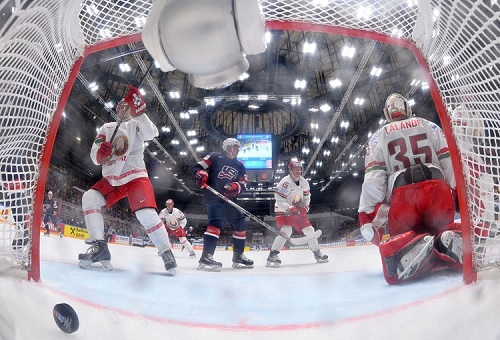 It was a chippy contest that saw both sides take its share of penalties and plenty of after whistle activity. However, Belarus was the bigger culprit and was made to pay.
Taking advantage of special team opportunities and their ability to quickly move the puck, the Americans scored three man advantage goals that helped pace their attack.
Power play tallies by Chris Wideman, Dylan Larkin and Auston Matthews were important factors in the final game of a three game day at Yubileiny Arena.
For Matthews, who is projected as quite possibly the first overall selection in the upcoming NHL draft, the goal was his first in this senior men's tournament. On the night, Matthews had two goals and an assist.
Larkin and Noah Hanifin each had a goal and an assist. Vincent Hinostroza and Frank Vatrano each had two assists. Hinostroza was named player of the game for his team.
"It shows a lot about our character that we were able to come back and respond in such a way, putting up six goals." Said Mike Condon who got the start in goal. "We've still got to work on our game defensively, but there's some good stuff going forward."
The US avenged a 5-2 loss at the hands of Belarus last year in Ostrava.
"It happened so fast when I came off the bench area and Frank Vatrano made a great pass over to me through the zone." Wood recalled after teh game. "I just collected it and shot it quickly. Fortunately it went in."
Wideman made it 2-0 at 13:38 of the first.
When Larkin scored at 2:13 of the second period to make it 3-0 the game, Team USA gained even greater control in the game, limiting Belarus opportunities for a significant stretch of the middle frame.
Belarus was finally able to generate some offense after Matt Hendricks was called for slashing. They would get on the scoreboard at 7:10 of the period when Geoff Platt's shot was redirected by defenseman Brady Sjkei and past Condon.
Belarus really picked up their effort and carried that momentum into the third period. Whereas the Americans dominated the first half of the game, Belarus was now commanding the action. Things got interesting near the halfway point of the third when Wood was whistled off for a delay of game and then JT Compher for hooking.
Belarus would have a :53 two-man advantage and capitalize on the opportunity. Andrei Stepanov would hit the post and then with two seconds remaining in the Wood penalty Dmitri Korobov scored to cut the lead to 5-3.
Team USA would not get a shot on goal until the final 5:20 of the period, and it was a goal. Matthews scored his second of the game to permanently put it away and neutralize the surging crowd support for Belarus.
"It was a very fun game and I thought that was a very tough Belarus team." Condon said. "They did play with a lot of heart and energy. The fans are crazy. So it was a very fun experience, and I'm just happy we got to see our flag raised at the end."
The win puts the United States back in the mix in this group while Belarus is still searching for their first win of the tournament.