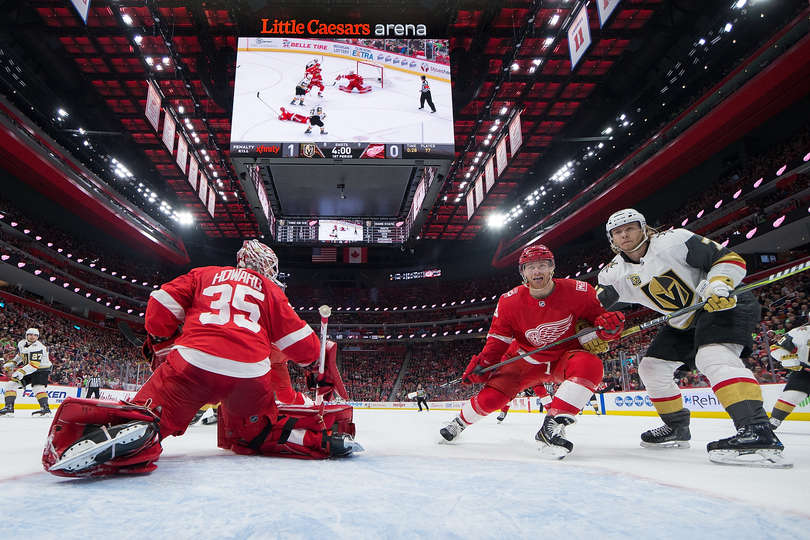 A disastrous second period sunk the Red Wings on Thursday night as they hosted the Vegas Golden Knights for the first time at Little Caesars Arena. It was forward Tomas Tatar's first time playing against the team that drafted him (he was traded at the deadline for a 2018 1st round pick, a 2019 2nd round pick, and a 2021 third round pick).
In a pretty tight first period, the Golden Knights earned a 1-0 lead on an 11-9 shot advantage. Both teams had numerous close calls as Ryan Carpenter and Shea Theodore both hit the post (the former early in the period, the latter towards the end), while Detroit's Tyler Bertuzzi hit the far post on a booming slap shot attempt on goalie Marc-Andre Fleury. The goal came from Alex Tuch, his 12th of the season. It was a seemingly harmless snap shot that goalie Jimmy Howard should have saved.
Having kept the game within reach in a nearly even first, Detroit completely fell apart in the middle frame. Vegas exploded with three more unanswered goal to prove just how offensively dynamic their roster has been and continues to be.
Cody Eakin made it 2-0 on a shorthanded breakaway goal. Eakin, not known for his scoring prowess seemed to easily beat Howard. William Karlsson assisted.
Seven minutes later, Eakin scored again. It appeared that Howard was anticipating a far-side shot as he reached out with his glove, but Eakin instead scored on the blocker-side. Former Wing and Calder Cup Champion forward Tomas Nosek was credited with primary assist. Last summer he was claimed by Vegas in the Expansion Draft.
50 seconds later, Tuch scored his second, with the assist going to Eakin for his third point of the night.
4-0 would be the final score, as Fleury earned himself a shutout.
On a brighter note for Detroit, Evgeny Svechnikov (whose brother Andrei will be drafted in the top two this summer) played his first NHL game since April 4th as he was called up from Grand Rapids. He played 9:09 of ice time in a limited role.
Detroit travels to Columbus tomorrow (7:00 ET) before facing San Jose Monday (10:30), Los Angeles Thursday (10:00), and Anaheim Friday (10:00).
Follow me on Twitter @KevinSporkaHOHM