Returning to the same room he retired in 10 years ago, Patrick Roy hasn't changed much since then, and in some way he has. His thick French-Canadian accent full blown at the beginning while reading a short statement accepting the Colorado Avalanche head coaching position and a message for the fans:
Hockey press conferences are as dry as dry can get, so it was refreshing to see Roy sitting in-front of the home town media giving some smartass remarks during the question and answer portion of the presser. When asked by the Denver Post's Adrian Dater about the stigma that great players do not make great coaches, Roy quipped "I checked one very interesting stat: 100 -percent of the coach coaching in the NHL were a rookie one time in their career. Is that something?" Cue the laughs.
That's the Patrick Roy we remember. The same one who famously retorted about Chicago Blackhawks Jeremy Roenick's chiding of him after a Game 3 that "I can't really hear what Jeremy says because I have my two Stanley Cup rings plugging my ear."
Roy made a promise to fans that the Avs may not win the Stanley Cup this next season "but we are going to have a Stanley Cup attitude." That is promise enough that the Avs will not slip quietly into the basement of the Western Conference standings. Roy was a fiery player and has been a fiery coach in the QJHL, but has calmed himself down over the years, but the fire still burns of a competitor who played the game at the highest level.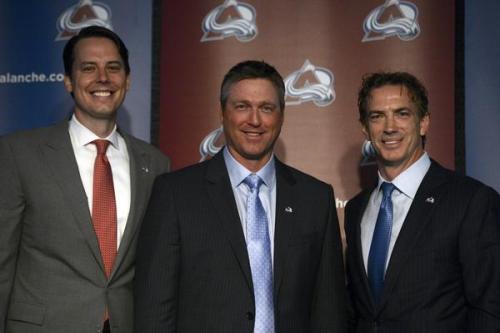 As a coach now at the highest level in hockey Roy stated he isn't afraid to put in the work needed of a head coach and of a VP of hockey operations. When asked about his thoughts on players he said he has some work to do, stating that he hadn't followed the Avalanche that much and isn't very familiar with all of his players. He gave praise though to J.S. Giguere, Gabriel Landeskog and Matt Duchene.
Landeskog, Giguere and Paul Stastny were on hand for the conference. Giguere has been on Record stating that Roy was his biggest influence in becoming a goalie.
Roy was also asked about the NHL Draft's top three prospects Nathan MacKinnon, Jonathan Drouin and Seth Jones, all three of which he has seen as coach of the Quebec Remparts. He likes all three but wouldn't give an affirmative answer on which one he would recommend for drafting with the Avs number one pick next month. He and Joe Sakic also left the door wide open for a trade of the number one pick. The Avs need more than just one player to get back into Cup contention. A Seth Jones doesn't make a complete Avalanche team. Leading up to the draft could be interesting as Roy will be handling the calls regarding trades and draft trades according to Denver Post's Mark Kiszla and Dater.
One personnel move he will be making soon is hiring a goalie coach. When asked if he would be the goalie coach as well as head coach he said no and stated that he did have a person in mind though for the job but wouldn't say who it was.
Roy is back on the job and with a renewed pairing of him and Sakic, good things are on the horizon for the Colorado Avalanche.
Love Reading About Hockey?

Subscribe to keep up-to-date with the latest and most interesting hockey news!
| | |
| --- | --- |
| | We hate spam just as much as you |