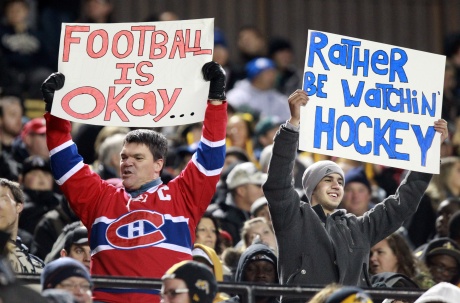 This past Sunday (October 28th) a great spectacle occurred at the Yorkdale Mall in Toronto, Canada. It's not something that any ordinary person couldn't organize together but the message is clear to me. We are 46 days deep into this lockout and November isn't going to get any easier. Will we have NHL hockey by December 1st?
Rumors are flying in all directions from the winter classic being canceled to possible offers from the owners to come shortly. I don't know what to believe in other then that we as passionate hockey fans need to keep our spirits and hopes to the end. Do not give up till it possibly becomes official that a full-season lockout is the last option.
I have no real words to say to both the owners and players. If my favorite sport has to be ruined by a bunch of lazy and stubborn people over a bunch of green paper with dead presidents on it….so be it. I have alternatives and so do we all with plenty of other hockey leagues playing daily. Oh well, here's to our love of hockey:
Love Reading About Hockey?

Subscribe to keep up-to-date with the latest and most interesting hockey news!
| | |
| --- | --- |
| | We hate spam just as much as you |