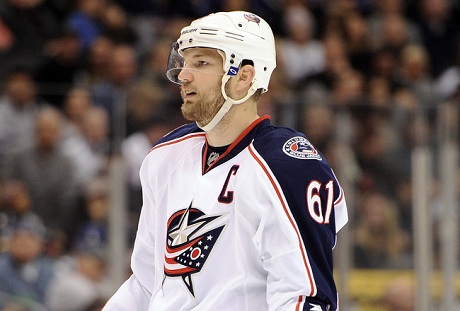 Welcome to the Pre-Deadline edition of WNW. One of the main focuses of this week is undoubtedly the looming trade deadline (Next Monday Feb. 27th). The hockey universe is all abuzz over the numerous trade rumors and deals that have been made. With the playoffs approaching, one trade could make or break a team's playoffs hopes. It is one of the most exciting dates on the hockey calendar. So without further ado, this week's news:
Trades Made So Far (As of 2.21.12)
-The Edmonton Oilers traded forward Ryan O'Marra to the Anaheim Ducks in return for defenseman Bryan Rodney.
-The Philadelphia Flyers have bolstered their defense corps by adding Nicklas Grossman from Dallas Stars. This will help to fill the large void caused by Chris Pronger's season ending injury. In return, the Dallas Stars received a 2nd round pick in the 2012 Entry Draft and a 3rd rounder in 2013. The Flyers have also added veteran defender Pavel Kubina to their blueline, acquired from the Tampa Bay Lightning. The Lightning received forward Jon Kalinski, a 2nd round pick in either the 2012 or 2013 draft, and a 4th rounder in 2013. The addition of Grossman and Kubina will greatly help the Flyers and increase their chances of a deep playoff run.
-GM Steve Yzerman and the Tampa Bay Lightning dealt away forward Dominic Moore to the San Jose Sharks while the Sharks received a 2nd round draft pick in this year's draft. Moore will surely provideSan Jose with extra grit, which is one of the most valuable qualities in a playoff team.
-The Montreal Canadiens have sent defender Hal Gill to the Nashville Predators along with a Conditional 5th round pick in next year's draft in return for forward Blake Geoffrion (Grandson of Bernie "Boom Boom" Geoffrion, long time Montreal great), Robert Slaney, and a 2nd round pick in the 2012 draft. For the Nashville Predators, they gain a veteran defenseman (36 years old), who will add his 13 years of NHL experience to the team. The Preds' defense already boasts Shea Weber and Ryan Suter, and adding Hal Gill to the mix makes their blueline even more terrifying. It can likely be assumed thatMontreal wanted Blake Geoffrion because of his Grandfather's legacy with the team (His number is retired). But he is also a great young player, and in a few years, could easily put up the points.
-The Chicago Blackhawks have acquired forward Matt Fornatero and have dealt forward Brandon Segal to the Tampa Lightning as well.
-In a three-way deal, the Tampa Bay Lightning have sent grinder Steve Downie to the Colorado Avalanche in return for defenseman Kyle Quincy. The Lightning, in turn, sent Quincy to the Detroit Red Wings, and received defenseman Sebastien Piche and a 1st rounder in this year's draft. The Avalanche are clearly looking towards the playoffs with this move. The Avs currently sit at 11th place in the Western Conference, but remain only 3 points out of 8th. Downie provides them with a strong forward who can score, fight, and stick up for teammates as well. This is not Kyle Quincy's first time in Detroit. Quincy was actually drafted by the Red Wings in the 2003 NHL draft and split time between AHL affiliate Grand Rapids and the Wings from 2005 to 2008, before spending time with the Los Angeles Kings and the Avalanche. With veteran defenseman Brian Rafalski retiring at the end of last season, Quincy will fill the 6th spot on the blueline, joining Lidstrom, White, Kronwall, Stuart, and Ericsson (the position that Mike Commodore and Jakub Kindl failed to secure throughout this season). Yzerman's moves indicate a look to the future, rather than the present. The Lightning are not looking like the team that just made it to the Conference Finals in last year's playoffs.
Red Hot Wings – Last Friday the Detroit Red Wings extended their home winning streak to 22, with their win against the Nashville Predators at Joe Louis Arena. Then on their Sunday matinee, the Wings extended it to 23 with their win against the San Jose Sharks on Hockey Day in America. AHL call-up and career back-up Joey MacDonald was outstanding and went 6-1-1 in Howard's absence. His stats also included a 1.67 GAA and a .934 SP. With "Big Mac" playing like he is, GM Ken Holland decided to waive Ty Conklin, who proceeded to pass waivers and will join the Grand Rapids Griffins. Their next test will be this Thursday when the Wings take on the Vancouver Canucks inDetroit.
For the Record: Legends Jaromir Jagr and Teemu Selanne continue to rack up the goals. In a 5-4 overtime win over the Winnipeg Jets, Jagr scored his 16th of the year, which puts him at 662 career goals. He is currently 6 behind #10 Luc Robitaille. Not to be outdone, Selanne passed Brendan Shanahan with his 657th goal, good for #12 all-time.
-Goalie Miikka Kiprusoff tied long-time Caps netminder Olaf Kolzig for 23rd all-time with his 303rd career win. Kipper is having a great year and may even be considered as a Vezina Trophy candidate.
Trade Rumors
–The Rick Nash saga continues and the Columbus Blue Jackets will be in the main spotlight on Trade Deadline day, with Rick Nash and Jeff Carter being the 2 most talented players on the market. Nash has been rumored to be traded to the New York Rangers, the Philadelphia Flyers, the Toronto Maple Leafs, the San Jose Sharks and the Los Angeles Kings. It's anyone's guess as to which team will actually acquire him. However, Bob McKenzie of TSN is often very accurate at guessing, and he believes it will be the Rangers or the Kings who make the deal. The Kings are in desperate need of an improvement in offense (they currently sit at 8th place in the West by a margin of 1 point in the standings).
-Veteran goaltender Evgeni Nabokov of the New York Islanders will likely be moved, but his destination remains a mystery. The Isles have no use for a goalie of his age and experience, considering they are light years away from playoff contention. A team like the Detroit Red Wings or the Philadelphia Flyers could definitely be in the mix, considering the current goalie situation in Philly. Ilya Bryzgalov has greatly underachieved and Nabokov would provide them with consistency.
-Defenseman Marek Zidlicky of the Minnesota Wild has stated that he would waive his no-trade clause to go to the New Jersey Devils. Zidlicky would add a veteran presence to a younger Devils squad and could very well be the last piece of the puzzle needed for a run at the Cup.
Who Will Be Moved?
Players that I think will be moved at the Trade Deadline:
-Rick Nash – CBJ – High Chance
-Jeff Carter – CBJ – High Chance
-Evgeni Nabokov – NYI – Medium-High Chance
-Teemu Selanne – ANA – Possible move to Detroit (rumored)
-Luke Schenn – TOR – Low Chance
-Sam Gagner – EDM – Low-Medium Chance
-Ryan Suter – NSH – Medium Chance (Rinne and Weber are expensive)
-Logan Couture – SJ – Low Chance (But could be trade bait for Nash)
-Mike Commodore – DET – Medium Chance (As a possible salary dump due to his underachieving)
-Zach Parise – NJ – No Chance (If this was January, High Chance, but definitely not now)
Those are enough big name players to get fans excited for Trade Deadline 2012. We will wait and see which players have new homes next Tuesday.
Injury Alert
-St. LouisBlues – Forward – Jamie Langenbrunner – Langenbrunner will be out for about a month with a broken foot. The loss of a vet like Jamie will definitely affect the team, but the Blues are on a roll. With a talented roster, they will look to continue their dominance in the West.
-DetroitRed Wings – Forward – Pavel Datsyuk – Datsyuk will be watching the games from home during the next 2-3 weeks. Knee surgery is about the only thing that can stop the determined forward, who has 59 points so far this season.
-BostonBruins – Forward – Rich Peverley will be out with a sprained MCL and is expected to sit for 4-6 weeks.
-ChicagoBlackhawks – Forward – Jonathan Toews – The Hart Trophy hopeful has sustained an upper body injury, and the length of the injury is not known.
-TampaBayLightning- Forward – Vincent Lecavalier is out indefinitely with an upper body injury.
(Stats courtesy of ESPN.com, Hockeydb.com, and NHL.com. Trades courtesy of THN.com, TSN.com and Bob McKenzie)
(Next Article: Friday, February 24th – Fantasy Hockey Friday)
Love Reading About Hockey?

Subscribe to keep up-to-date with the latest and most interesting hockey news!
| | |
| --- | --- |
| | We hate spam just as much as you |