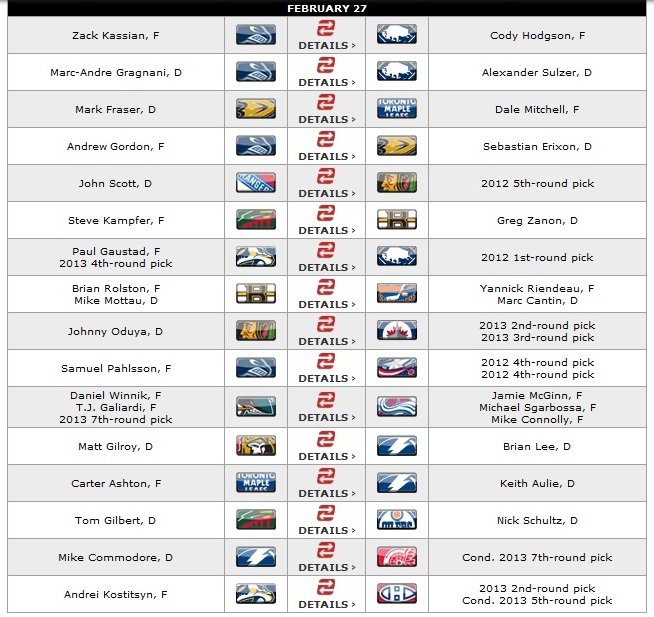 Well, another trade deadline has come and gone, and we are left to wonder…who came out on top? Even though he didn't get traded, Rick Nash was still the main story of the day. Many hopeful fans of the Rangers/Predators/Sharks/Flyers/Maple Leafs/Bruins…were thoroughly disappointed that a deal couldn't be worked out. Darren Dreger of TSN tweeted that the Rangers offered the Columbus Blue Jackets a "mammoth deal" but it wasn't enough for GM Scott Howson to agree to trade their franchise player. In this edition of Weekly News Wednesdays I will be focusing on the winners and losers at the trade deadline.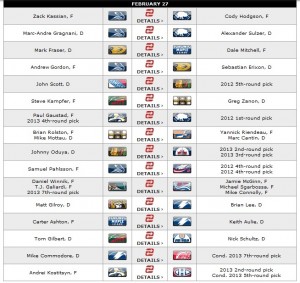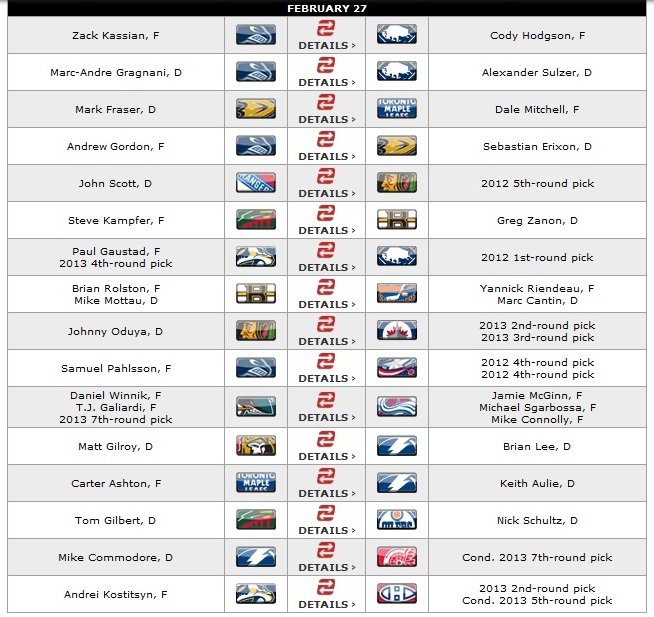 List of Trades Made at the Deadline
-The Florida Panthers traded forward Wojtek Wolski to the New York Rangers for defenseman Mike Vernace and a 3rd Round Pick in 2013. Edge: Florida – The Panthers can use Wolski's offensive skills to their advantage. I think he was overshadowed with star power in New York with Brad Richards, Marion Gaborik and Brandon Dubinsky. He could prove to be a very valuable depth player in a Panthers playoff run this year.
-The Panthers also traded a 6th Round Pick in this year's draft for forward Jerred Smithson of the Nashville Predators. Edge: Even – Smithson does give the Panthers a big bodied center. He's not known for putting up the points (1G 4A in 53 GP this season), but he adds a physical presence (6 foot 3, 209 lb) which Florida needed.
-The St. Louis Blues traded goalie and star prospect Ben Bishop to the Ottawa Senators for a 2nd Rounder in next year's draft. Edge: Ottawa – Bishop currently boasts a record of 24-14 in the American Hockey League. His GAA is a 2.26 and his SP is .928. We'll see how he does with the Sens' minor league affiliate, the Binghamton Senators, but he's got the skill and potential to be the starter in Ottawa (possibly by next year). You can't argue with those numbers. The Peoria Rivermen are 3rd place in the Midwest Division, and the Senators are dead last in the East Division. Binghamton will certainly benefit from the trade, and with the goalie problems that Ottawa has faced all year (and previous years), they will certainly need him in the years to come.
-The Nashville Predators traded a 2nd Round Pick in 2013 and a Conditional 5th Rounder in 2013 to the Montreal Canadiens for forward Andrei Kostitsyn, the brother of Sergei Kostitsyn. Edge: Nashville They will likely play on the same line, and Andrei will benefit from playing alongside his brother. Montreal has been mediocre at best and downright horrible at worst this season, so picking up a draft pick might've been a decent move by them. Andrei's best season to date was the 2007-08 campaign where he accumulated 26 goals and 27 assists for a total of 53 points. He was also a +15 that year. This season, he has only recorded 12 goals and 12 assists for 24 points and is a -8. This will change in Nashville. The Predators are playoff bound, and if the Vancouver Canucks proved anything last postseason, it is that two brothers may make all the difference. By no means am I comparing the Kostitsyn's and the Sedin's but the point is still clear. Nashville will have more chemistry, which is a major necessity for any playoff team.
-The Detroit Red Wings traded veteran defenseman Mike Commodore to Tampa Bay in exchange for a Conditional 7th Round Pick in the 2013 draft. Edge: ? This move makes no sense to me, because the fact of the matter is, Commodore's contract was already set to expire at the end of this season, the Red Wings did not even use the cap space that they gained by moving him, and they lost a healthy scratch defender. With defenseman Jonathan Ericsson out for a month, and newly acquired Kyle Quincey out with a groin injury, the Red Wings were forced to recall Jakub Kindl and Brendan Smith from AHL Grand Rapids. In my opinion Commodore was a good asset to the team, he was well-liked by his teammates, and was a solid defensive defenseman. The move makes no more sense from Tampa Bay's perspective. GM Steve Yzerman has been trading players such as veteran Pavel Kubina for draft picks. All the other moves he made were for draft picks/prospects, and acquiring a 32 year old d-man just doesn't fit. He is not going to be a Chris Pronger in the leadership category, and while the Lightning are in their rebuilding phase, I don't see this trade actually benefiting the team. Renowned tweeter and Phoenix Coyotes 4th line grinder Paul Bissonnette (@BizNasty on twitter) tweeted to Mike Commodore (@commie22) and stated "Don't feel bad about being traded for only a 7th round pick. With the way Detroit drafts, that pick may turn out to be a hall-of-famer one day."
-The Edmonton Oilers traded defenseman Tom Gilbert to the Minnesota Wild for defenseman Nick Schultz. Edge: Even – This trade should benefit both sides, and a change in scenery for the two defenders may benefit them. Edmonton is out of the playoff hunt and with the way Minnesota has been playing (3-6-1 in their last 10 GP), they are most likely out as well. This is a really even trade and it'll be interesting to see how it plays out, especially next season.
-Toronto traded defenseman Keith Aulie to the Tampa Bay Lightning for forward Carter Ashton. Edge: Toronto – Ashton currently has 35 points in 56 games played (19 G 16A, +8) for the American League Norfolk Admirals. It is hard to give an edge to either side when the players are only 20 and 22 (Ashton and Aulie respectively).
-The San Jose Sharks traded forwards Jamie McGinn, Mike Connolly, and Michael Sgarbossa to the Colorado Avalanche for forwards Daniel Winnik, T.J. Galiardi, and a 7th Round Pick in next year's draft. Edge: Colorado (but not by much) – The Sharks will gain speed and grit with Galiardi and Winnik, and the Avalanche will gain a talented young winger in McGinn. I think McGinn will have a bigger impact with the Avs then Winnik and Galiardi will have with the Sharks, but it is almost even.
-The Ottawa Senators have traded defenseman Matt Gilroy to the Tampa Bay Lightning for defenseman Brian Lee. Edge: Even – Both have almost the same amount of NHL experience and their point totals aren't too far apart. Hard to tell who wins this trade at this point.
-The Winnipeg Jets traded defender Johnny Oduya to the Chicago Blackhawks for a 2nd and 3rd round pick in 2013. Edge: Chicago – When Jets General Manager Kevin Cheveldayoff told TSN that they had a trade to announce, their response was "Oh do ya?" Ok, I apologize for that horrible pun, but I just couldn't resist. The former New Jersey Devil and Lenny Kravitz look-alike, can put up the offensive numbers when needed, and the Black Hawks need just that right now. Chicago is hanging on to the 6th spot in the Western Conference but not by much with 9th and 10th place Colorado and Los Angeles only 3 points behind. Their record of 4-6-0 in their last 10 games played is not going to cut it. Adding Oduya will definitely improve Chicago's blueline. Good move by GM Stan Bowman.
-The Boston Bruins acquired veteran forward Brian Rolston and Mike Mottau from the New York Islanders and dealt forward Yannik Riendeau and defenseman Marc Cantin in return. Edge: Boston – This trade was meant to be a quick fix to a struggling Boston team (4-5-1 last 10 GP). Rolston will surely provide the team with veteran leadership come playoff time (sound familiar Bruins fans?) He is 39, and has accumulated 339 goals, 407 assists for a total of 746 points in his 18 year tour (visiting New Jersey, Colorado, Boston, and Minnesota, New Jersey again, and the New York Islanders during his successful career). His return to Boston may indeed have an impact similar to Mark Recchi's stint with the team the last 3 seasons. Mike Mottau is also a good add for the Bruins' blueline. Mottau attended Boston College from 1996 to 2000, so both players have a history with the city as well.
-The Nashville Predators dealt away a 1st rounder in this year's draft and received veteran forward Paul Gaustad in return. Edge: Even – The Buffalo Sabres will not be making the postseason this year, so trading for a 1st round pick in the upcoming draft this June was a good move. For Nashville, they acquired a solid 3rd/4th line center who has a knack for winning faceoffs and can score key goals when called upon. He is no stranger to the penalty box and can get under the opposing team's skin. The Detroit Red Wings attempted to acquire Gaustad, but the Sabres wanted a 1st round pick, which Detroit dealt away to Tampa Bay in the Kyle Quincey deal last week.
-The Bruins also traded defenseman Steve Kampfer to the Minnesota Wild for defenseman Greg Zanon. Edge: Boston – It is clear that Boston wants to repeat as Stanley Cup champions. The acquisition of Zanon from the Wild is a decent move by GM Peter Chiarelli. Like Rolston, Zanon has a lot of experience, and he could prove to be a vital asset in the playoffs. Kampfer is a University of Michigan graduate who never really accomplished much with the Bruins during his time in Boston (2010-present). The Minnesota Wild took a gamble on the young defenseman, but it could pay off in a few years with more seasoning and continued experience.
-The Black Hawks traded defenseman John Scott to the New York Rangers in exchange for a 5th round pick in this year's draft. Edge: Even – Scott is known for using his size to his advantage, especially when it comes to fighting. The Blueshirts may not have landed Rick Nash, but they acquired the bigger, cheaper, scarier, defensive alternative. He will add grit and overall aggressiveness to the Rangers' squad. Look out for New York in the playoffs. By the way, has anyone seen Sean Avery recently?
-The Toronto Maple Leafs also sent forward Dale Mitchell to the Anaheim Ducks for defender Mark Fraser. Edge: Even – This trade will not have an immediate impact at the moment. But down the line, this may prove to be a valuable depth trade for both teams.
-In a last-minute deadline buzzer beater, the Vancouver Canucks hurriedly finalized a deal which sent star forward Cody Hodgson and defenseman Alexander Sulzer to the Buffalo Sabres in exchange for star forward and prospect Zack Kassian, as well as defenseman Marc-Andre Gragnani. Edge: Buffalo – This was arguably the most shocking of all the deadline deals, because Hodgson was not a name tossed around in trade rumors. Hodgson is a potential candidate for the Calder Memorial Trophy this season, and the Canucks could have used his speed and youth in the playoffs. Zack Kassian has a ton of potential, and could very well be the next young star for Vancouver.
-Last but not least, the Canucks also traded defenseman Sebastian Erixon to the Anaheim Ducks for forward Andrew Gordon. Edge: Vancouver – Erixson is playing in his first season in the United States, after playing 5 seasons in Sweden, whereas Gordon has already achieved success in the American Hockey League playing for the Hershey Bears.
Overall this was not the most exciting Trade Deadline, but it did provide for some interesting speculation and a lot of tweeting. 15 trades were made, involving 31 players, and 11 draft picks. 2010's Trade Deadline included a record breaking 31 trades. I doubt we will see that many trades in the years to come, but it always proves to be a fun day of hoping and waiting, or in Rick Nash's case, sweating and sobbing into a heaping bowl of ice cream. Next stop, July 1st for free agency day! Wait a minute…Rick did you write that? You skipped the play…oh yeah, sorry.
Follow me on twitter @yungspork.
(I will be assessing how these trades will impact your fantasy roster in the upcoming Fantasy Hockey Friday article this Friday, March 2nd)