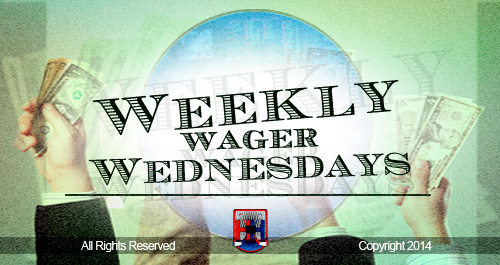 I hope everyone that celebrates had a great Christmas and to everyone else happy holidays.
Also happy early new years!
I went a perfect 3-0 going into Xmas break and sit with a 24-9 record. To wrap up 2014 there's a whopping 11 games! The last time I was faced with 9 games I went 8-1 so I'll test my luck to go for a near perfect WWW.
New York Islanders vs. Winnipeg Jets
Iggy's Pick: Islanders
Here's Why: The Islanders have been one of the most impressive teams this season and it's due to their play in all 3 zones of late.
Tampa Bay Lightning vs. Buffalo Sabres
Iggy's Pick: Bolts
Here's Why: It's hard to side with the Sabres and in a matchup this seasawed you'd have to be crazier than I already am to go against the Bolts.
New York Rangers vs. Florida Panthers
Iggy's Pick: Rangers
Here's Why: Rangers are starting to heart up and I just don't think the Panthers will be able to keep up with them for 60 minutes.
Toronto Maple Leafs vs. Boston Bruins
Iggy's Pick: Bruins
Here's Why: I'd actually like to point out that the B's have terrible luck playing in NYE games so I think this will be my game to break my perfect streak. Nonetheless this should be a good one to close out 2014.
Carolina Hurricanes vs. Pittsburgh Penguins
Iggy's Pick: Pens
Here's Why: This should be a gift game for the Pens in earning 2 Pts.
Minnesota Wild vs. Columbus Blue Jackets
Iggy's Pick: BJs
Here's Why: I'll keep it as pj as I can but home team takes it here, #BJsFTW
New Jersey Devils vs. Detroit Red Wings
Iggy's Pick: Wings
Here's Why: Home game advantage will be the factor here and not to mention Howard's #'s have been great this season.
San Jose Sharks vs. Anaheim Ducks
Iggy's Pick: Sharks
Here's Why: It seems like the Sharks have the Ducks' # in the regular season and I think that dominace continues into 2015.
Arizona Coyotes vs. Dallas Stars
Iggy's Pick: Stars
Here's Why: The two teams aren't in the playoffs but the Stars can put up goals unlike the Coyotes.
Philadelphia Flyers vs. Colorado Avalanche
Iggy's Pick: Avs
Here's Why: Flyers are up and down and I'm loving the home ice advantage to wrap up 2014 for all teams today.
Edmonton Oilers vs. Calgary Flames
Iggy's Pick: Flames
Here's Why: There's only one other team you don't pick other than the Sabres and that's the Oilers…Happy Early New Year!
Love Reading About Hockey?

Subscribe to keep up-to-date with the latest and most interesting hockey news!
| | |
| --- | --- |
| | We hate spam just as much as you |