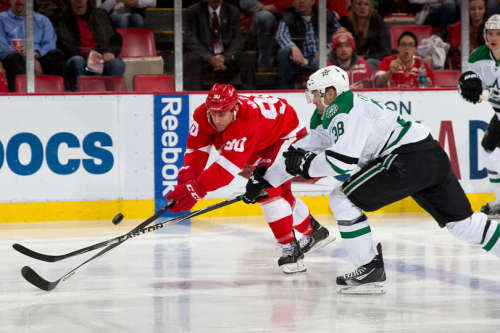 Stephen Weiss continued his hot streak on Thursday night as the Detroit Red Wings bounced back from a disappointing loss to the Florida Panthers on Tuesday.
The veteran center registered a goal and two assists against the Dallas Stars en route to a 5-2 win. The three points brings his season total to nine points in only seven games.
"We all knew he's a helluva player. He just had to get a chance, and that's huge for us," said Kyle Quincey. "He gives us two, three solid lines now offensively, and he brings a lot to the table. We're all rooting for him, so it's great to see him succeed."
Darren Helm opened the scoring with a goal from a low-percentage angle. Rookie goalie Jussi Rynnas may have been anticipating a centering pass, but instead Helm snuck the puck in with a quick shot.
"Any time you got a rookie goalie you want to test him and throw as many puck as you can on the net," said Quincey. "Our goals were pretty nice goals, nice passing plays. I think that goalie played really well tonight. You know, we got five by him, but we played pretty solid all sixty minutes."
However, the early lead would evaporate only fifteen seconds later, when the Stars came right back to tie the game with a goal by Colton Sceviour.
"It was a weird goal, weird point of the game, them getting that quick one right after us," said Helm. "I was hoping we'd find some momentum after that goal but [we] came out kind of flat and they got the quick one. But we bounced back well after that though."
Near the midway point of the first, Weiss was the beneficiary of a great passing play. Tomas Jurco to Riley Sheahan to Weiss and in, tic-tac-toe.
Late in the period, Detroit would take advantage of a Ryan Garbutt slashing penalty by increasing their lead to 3-1. Weiss found Pavel Datsyuk, who then backhanded the puck past Rynnas.
Tyler Seguin pulled the Stars to within one goal of the Red Wings in the second period while defenseman Danny DeKeyser served a penalty for hi-sticking.
It wasn't until the third period that Kyle Quincey would add a cushion to his team's lead. His slap shot from the point not only gave him his first goal of the season, but it gave Weiss his second assist and third point of the contest.
Helm would add one more for good measure. He had two additional scoring chances earlier in the game, including a breakaway.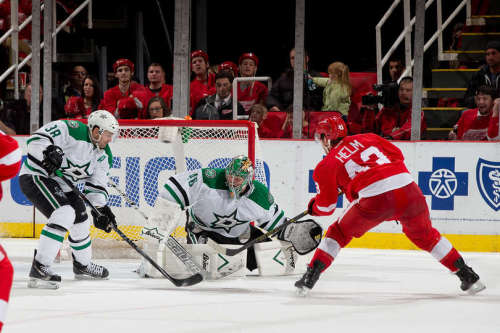 "It was a big bounce-back game for sure," said Helm. "Nobody in the dressing room was happy with the way we played (on Tuesday), and today was way better."
"They're a very solid offensive team," said Quincey. "We knew we didn't want to give them too many chances, and they were coming there in the third. We did a good job holding them off, and we're grateful for the win."
Red Wings netminder Jimmy Howard improved to 12-5-4 with a 2.22 goals-against average and .916 save percentage.
With 35 points, Detroit is one point behind second place Montreal and four points behind first place Tampa Bay. They conclude their four-game home stand Saturday night when they face the New York Rangers. Game time is set for 7:00 ET.
Follow me on Twitter @yungspork
Love Reading About Hockey?

Subscribe to keep up-to-date with the latest and most interesting hockey news!
| | |
| --- | --- |
| | We hate spam just as much as you |