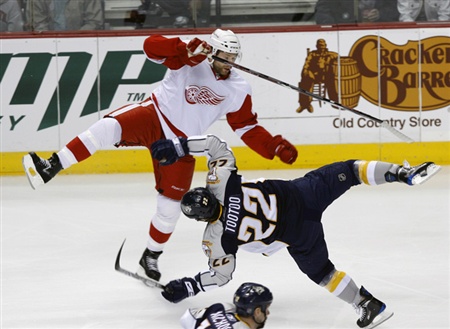 Last summer, the Detroit Red Wings made numerous acquisitions. Probably the most surprising of the transactions was the signing of former Nashville Predator grinder Jordin Tootoo. The Red Wings have generally been lacking in the areas of grinding and fighting, both of which Jordin specializes in. He brings with him unparalleled determination, loyalty, and grit. Every night he plays to win, not for the name and number on the back of his sweater, but for the logo on the front. Tootoo has always been known as a great team player and he always sticks up for his team.
Jordin was the first Inuk (Inuit) player to play in the NHL and also the first NHLer that grew up in Nunavut. He entered the league in 2003, after being drafted 98th overall by the Nashville Predators in 2001. Before he joined the NHL, he played for the Brandon Wheat Kings of the Western Hockey League. Tootoo played four seasons for the Wheat Kings, compiling 93 goals and 116 assists for 209 points in 220 games. At the same time, he amassed 874 penalty minutes.
In his first season as a Predator he scored 4 goals and 4 assists in 70 games, while racking up 137 penalty minutes. In his 8 NHL seasons, Tootoo has accumulated 46 goals and 79 assists for 125 points in 486 games. In those 486 games he received 725 penalty minutes.
His style of play is very similar to that of Darren McCarty, the 4-time Stanley Cup champion. McCarty could stir up trouble, protect his teammates, and score crucial goals
This morning I asked Jordin: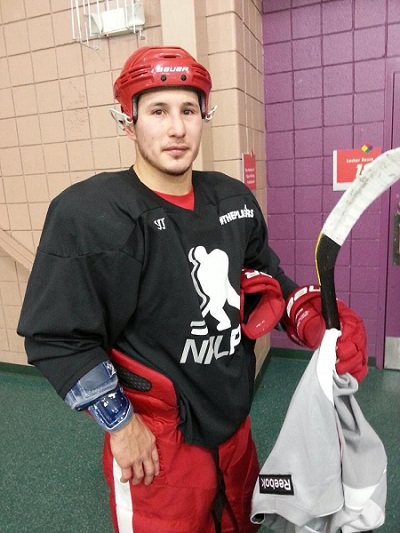 Q: What was it like playing in Joe Louis for the away team, so many times each season?
A: Well there's a lot of history in that arena. Just having that opportunity to now play on the real side and having that place as a home arena, for me, is gonna be a career high for me. There are a lot of arenas in this league that have a lot of history, but I think Detroit, the Joe, is one place where I get to call home for the next three years.
Q: What do you think it'll be like playing for a former rival Central Division team?
A: I play to win every night, whatever team I'm on. Doesn't matter whether I'm playing pickup hockey or for the Detroit Red Wings. I'm a Red Wing for the next three years, and I'm gonna make sure that every team knows that.
Q: Do you think it'll be hard to jump into the season so quickly with a shortened training camp [and no preseason]?
A: Well we've had four months to prepare for this, so if you're not ready, you're not gonna play.
When asked if he was ready, he said "Physically I feel great, I've been in practices with the [Kelowna] Rockets the last four months. About ten of us in Kelowna are maybe a couple steps ahead of the guys who are coming back. But you can practice all you want; it's about being in game shape. You know it might take two or three good hard practices with the big men."
Justin Abdelkader on Tootoo:
Q: What do you think it'll be like playing with Jordin Tootoo? You've played against him in Nashville over the years, what will it be like having him as a teammate?
A: I think he's a really good player. He brings a lot of energy. He's an energy guy and a guy that'll be a big help to our team. I'm just looking forward to going out there and playing with him. It'll be fun.
Johan Franzen on Tootoo:
"No one likes to play against him.
Tootoo just arrived in Detroit Tuesday night, and yesterday morning was the first time meeting his teammates in one of the last informal practices before training camp opens this Sunday.
He will once again be wearing #22 (like his name). He may only be 5 foot 9, but that's just a number.
I think I speak for everyone in Michigan when I say: Let's drop the puck on this season.
Welcome to Detroit Jordin Tootoo
Follow me on Twitter @yungspork