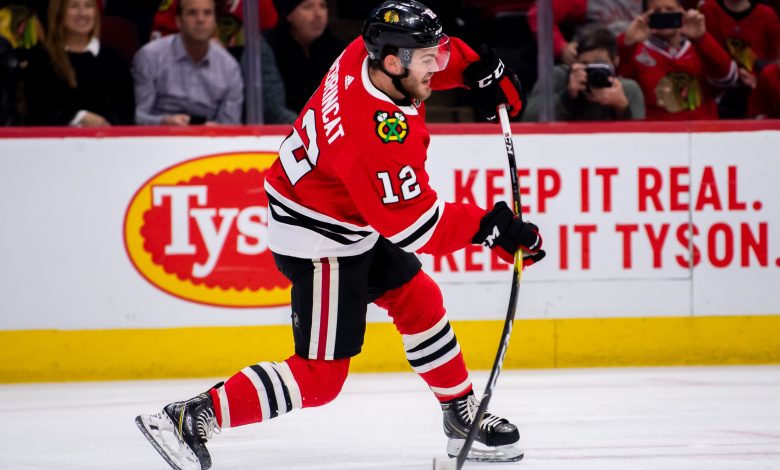 Buckle up. Exactly four weeks remain until the NHL Draft – and there will be a flurry of offseason activity from now until the Montreal Canadiens pick at No. 1 in a buzzing Bell Centre.
Heading into this offseason, the No. 2 overall pick is in play, along with a 41-goal scorer, a heartbeat center, an All-Star goaltender and maybe even one of the league's most consistent scorers.
Alex DeBrincat
Left Wing, Chicago Blackhawks
Age: 24
Stats: 82 GP, 41 G, 37 A, 78 Pts
Contract: 1 more season, $6.4 million AAV
The question seems to be 'when' and not 'if' the Hawks will move the two-time 40-goal scorer.
Is it this summer, or before next season's trade deadline? If it seems odd that the rebuilding Blackhawks would want to move a sniper just hitting his prime with more goals than Nathan MacKinnon and Brad Marchand over the last four seasons, consider these three points:
1) DeBrincat is Chicago's best trade chip to begin stockpiling future assets;
2) By the time Chicago gets to where it wants, he will be middle-aged by NHL standards;
3) With a $9 million qualifying offer due at the end of next season, they'd need to pay big to keep him on what should be a struggling squad.
DeBrincat isn't the only potential big-name linked to a possible trade this upcoming NHL offseason. Look no further then Boston Bruins' David Pastrňák who has been rumored isn't interested in signing with the Bruins so long as the current GM is there.
When the Blackhawks traded Brandon Hagel to Tampa Bay for a pair of first-round picks and two NHL players, it was a huge return mainly because of the player's value. Hagel was on pace to finish with 30-plus goals, and the Lightning essentially got him at a bargain $1.5 million cap hit for what they hope to be three long playoff runs.
If you're a team that wants to acquire DeBrincat, however, not only do you have to be prepared to give up significant assets but you have to have the cap space to fit his contract on the books. Plus, the size of the return would likely depend on whether or not a potential trade is contingent on an extension, too, like Chicago's was when it traded for Jones from Columbus.
Despite the different circumstances, the Blackhawks probably won't take any offer seriously unless it resembles the Hagel package to some degree, although you have to imagine GM Kyle Davidson would make acquiring a high first-round pick and/or an A-level prospect a priority. (The two first-rounders Chicago received from Tampa Bay are likely going to be late ones).
A team to watch could be the New Jersey Devils, who are reportedly open to trading the No. 2 overall pick, already have one of the top farm systems in the league and have more than $25 million in projected cap space next season. I'm sure they'd like to find a permanent long-term winger for Jack Hughes and DeBrincat would certainly be an ideal candidate.
While the Blackhawks can choose to wait until next year's trade deadline to consider moving DeBrincat, the offseason is typically the best time to make a big splash because more teams can get involved and maneuver money around to make it work. The deadline can be hit or miss depending on the market and cap space, among other factors.
(Just look at the underwhelming return Ottawa got for Mark Stone on deadline day in February 2019: A high-end defenseman prospect in Erik Brannstrom, a second-round pick and a bottom-six center in Oscar Lindberg who's no longer in the NHL. That return had nothing to do with Stone the player and more about Ottawa not having much leverage, because Stone was willing to sign a long-term extension with Vegas and eventually did for eight years at a $9.5 million cap hit).