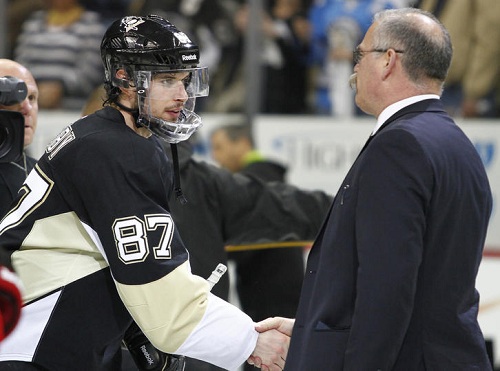 The Jack Adams Award goes to the coach that has "contributed the most to his team's success." Another way I like to think of it is, the coach who had the most success with the smallest amount of talent to work with. However, for some reason I don't think that my definition will ever be adopted by the NHL.
This year's nominees are: Bruce Boudreau of the Anaheim Ducks, Paul MacLean of the Ottawa Senators, and Joel Quenneville of the Chicago Blackhawks.
To me, one name stands out above the others as a clear and obvious choice. That coach is Paul MacLean.
MacLean was nominated last season, but lost to Ken Hitchcock, coach of the St. Louis Blues. Last year I penned an article about why Paul deserved to win. You can read that again right here.
Let's first analyze how all three coaches found success this season.
The Anaheim Ducks had an outstanding start to their season, with much of their success due to the impressive goalkeeping early on from first-year NHLer Viktor Fasth, who was no rookie, but had just been signed to an NHL contract. Jonas Hiller was injured early in the year, but Fasth was able to patch the holes in net and help his team to an 11-2-1 start.
If not for the Chicago Blackhawks, Anaheim would've been the story of the year. But, when looking on this team's success, how much is due to coaching, and how much is due to managing the team?
Through the draft, Anaheim has acquired Bobby Ryan (2nd in 2005), Ryan Getzlaf (19th in 2003), Corey Perry (28th in 2003), Kyle Palmieri (26th in 2009), Peter Holland (15th in 2009), Cam Fowler (12th in 2010), and Emerson Etem (29th in 2010). 7 strong roster players were acquired by management in the first round since 2003. A lot of their success can be attributed to having valuable players like those mentioned above on the roster, which is a reason that GM Bob Murray was nominated for GM of the Year (hopefully he's not near any dangerous chairs if he loses).
Anaheim did not have to overcome too much adversity this season. They didn't face too many season-changing injuries to key players. Star players Getzlaf and Perry combined for almost two points-per-game. Of their top 11 scorers, the most games missed by one player was Matt Beleskey (six).
Looking at Anaheim's depth chart, they have rolled four solid forward lines and three strong pairings. Each with an outstanding combination of speed, size, skill, and grit on each line. On paper they are arguably the best team in the league (although they'll have to argue with Chicago).
Bruce Boudreau is a great coach. He proved himself to be a very valuable asset starting from his first year in Washington (2007-08). In this case, I'm not sure how much trouble he actually faced during this season.
The Chicago Blackhawks under coach Quenneville, helped themselves to an unbelievable 24 game unbeaten-in-regulation streak/point streak (they lost three times in shootouts).
In my opinion, Chicago's team is the actual best roster on paper (your turn to argue Anaheim).
The only key player that missed a significant amount of games this season is Patrick Sharp, who was limited to just 28 games (though he managed 20 points in those games).
This team has the most impressive star power of any team in recent memory. Kane, Toews, Hossa, Keith, Sharp, Seabrook…you get the point. If the NHL made up a new rule where there were no coaches, or played a season in which the players coached themselves…I think this team would have the most success with all the leadership on the squad. There are many more leaders on Chicago than there are "C's" and "A's" to hand out.
From the first day they were the odds-on favorite to win it all; anything less than a Stanley Cup would be a disappointment. That was said before any games were even played. This speaks to the overall talent level of the Hawks (that coaching has nothing to do with).
Through the years, management has drafted some of the best players in the league. In order of year chosen: Dave Bolland (2nd round, 2004), Bryan Bickell (2nd round, 2004), Troy Brouwer (7th round 2004), Niklas Hjalmarsson (4th round, 2005), Jonathan Toews (1st round, 3rd overall, 2006), Patrick Kane (1st overall, 2007), Marcus Kruger (5th round, 2009), Brandon Saad (2nd round, 2011), and Andrew Shaw (5th round, 2011).
When you are given an all-star cast of players to work with, your job isn't the hardest thing in the world to do. I think this Chicago team could win with any combination of coaches (or fans) behind the bench. Stan Bowman certainly is one of the men to thank about the structure of the Hawks.
Overall, Chicago faced little adversity throughout the year. The Central Division wasn't as strong as it usually is and very little man-games were lost to injury.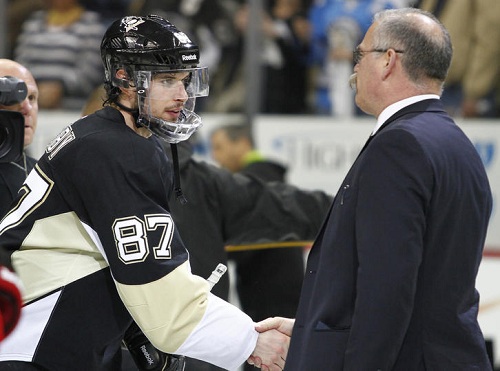 Lastly, the Ottawa Senators limped into the playoffs on one leg, after surviving a late slide. If you asked me to bet on a team that lost their starting goalie, their best offensive forward, and last year's Norris Trophy winning defenseman, I would…well I would say you're crazy.
This team has had to overcome a lot throughout the year.
Five games after the start of the season star forward Jason Spezza suffered from a torn MCL during his rehab from back surgery. He was able to play in the Senators' last three playoff contest, but was unable to help their playoff run.
13 games into the season forward Milan Michalek fell to a knee injury, and was out from February 12 to March 6. Upon his return he played just two games before rejoining the injury list. His next return would be April 12. He would only be able to play eight more games.
14 games in, last year's Norris winner Erik Karlsson wound up on injured reserve (IR) after an incident in the corner. Matt Cooke's skate lacerated his Achilles tendon, and Karlsson was soon told he would be done for the year (although he was somehow able to return in the postseason). Ottawa managed to muddle through and patch holes as needed on their back end, but this was a huge blow to the team's morale.
15 games into the season, team MVP Craig Anderson fell to an ankle injury. In six January games, Anderson gave up just six goals. He won five of the six, with the lone loss coming in a shootout. His save-percentage (Sv%) for the month was .967. In February his Sv% was .942. His last game of that stretch saw him leave a game against the New York Rangers (a game Ottawa would win 3-2 in a shootout) where he was pitching a shutout for 41:43. He would not return from February 21 to April 7. The Senators had to band together as a team and lessen the load for young goaltenders Ben Bishop and Robin Lehner.
Coach MacLean did not panic or make any rushed decisions. In only his second year as a coach, he has shown great leadership on the Sens' bench. If any other coach was in his place, there's no guarantee that Ottawa would even have left the Eastern Conference basement. He has embodied the definition of the award. In my opinion he has, by far, contributed more to his team's success than every other coach this season
He overcame a seemingly endless stream of obstacles and thus should be the favorite to win the Jack Adams Award this week.
Follow me on Twitter @yungspork