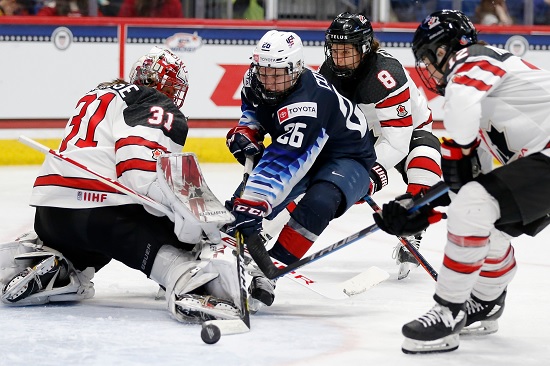 Hockey Hall of Famer Hayley Wickenheiser says women's hockey needs an NHL partnership in order to create one successful league.
It's the same thing the Professional Women's Hockey Players Association (PWHPA) has been pushing for since its inception in 2019.
"The best option for women's hockey moving forward is that we need one league where the best players in the world play," Wickenheiser wrote to CBC Sports.
Hayley Wickenheiser is a Canadian former ice hockey player, and the current Assistant Director of Player Development for the Toronto Maple Leafs. She was the first woman to play full-time professional hockey in a position other than goalie. Wickenheiser was a member of Canada women's national ice hockey team for 23 years, from 1994 until announcing her retirement on January 13, 2017, and is the team's career points leader with 168 goals and 211 assists in 276 games.
She represented Canada at the Winter Olympics five times, capturing four gold and one silver medal and twice being named tournament MVP, and one time at the Summer Olympics in softball. She is tied with teammates Caroline Ouellette and Jayna Hefford for the record for the most gold medals of any Canadian Olympian, and is widely considered the greatest female ice hockey player of all-time.
Currently there are two professional women's hockey avenues: the National Women's Hockey League (NWHL), a six-team league in which the PWHPA doesn't participate, and the PWHPA-founded Dream Gap Tour, a nomadic series of showcase tournaments.
"Women's hockey has been its own worst enemy in recent years with the division and split of the two leagues," Wickenheiser said.
"The way I see it is, where the best players in the world want to play is probably your answer to the best leadership and best organization and what the best chance of success is, and that is the PWHPA."
The PWHPA was the beneficiary of some of those deep pockets last Thursday, when Secret deodorant pledged $1 million US to fund the 2021 Dream Gap Tour — the largest financial commitment to women's hockey in North American history.
"The answer on how to move forward is a true professional league partnering with the NHL, playing in building at a smaller scale at growing it through the partnership," Wickenheiser said.
"I see that as the only way forward, unless there are some very deep pockets that want to come in privately."
Wickenheiser says the money is one of many important ingredients in the creation of a sustainable women's hockey league.
"I think it's important to have corporate Canada step up and lead the way. If you don't have corporate sponsorship dollars, you can't have television, if you don't have television, you can't have visibility, you can't have corporate sponsorship dollars. So it's a vicious circle of a chicken and an egg type of thing," she said.
Wickenheiser is working with PC Financial on the launch of their new PC Money account, which includes every day rewards.
"I think women hockey players today live in a very financially precarious position," Wickenheiser said. "It's a challenging life, and the importance of managing our spending and maximizing our budgets when it comes to everyday essentials has never been so important."
The Secret funding is a start, though NHL involvement, increased visibility and further corporate sponsorships will all be key in the creation of one women's hockey league.
For now, Wickenheiser says the Dream Gap Tour must start off in small locations with some TV coverage while it battles the pandemic.
"Globally, the state of women's hockey is in a precarious place. We had some really good momentum until the pandemic hit and then it really set things back. I think women's hockey deserves better and [we] have to be willing to think outside the box, and adjust as this pandemic moves forward."