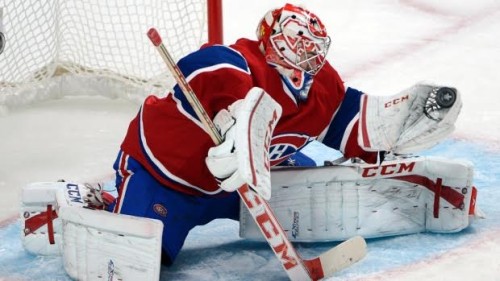 Each team is at least an eighth of the way through the season now, meaning we can begin to speculate
what the postseason may look like. We're well aware there's still quite a bit of hockey to go around, but
given some of the separation so far we think we're safe to speculate.
Kind of goes without saying after a 9-1 start through your first ten games, that you're a heavy cup
contender. The Montreal Canadiens are the hottest team in the NHL and though they've cooled a little,
Carey Price is still one of, if not the heaviest Vezina contender out there. If he's your goalie, you've got a
great chance regardless of who else is on your team. Watch for anybody and everybody to have trouble
with the Habs this postseason.
While we like Montreal in the East, the Dallas Stars so far look like the team to beat in the West. The
Stars have already taken out the Lightning, Penguins and Ducks; three Stanley Cup contender picks
through the offseason. The NHL Futures at TopBet give the Habs the best odds at +900, while the Stars
are not too far behind at +1,200.
Since the season began that separation we mentioned has definitely taken shape more in the Western
Conference. The Ducks look like a lost team with endless speculation about their Head Coach Bruce
Boudreau losing his job. The Hawks have gotten off to a pretty slow start and the Colorado Avalanche
still haven't regained that 2014 form that everyone used to love so much.
At the moment, it looks like the teams rounding out the West will be Dallas, St. Louis, Minnesota,
Vancouver, Los Angeles, San Jose, Nashville and Winnipeg. While in the East, the Canadiens are followed
by Tampa Bay, Boston, Washington, the New York Rangers, the New York Islanders, Pittsburgh and New Jersey.
The most intrigue comes out of the Metropolitan Division where Washington and Pittsburgh meet along
with the Rangers and Islanders in the quarterfinals. The annual NHL 16 simulation actually has the
Islanders winning the cup. Mind you it has the Habs missing the playoffs, so take from it what you will.
Love Reading About Hockey?

Subscribe to keep up-to-date with the latest and most interesting hockey news!
| | |
| --- | --- |
| | We hate spam just as much as you |