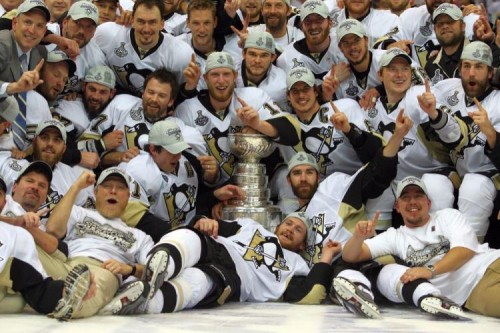 Welcome to Hooked on Hockey Magazine's continuation of pre-playoff list articles. I hope you're enjoying some of the greatest hockey-related lists assembled.
If you personally know me, it's no big secret that I'm a huge Pittsburgh Penguins fan. If you're new to my column, or to this magazine, you get a free peek into my heart, no M.D. required; as such, beware the bias. So, without further ado, here are my top ten reasons why the Pittsburgh Penguins need to win the Stanley Cup this year.
10) They're a dominant team, but they haven't got much to show for it
Sure, the Pittsburgh Penguins, under their current lineup, have managed to win both the very last Atlantic Division crown, and the very first Metropolitan Division crown, a title that they will probably hold for years to come with a healthy core involving Sidney Crosby, Evgeni Malkin, James Neal, Marc-Andre Fleury, and company; however, the Penguins have not won any team silverware since winning the Stanley Cup in 2009, despite having a Ted Lindsay award winner in Sidney Crosby and the GM of the Year Award in Ray Shero in 2013, Evgeni Malkin getting the Art Ross, Hart, and Ted Lindsay trophies in 2012, Dan Bylsma winning the Jack Adams trophy in 2011, and Sidney Crosby tying with Steven Stamkos for the Maurice "Rocket" Richard trophy in 2010. Individual silverware is awesome, but having bragging rights as a team too is incredible.
9) Dan Bylsma is on the hot seat
Whether you like to refer to him as Disco Dan, or Coach Dan, Dan Bylsma has had an incredible tenure as head coach since his appointment halfway through the 2008-09 NHL season. Under Bylsma, the Penguins have amassed an overall record of 251-117-30 in the regular season (this year so far inclusive). Out of a possible 796 points, Coach Dan has managed the Penguins through an incredible 532 points, in baseball terms, a .668 batting average. In the playoffs, Coach Dan's record stands at 36-29, a 55.4% winning average. Combined, Dan Bylsma has led the Penguins to a 287-146-30 record, and that is despite losing Sidney Crosby for a season with a concussion, and through numerous injuries to regulars throughout the years, particularly in 2010-11, which earned him the Jack Adams trophy. So why is Coach Dan on the hot seat? Simple: since he took the helm of the team in 2009, he got a Stanley Cup, and two unceremonious bounces out of the playoffs, including a high-scoring affair with the Philadelphia Flyers in 2011-12, and a sweep at the hands of the Boston Bruins last season. For a coach that gets a little over two thirds of all possible points in the regular season, winning just over half of playoff games doesn't cut it nowadays.
8) It would speak volumes about Sidney Crosby's leadership
Sidney Crosby, for better or worse, is a leader. He's a polarizing figure in the NHL, with many people idolizing him, and many others with less than love for him, to put it delicately. Regardless of how you feel about Sidney Crosby, he leads by example. As of April 8, Crosby leads the NHL by a whopping 16 points, and is poised to win the Art Ross trophy, unless Corey Perry scores at a superhuman rate of 5.33 points per game for the next 3 games. As far as Sidney Crosby goes, the Penguins go (assuming Malkin doesn't activate Beast Mode in his stead). It stands to reason that with the season Sidney Crosby is having, he should be rewarded with a Stanley Cup. Speaking of Crosby…
7) Wouldn't it be nice to get a Double?
Sidney Crosby and Chris Kunitz are gold medalists at Sochi this year. While there are many other teams currently in playoff contention with one or more gold medalists in Sochi (looking at you, Montreal), as a Penguins fan and a Canadian, I think the glory should go to the captain (yes, I'm slightly biased. You were warned). It's an amazing feel-good story to see Chris Kunitz, a player many pundits called a bubble player to make Team Canada for the Olympics, earn a gold medal and the Stanley Cup in the same year. Likewise, with Crosby, can you imagine if he wins the Olympic Gold Medal, Stanley Cup, Art Ross, Hart Trophy and Conn Smythe in the same year? If that doesn't solidify his position as current best player in the world, I don't know what would.
6) Marc-Andre Fleury needs a bounce-back playoffs
You're thinking it. I'm thinking it. For a team that has so much depth up front, they sure are flimsy in net. Called the Achilles Heel of the Pittsburgh Penguins, Marc-Andre Fleury has been chastised for his performance in the past two playoffs, allowing a monstrous amount of goals against cross-state rivals Philadelphia Flyers in 2011-12 and being unceremoniously relegated to the backup role to Tomas Vokoun last season. Without the cushion that Tomas Vokoun provided, as well as having an inexperienced backup in Jeffrey Zatkoff, this is Fleury's year to make his naysayers and critics eat their words. He's quietly amassed the second most wins in the NHL, despite missing Rob Scuderi, Paul Martin, Brooks Orpik and Kris Letang for long stretches. With a decent save percentage of .917, and 5 shutouts (2 shy of leader Tuukka Rask), Fleury usually shines in the regular season; whether the "Flower" blooms in April and May or not remains to be seen, but like me, many fans are hoping that his March slump precedes a playoff streak.
5) High staff turnover rate
The Pittsburgh Penguins have 10 players heading to Unrestricted Free Agency, and 4 players heading to Restricted Free Agency. As per CapGeek.com, Lee Stempniak, Jussi Jokinen, Marcel Goc, Taylor Pyatt, Tanner Glass, Joe Vitale, Chris Conner, Brooks Orpik, Matt Niskanen, and Deryk Engelland are impending free agents, with Tomas Vokoun poised to retire at the end of the season, and Brian Gibbons, Simon Despres, Brandon Sutter and Jayson Megna heading to Restricted Free Agency. This means that while the core of the team will remain intact, the support staff will look very differently. Winning the Stanley Cup not only may serve as an incentive to keep more of the supporting players around, keeping team chemistry, but also to lure big free agents (as much as the cap allows) into a Stanley Cup winner. Sadly, though, not every player will be back…
4) One last Hurrah for Brooksy
As a diehard fan, I absolutely love Brooks Orpik. He's been on the team since 2002-03. He's been a Penguins mainstay through the return and re-retirement of legendary Penguin Mario Lemieux, through the rise of superstar Sidney Crosby, and has been with the team throughout its rebuild, from basement-dwelling to cup champions. At age 33, though, I don't believe that Brooks Orpik will re-sign with a young, speedy Pittsburgh Penguins. Especially with the rise of Simon Despres, and Olli Maatta, Brooks Orpik may be kept around as a mentor to these young, rising defensive studs; however, Rob Scuderi is signed onto the Penguins for the next three years, fulfilling the role of defensive veteran mentor. If Brooks Orpik decides to sign elsewhere, there's no better way to depart a club than after winning a Stanley Cup.
3) Kris Letang's Stroke
As an offensive defenseman, Kris Letang is an X-factor for the Pittsburgh Penguins; not only is he incredible on the powerplay, he's also able to play winger with his speed and definitely underrated shot. When news broke on February 7th that Letang had suffered a stroke, Penguins fans such as myself had a big fit of worry, followed by a sense of relief when it was announced that Letang would be okay. Since his stroke, Letang has been cleared for practice by the Penguins medical staff, and has not been officially shut down for the season. A lengthy playoff run allows for Kris Letang to make a full recovery (no pressure, though), and maybe play in the final round of the playoffs. Just when teams have been defensively worn down, reinforcements such as Kris Letang would be a godsend and could be that extra push that the Penguins need to win the Stanley Cup.
2) Think of the Future
Olli Maatta, Beau Bennett, Simon Despres. These guys are young, 19, 22, and 22 respectively. The experience of winning a cup and knowing what it takes to get there is a valuable, sought-after asset for many teams. Imagine getting that experience at the very beginning of your career and building on that. For these youngsters, that is a very real possibility; Olli Maatta, an Olympic Bronze Medalist in Sochi has proven to be an asset to the Pittsburgh Penguins, and surely one that they will reward with a big contract locking him up for years to come. Along with Beau Bennett, who has shown that he can play with Malkin and Crosby, and Simon Despres, who has shown to be a competent defenseman; the next core class of the Pittsburgh Penguins is showing early flashes of brilliance. What better way to solidify that core than by winning a Stanley Cup? With players like these, it's hard to see another rebuild on the horizon for the Penguins.
1) For the fans
Any team can make an argument that their fans deserve a Stanley Cup win. Whatever your criteria happens to be, whether it's "due" or whether it's "been too long since our last win," or "have been knocking on the door with no answer," few teams can make a case as good as the Pittsburgh Penguins. They are probably one of the most fan-friendly teams, with giveaways almost monthly of cool swag, such as a Coach Dan bobbleheads, or drawstring bags, to their pizza giveaways and student rush games, where the players deliver pizza to people waiting in line, and its many charitable causes, such as Skates and Plates, and other fundraisers through the Mario Lemieux foundation. This team does not just represent its city; it betters it. For the love affair the City of Pittsburgh has for its Penguins, it's time for another cup to keep the flame alive.
Bonus Reason:
This Evgeni Malkin Selfie
Evgeni Malkin's selfie game is strong. pic.twitter.com/4LDz68tsPG

— The Selfie Game (@SelfyGames) January 6, 2014