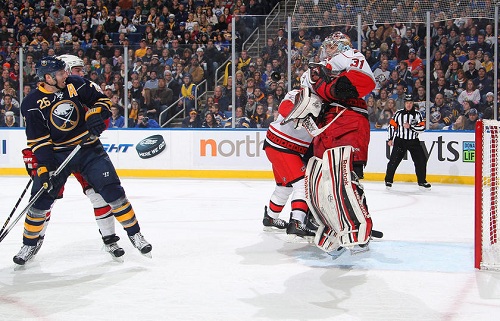 Alexander Semin got his first goal as a Hurricane in just the nick of time. With the Hurricanes trailing the Buffalo Sabres due to a Thomas Vanek powerplay goal just two minutes into the 3rd period, Semin answered right back with a powerplay marker of his own to knot the game at 1 and give the momentum back to Carolina. Then, with five minutes remaining in the game, defenseman Jay Harrison threw a wrist shot at goal tender Ryan Miller that found its way into the back of the net, giving the Hurricanes a lead that they wouldn't relinquish. Jeff Skinner added an empty netter for his fourth goal in as many games to solidify Carolina's second consecutive win over the Sabres.
The first star of the night had to be backup goaltender Dan Ellis, who stole the show and the game. Ellis, playing in his first NHL action of the season, made 40 saves and only gave up a single goal. His .976 save percentage was a huge reason the Hurricanes were able to defeat Buffalo, as he not only made some impressively acrobatic saves, but many of the saves came at a key time in the match. Ellis played during the lockout in Charlotte with the AHL Checkers, so he was able to come into the game fresh and prepared for action. "It was wonderful," Ellis said. "You're thankful to be back and be able to make some saves and help your team get a win and create some momentum."
The Hurricanes went 2-5 on the powerplay, and peppered Miller with 41 shots. Miller looked very strong in goal and much of the game was a goaltender battle. The offensive game for the Hurricanes is certainly picking up after a slow start, and the two back-to-back wins over Buffalo have put the Hurricanes right back in the thick of things in the Southeast division. The Hurricanes also took a season-low 4 penalties on the night, and the team would like to see that number decrease even more.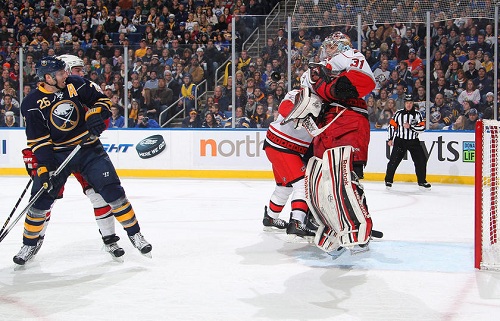 The Canes travel back to Raleigh Monday night to play against the red-hot Boston Bruins (3-0-1). The B's will be a tough challenge for the Hurricanes, as they bring their physical play, something that the Hurricanes have struggled to play against early on this season. With only two points separating the Hurricanes from the Southeast division lead, they will be looking for a solid effort and two points in front of the home crowd.