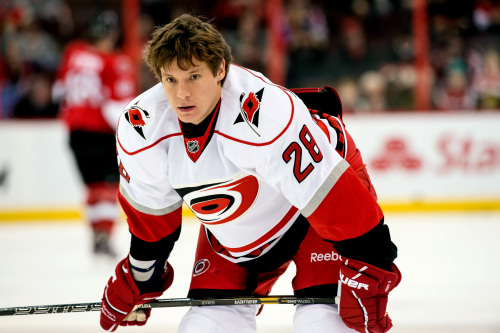 Alexander Semin is having a historically bad season. Out of the 27 games played thus far for the Carolina Hurricanes, Semin has only suited up for 21, and not just due to injury alone. Sure, he's been scratched recently for various "upper and lower body injuries". He's also been put in the press box by head coach Bill Peters for refusing to play at the level expected of someone with the talent he possesses. There's a lot of talk going around the fan base (whatever that's worth), and many people feel that it's time to cut bait with the enigma that is Alex Semin.
Through 21 games, Semin has a single goal. One. Goal. That's one less than aging shut-down defenseman Tim Gleason. He's got five assists, giving him a point total of six for the season. He's currently scoring on a record low pace of .29 points per game. His lowest before that was his rookie season, when he posted a .42 GPP. At his peak, he posted a 1.27. To say Semin could do more would be a colossal understatement. Carolina owes Semin seven million dollars over the next several seasons, making a trade virtually impossible. Who would pick up a salary like that for .29 points per game?
Semin's stats have been in a slow decline since previous General Manager Jim Rutherford signed him to a five year deal at $7 million per season. During his first season (the truncated 2012-13 campaign), Semin had 13 goals and 31 assists, putting him on a point per game pace. Since then, he's put up a .65 last season and the current season's .29. His current stats project to 3 goals and 16 assists for a full season. Anyone would agree that that's unacceptable for a player of his caliber.
At times, he seems disinterested on the ice. After signing with Carolina, former Capitals teammate Troy Brouwer famously called him out for his lackadaisical play and his general apathetic attitude. Some in Carolina are starting to see the attributes that Brouwer pointed out.
However, all is not lost for Semin. There are a myriad of things that could be contributing to the obvious decline in play; the most important of which are injuries.
Semin had offseason surgery on his wrist. I know, the injury excuse could be applied to any player at any given time. That being said, it's painfully obvious to fans that the wrist still isn't right. His wrist shot is basically non-existent, and Semin often opts to pull the puck to his backhand side. In fact, his only goal of the season came in the form of a sweeping backhand in the slot. It's also been easy to see how the wrist has affected Semin from a pain standpoint. He's often shown on camera with a grimace on his face as he rubs his wrist. He may be using the injury as a crutch, but it's apparent that the wrist problem is slowing him down significantly.
The injury could also be affecting his overall mental attitude. It must be frustrating for someone with that much skill to be limited due to a nagging pain in his wrist.
There's plenty of upside to having Alexander Semin on this hockey team. For one, he's only 30. There's a lot of time for him to resurrect his career and put up huge numbers. When healthy, Semin has shown what kind of offensive dynamo he can be. Secondly, Semin has also shown that he has the ability to be an above-average passer. He tallied 31 assists in 2012-13 and many of them were gorgeous. Even this season, he's shown the skillset he's capable of on the bulk of his assists.
He's got a supporting cast around him that takes the pressure off and, in theory, should enable him to go out and play his game. He doesn't have to be THE guy in Carolina, which should help him relax a bit more on the ice instead of forcing the issue.
There is still time for him to turn his career around. Carolina's season isn't going as well as fans have hoped, and Semin certainly isn't the only player that is underachieving. But if he's able to return to form, the Hurricanes still have a few years of Semin that could pay huge dividends, provided he's healthy. He has the capability to be an elite level goal scorer, and the Hurricanes could sure use a few more pucks in the net.
Love Reading About Hockey?

Subscribe to keep up-to-date with the latest and most interesting hockey news!
| | |
| --- | --- |
| | We hate spam just as much as you |