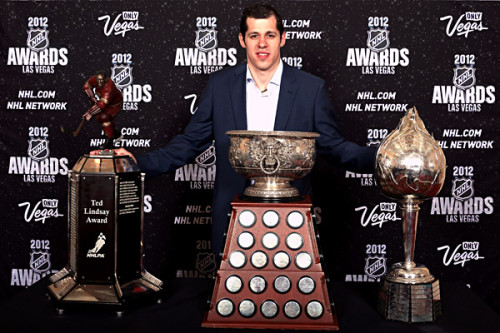 Today we'll wrap up our awards predictions with a look at the MVP race.
6/2 – Jack Adams
6/3 – Selke
6/4 – Calder
6/5 – Vezina
6/6 – Hart
Hart Memorial Trophy – The Hart Memorial Trophy is presented to the player deemed to be most valuable to his team. Last year's winner: Evgeni Malkin, Pittsburgh Penguins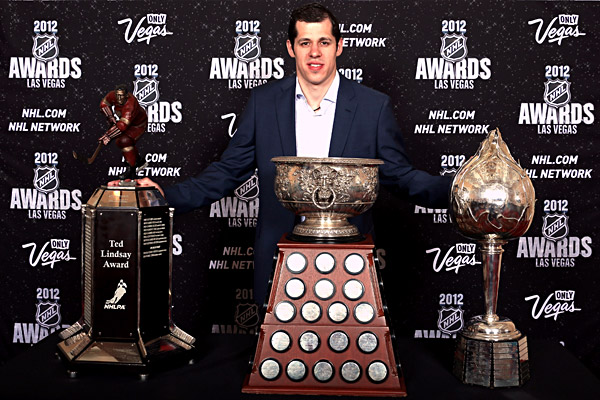 The Finalists:
Sidney Crosby, Pittsburgh Penguins – It's rare that a situation arises where a player misses 25% of the season and still is in the running for the MVP of the league. That's the case for Crosby. Despite sitting out the final month of the season with a broken jaw, Crosby still finished 3rd in the league in points, 4th in +/-, and had a sparkling 54.3% faceoff percentage. What more can you really say about this guy? He produces at a point-per-game rate found in the 1980's, not in today's game. He is simply the best offensive player we have in the game. Crosby has won this award one time previously in 2007 and this is his third nomination.
Alex Ovechkin, Washington Capitals – Now that's the Alex Ovechkin we are used to seeing. After having a couple of disappointing (by Ovie's standards) seasons, Ovechkin rebounded with a fury that was triggered about midway through the season. 25 games into the season, Ovechkin had just 9 goals and 20 points and the Capitals were 10-14-1. But in the final 23 games, Ovechkin scored 23 goals and 36 points and the Capitals went 17-4-2 and went on to win their division. Ovechkin won the Rocket Richard as he led the league in goals with 32. Something clicked in those final 23 games and we started to see Ovie zipping all over the ice, throwing big hits, and scoring big goals. Ovechkin has won this award two times previously, in 2008 and 2009 and this is his fourth nomination.
John Tavares, New York Islanders – Alright, hold up your hands if you thought that the New York Islanders were going to make the playoffs before this season? The few of you that did hold up your hands, kudos to you. The reason why the Islanders qualified for the playoffs? Young John Tavares. Tavares had an incredible season, finishing with 28 goals and 47 points. Tavares played nearly 21 minutes a night and willed the young Islanders to a playoff berth. Oh and did I mention that Tavares is just 22 years old? This is a player that just last year, ESPN's Neil Greenberg thought was not one of the top-25 players under the age of 25. Not just in the NHL, but under the age of 25! Now look at Tavares. Tavares has never been nominated for this award before.
The Pick: John Tavares, New York Islanders. Before everybody gets incensed, let me explain a few things. First off, I do not believe that Tavares will be the actual winner of the award; that distinction belongs to Sidney Crosby. However, let me state my case for Tavares. The criteria for this award clearly states that this award is to be presented to the player deemed most valuable to his team. Crosby missed 12 games this season and in those 12 games he missed, the Penguins went 8-4, scoring an average of 3.33 goals per game. So in reality, they performed no worse without their captain and best player. As for Ovechkin, he did not perform at all in the first half of the season and he was on fire for the second half of the season. However, Ovechkin did not put together a complete campaign akin to what Tavares did. That is why I believe that Tavares should be the MVP, but as I mentioned already, I believe that Crosby will actually win it.