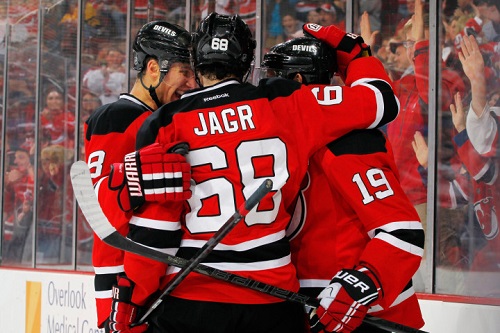 ***Note – This was written prior to the New Jersey Devils game on 12/23 against the Chicago Blackhawks***
After former captain Zach Parise defected to the Minnesota Wild and star forward Ilya Kovalchuk defected back to Mother Russia, things were looking pretty bleak in New Jersey. Even the acquisition of goaltender Cory Schneider during the 2013 NHL draft couldn't raise the spirits of New Jersey Devils' fans. Who was going to score goals? The Devils decided to go out and sign forward Jaromir Jagr. Jagr is without question one of the most talented players to ever lace up the skates. However, at the ripe old age of 41, how much could he really contribute? Last season, he seemed to finally be slowing down as he missed 14 games with injury and was held without a goal in 22 playoff games with the Boston Bruins.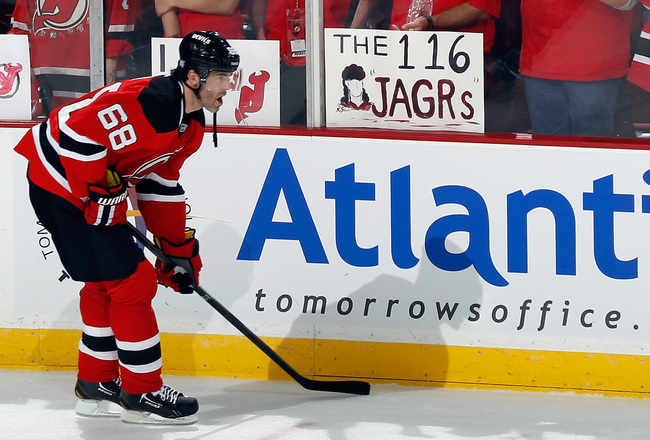 Well, 38 games into this season, Jagr is having a season for the ages. Jagr has 13 goals and 33 points in 37 games. The Devils are 15-15-7 and are currently hanging on to one of the top three spots in the Metropolitan Division. That in itself is an amazing feat. Many pegged the Devils to finish well out of playoff contention, but that is certainly not the case. Could we make a legitimate case for Jaromir Jagr as MVP? I think he's definitely in my top-10. That led me to question whether or not this is the greatest season ever by a man his age.
When we are talking about a player's age in a particular season, it is their age heading in to the season. Jagr is 41 years old and will turn 42 in February, but we will first compare his season to those of other 41 – year-old players.
The standard for a forward that is 41 years old is Gordie Howe's 1969-1970 season. Howe recorded 31 goals and 71 points in 76 games for the Detroit Red Wings. He led them in scoring that season, and took them back to the playoffs for the first time in three years. The other great season by a player 41 years of age came recently from Teemu Selanne in 2011-2012. Selanne recorded 26 goals and 66 points in a marvelous display of efficiency. However, the Anaheim Ducks missed the playoffs that season, recording just 80 points. If we move away from forwards, we have to consider the efforts of defenseman Nicklas Lidstrom in 2011-2012 and Dominik Hasek in 2006-2007. However, I'm going to make the case that if Jagr keeps this up, this will be the most impressive season from a player his age.
Let's start with my original point – the Devils have nobody to score goals. This is still correct despite the addition of Jagr. The Devils have managed a paltry 90 goals in 37 games, good for 23rd in the NHL. However, without Jagr, that number could be a whole lot worse. Jagr has factored in on a whopping 36.7% of all the Devils' goals. Let that number sink in. That is the 5th highest percentage in the NHL, trailing only Sidney Crosby of the Pittsburgh Penguins, John Tavares of the New York Islanders and Nicklas Backstrom and Alexander Ovechkin of the Washington Capitals. That 36.7% also exceeds the contributions that both Selanne (32.0%) and Howe (28.9%) made in their spectacular campaigns. However, Jagr has done more than just contribute offensively.
As stated, the Devils can barely score, which means that they have to defend at a very high level. They've done well so far, ranking just outside the top-10 in goals against. You wouldn't think that would be the case with a guy like Jagr playing big minutes. Jagr over the years has never been known for his strong defensive play. However, this season, Jagr has committed to a two-way game. First, even though I hate this stat, I'm going to mention it – Jagr leads his team in +/- at +12. There are guys on this Devils team that are a whopping minus-13, but Jagr has found a way to remain productive during his 20 minutes of ice time.
When we turn to advanced numbers, the picture gets even clearer. Jagr's Corsi Quality of Competition, a metric that measures how good a player's competition is, is the 3rd highest on his team. If we look at On-Ice SV% which measures the team's save percentage while a player was on the ice, Jagr has the 2nd best number on his team at .918 SV%. However, here's probably the most telling stat: When Jagr is on the ice, the Devils score 2.63 goals/60 minutes, the 4th best mark on his team, but the Devils give up just 1.71 goals/60 minutes which is the best mark on his team by far. Essentially, the Devils are +0.91 goals per 60 minutes when he is on the ice. Only five other players on his team even have a positive +/- per 60 minutes.
I think that we can safely say that if Jagr keeps this up, this will go down in history as the most impressive season ever by a 41 year-old player. I also would say that if Jagr keeps this up and the Devils make the playoffs, Jagr should receive serious consideration for MVP. He's not going to put up the numbers that Crosby or Ovechkin will, but you could make the case that he's just as valuable to his team.