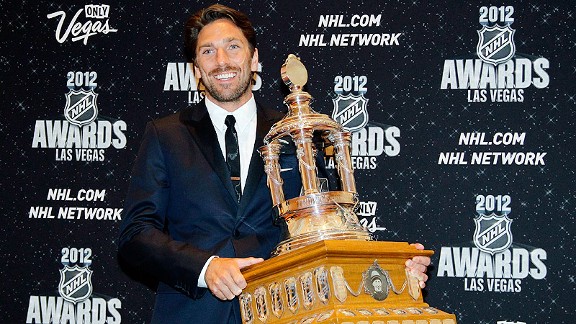 Today we'll continue our breakdown of the awards by talking about the Calder Memorial Trophy.
6/2 – Jack Adams
6/3 – Selke
6/4 – Calder
6/5 – Vezina
6/6 – Hart
Vezina Trophy – The Vezina Trophy is presented to the goalkeeper considered to be the best at this position. Last year's winner: Henrik Lundqvist, New York Rangers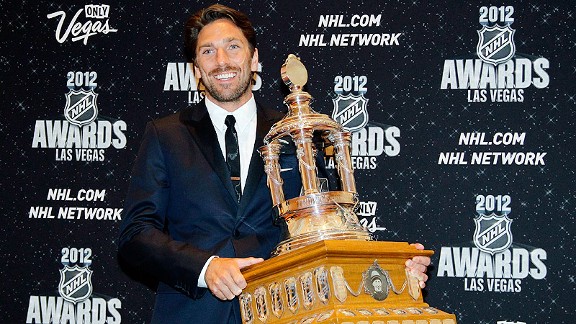 The Finalists:
Sergei Bobrovsky, Columbus Blue Jackets – When the Blue Jackets first acquired Bobrovsky, it was meant to institute a little bit of competition for incumbent goaltender Steve Mason. They never thought they would get what they got from "Bobs". Bobrovsky posted a 21-11-6 record with a 2.00 GAA (5th) and a .932 SV% (2nd). Bobrovsky was absolutely phenomenal, spearheading Columbus' valiant regular season effort. When Bobrovsky finally got full control of the #1 goaltending position in March, he started to play even better. Bobrovsky went 9-2-3 with a 1.49 GAA and a .950 SV%. He finished the season on a 18-5-3 tear. If Bobrovsky can keep this up, he will be a perennial Vezina contender. Bobrovsky has never won or been nominated for this award.
Henrik Lundqvist, New York Rangers – The machine of goaltending right now, Lundqvist turned in another spectacular season. Lundqvist finished the season 24-16-3, with a 2.05 GAA and a .926 SV%. He led the league in wins, finished 5th in GAA, and 8th in SV%. Lundqvist faced the 4th most shots of any goalie and of the goalies that faced more shots than him, none had a better SV% or GAA. Simply put, Lunqvist was marvelous and he was the major reason why the Rangers were able to find their game and get into the playoffs as the 6th seed. Lundqvist has won this award one time previously in 2012.
Antti Niemi, San Jose Sharks – Niemi has never really been given much credit for all of his efforts. When the Chicago Blackhawks won the Stanley Cup in 2010, Niemi was the starting goaltender, but he was merely an afterthought. Now, Niemi is finally getting recognition for the marvelous season he put forth. Niemi went 24-12-6, with a 2.16 GAA and a .924 SV%. Despite facing the 3rd most shots of any goaltender, he still managed to finish 7th in SV%; the two goalies that faced more shots than him finished 23rd and 34th. This year, San Jose finished 24th in goals for, scoring just 2.42 per game, the fewest goals per game the Sharks have scored since the 1998-1999 season. Despite the major decrease in scoring, the Sharks still found a way into the playoffs. Niemi has never won or been nominated for this award.
The Pick: Sergei Bobrovsky, Columbus Blue Jackets. This is an incredibly difficult pick to make simply because Bobrovsky's team did not make the playoffs. You'll often hear that a team's success has a lot to do in determining whether or not a player will win an individual award. But plain and simply, how many people thought that the Columbus Blue Jackets would finish just one point out of 8th in the West? And it's not like the Jackets overwhelmed people with offense. In fact, they finished 26th in scoring at just 2.40 goals per game. Bobrovsky is the sole reason that the Jackets were anywhere near the playoff hunt. Plain and simple, no goalie meant more to their team and had the Jackets made the playoffs, there would have been some serious talks about Bobrovsky winning the Hart Trophy as MVP of the league.