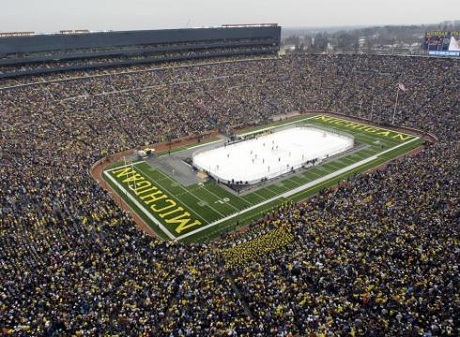 According to reports, the NHL is finalizing details about the 2013 Winter Classic! The game will be taking place at the University of Michigan's stadium, The Big House where over 110,000 fans will watch the host team Detroit Red Wings take on…..The Toronto Maple Leafs! A Border war! This would be the first time an American and a Canadian based NHL team would face off in the Classic. Also, this would be the second original six match up in the Winter Classic (Detroit vs Chicago 2009).
Some people think Detroit should play at Comerica Park since it is in Detroit, while Ann Arbor is roughly 40 miles west of the city. However, plans in the making would include a college hockey tournament, The Great Lakes Invitational, Which would include Michigan St. and Michigan as two of the participants. The Big House would be the first football stadium since Pittsburgh's Heinz Field did it in 2011 to host the event.
The first 5 Winter Classics:
2008. Pittsburgh Penguins Vs Buffalo Sabres @ Ralph Wilson Stadium
71,217 people watched the Penguins defeat the Sabres 2-1 in a shootout during light snowfall
2009. Detroit Red Wings Vs Chicago Blackhawks @ Wrigley Field
40,818 witnessed the Detroit Red Wings come back after trailing 3-1 to beat The Blackhawks 6-4
2010. Philadelphia Flyers Vs Boston Bruins @ Fenway Park
38,112 watched the first Classic with a fight and with an overtime finish as the Bruins Won 2-1 in overtime.
2011. Washington Capitals Vs Pittsburgh Penguins @ Heinz Field
68,111 people were in attendance as the game was moved to 8pm (ET) that night due to rain showers. The capitals won the game 3-1 in the first nighttime classic.
2012. New York Rangers Vs Philadelphia Flyers @ Citizens Bank Park
46,967 fans filled the seats for the first non new years day classic as the Rangers erased a 2-0 deficit to win the game 3-2
If everything is finalized for the 6th Winter Classic we will see the start of perhaps a new tradition to the game, Canadian-American rivalries. It would create more discussion of who should play who in future games. Lets get to the battle cause this is a border war!