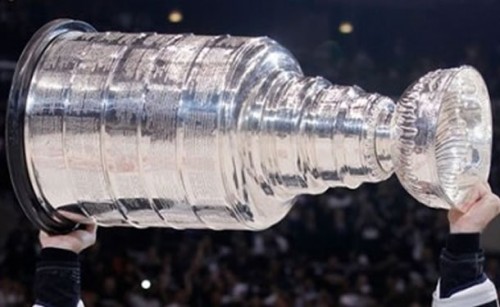 The Stanley Cup Finals are finally upon us. As we prepare for the last two teams to battle it out for Lord Stanley's mug, I once again dust off my crystal ball, perhaps remove my beer goggles, and get on predictin'. Before I do, though, the usual marking of the last round must take place, and, as regular readers of my column will know, it was absolutely dreadful. So let's get on with it so we can all make fun of me, and then we can finally get past it.
WEST:
(3) Chicago Blackhawks vs. (3) Los Angeles Kings
Original Prediction: Chicago in 7
Result: Los Angeles in 7
Having not learned the very same lessons I professed on round 1 when I picked the Kings and stuck by them even though they were down 3-0 to the San Jose Sharks, I foolishly picked the then-impressive looking Chicago Blackhawks. I believed that the Blackhawks' defense could finally put a stop to Marian Gaborik's current tear. They did not. And as such, my predictions were wrong, but only by a little bit.
EAST:
(3) Montreal Canadiens vs. (2) New York Rangers
Original Prediction: Montreal in 6, later edited to New York in 5 after Carey Price got hurt
Result: New York in 6.
I wasn't too far off in predicting that the injury to Carey Price would absolutely hinder the Canadiens' chances of a Stanley Cup run. Believing Peter Budaj to be the natural heir to the reins between the posts, I did not think that unproven rookie Dustin Tokarski would even see ice time. Once again, my crystal ball was a little foggy, as Tokarski definitely stole a game for the Canadiens to ruin my second prediction.
This brings my results to 1/2 in both the East, and the West, bringing my round total to 2/4. It seems that the closer we get to the cup, the worse I seem to get when it comes to predictions. 16/28 overall for these playoffs, still over .500, the kind of predicting that could maybe win you a cup. The kind of predicting that, if translated on the ice, your team might still be around to compete for the cup. FORE!
And now, here it is. The big enchilada. This one is for all the marbles:
STANLEY CUP FINALS:
(3) Los Angeles Kings vs. (2) New York Rangers
Regular Season Head-to-Head: 1-1 Tie: 3-1 New York, 1-0 Los Angeles.
When people talk about the Stanley Cup Playoffs being a marathon and not a sprint, I'm absolutely certain they were not referring to the whopping combined 41 games (20 for the Rangers, 21 for the Kings) it took for both teams to get here. In other words, it took the New York Rangers and Los Angeles Kings approximately one quarter of the season to get to the Stanley Cup Final, talk about giving 125%. This series is filled with a vast array of narrative strings that make journalists drool over: Alain Vigneault's return to the Stanley Cup Final after the coach swap with Vancouver, showing the clear winner of the swap; Marian Gaborik's superhuman performance on a collision course with his former team; Martin St. Louis's incredible turnaround on a season that has seen him be left off the Olympic roster, to Olympic gold medalist, to the death of his mother, to Stanley Cup Finalist; Brad Richards and Martin St. Louis returning to the Stanley Cup Final together for the first time since their win in Tampa Bay. In short, the Stanley Cup couldn't have been planned out better for people like me, despite my objections and occasional call of shenanigans, as there is plenty of fodder to put food on my table.
These two teams will probably be extremely cautious to not go too far ahead, in order to avoid the other team from mounting a comeback. With the Stanley Cup Playoffs stretching now into summer, the exhausting grind of chasing Lord Stanley's mug is bound to start showing in these few games. If there was ever any definition needed for a war of attrition, you need not look much further than this.
These teams are very hard to separate, as both Jonathan Quick and Henrik Lundqvist are quite proficient in net, with the known ability to steal games when their teams need it most. Both teams possess powerful offenses up front, and solid blue lines able to shut down any team. As the cliché states, this is an unmovable object meeting an irresistible force.
Look for travel to be a huge factor, especially if the series is not swept, and they have to travel back and forth from JFK to LAX in a matter of days, adding to the toll of playing 20 and 21 games respectively.
Prediction: Los Angeles in 7. They've already set the record for playing the maximum amount of games to get here, why not make it a perfect 28?