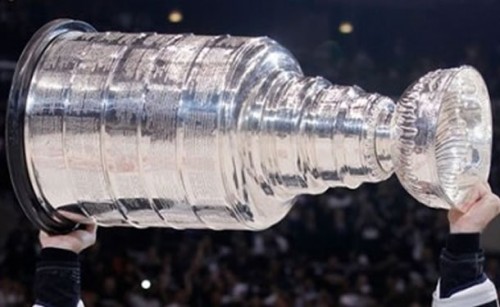 We're finally here! We now know every single matchup, and as pundits gather 'round and start making predictions on who will win the Stanley Cup, and Fantasy Leagues start blowing up with a pre-playoff draft, here at Hooked on Hockey Magazine, I have a great breakdown for you. It's a great yearly tradition of hockey writers, whether established, aspiring, or just starting out, to prove their brass by making bold predictions, so sit back, relax, and enjoy the following breakdown of the upcoming playoffs. We will reconvene in the second round, when we laugh hysterically at how dreadfully wrong my predictions were; revel in my genius at how accurate I can predict, or somewhere in between those two reactions. Also, I apologize for the delay. Final exams in a law-based course can create just a few complications…
West:
(1) Anaheim Ducks vs. (WC2) Dallas Stars
Regular Season Head-to-Head: 2-1 Dallas: 6-3 Anaheim, 6-3 Dallas, 2-0 Dallas.
This is the cream of the crop in the West against a team that refuses to quit. Having made the playoffs by a slight margin over the Phoenix Coyotes, the Dallas Stars, in my opinion, stumbled into the playoffs, going 4-4 in April prior to the playoffs. With a good offensive line, and a decent defensive corps, as well as a beast in net in the form of Kari Lehtonen (when he shows up to play), the Dallas Stars could be a dark horse in these playoffs.
The Anaheim Ducks are downright terrifying with how good they can be, going 5-2-0 down the stretch in April, with Corey Perry and Ryan Getzlaf having career years. Added on top of that, a tandem of Jonas Hiller and John Gibson, who you might remember as the American stud goalie in the world juniors a few years back, the Ducks are absolutely no pushover.
The X-Factors in this series, in my opinion, is coaching. Lindy Ruff knows what it takes to take to a Stanley Cup Final, and will push his players to the absolute limit. Bruce Boudreau is notorious for coaching teams into President's Trophies, or as close as you can get, but fizzling out of the playoffs in magnificent fashion. This is why, in my opinion, the Dallas Stars can conquer.
PREDICTION: Dallas in 6. Despite impressive showing by the Anaheim Ducks, Coach Boudreau continues choking tradition.
(1) Colorado Avalanche vs. (WC1) Minnesota Wild
Regular Season Head-to-Head: 4-1 Colorado: 3-1 Colorado, 3-2 Colorado (SO), 2-1 Minnesota (SO), 4-2 Colorado, 5-2 Colorado.
This series promises to be humongous big (fulfilling quota of Bryzgalov jokes). All joking aside, who would have imagined that the Colorado Avalanche, after just one (half) year of being in the bottom of the West, would hire Patrick Roy as a head coach, and run away with the Central Division (over EA Sports cup favorite St. Louis). Conversely, Minnesota, always looking like a strong team on paper, barely squeaking into the playoffs.
The Colorado Avalanche have a young, skilled core in Landeskog and Duchene, with a less than stellar three-headed beast in net: Semyon Varlamov, Reto Berra, and J-S Giguere. Injuries to Duchene and Tanguay make the firepower a little less impressive, and the loss of Sarich makes the D a little shallower; but fear not, because much like in his playing career, Patrick Roy finds a way to eke out a win.
The Minnesota Wild are incredibly experienced, and incredibly solid, on paper. With an offensive line that boasts Zach Parise, Dany Heatley, Jason Pominville, as well as underrated talents Matt Moulson and Nino Niederreiter; they certainly have the offensive power. Their special teams are also impressive, with solid penalty killer and reformed league villain Matt Cooke in the lineup, and defensive stud Ryan Suter to shut down and intimidate smaller, faster, skilled Colorado Avalanche players. The only big question mark is in net. With injuries to Niklas Backstrom and Josh Harding, the Wild rely on the enigma that is Ilya Bryzgalov, and rookie Darcy Kuemper. If Ilya Bryzgalov shows up, the Avalanche are in serious trouble.
PREDICTION: Colorado in 6. Bryzgalov shows up for a few stellar games, but not enough. Many "Bear in Forest" jokes ensue.
(2) St. Louis Blues vs. (3) Chicago Blackhawks
Regular Season Head-to-Head: 3-2 St. Louis: 3-2 St. Louis, 3-2 St. Louis (SO), 6-5 St. Louis (SO), 4-0 Chicago, 4-2 Chicago.
What happens when an unmoving object meets an irresistible force? This is probably one of the harder series to predict, as it can be a high-scoring affair, with the league leaders in goals for in the Blackhawks, meeting the second runners-up in fewest goals against in the Blues. The Blackhawks will be eager to defend their Stanley Cup, but many media outlets (even NHL14 creators EA Sports) picked the Blues to win the cup prior to the season.
Where do you start with the Chicago Blackhawks? They have just announced the return of Jonathan Toews and Patrick Kane for Game 1 of this series, making an already good team even better. Absolutely look for these two to make an impact right away, as they will be well rested and hungry to get on the ice and tear teams up. The Blackhawks boast one of the deepest offensive teams, as well as a proven defense, and all-around great team.
The St. Louis Blues had a serious run at the Central Division, and even the President's Trophy, setting a franchise record with 111 points this season; however, they seem to have come undone lately, coming into the playoffs on a 6-game losing streak. They have shown to be more than capable in defense, and boast one of the best goalie tandems in Ryan Miller and Brian Elliott. If they can rebound from their current sluggish form, look for Alex Steen to continue his impressive run, and Alex Pietrangelo to continue to emerge as one of the league's elite offensive defenseman. Also, if Vladimir Tarasenko returns from injury, the Blues' offense will get a much needed bolstering.
PREDICTION: Chicago in 5, The St. Louis Blues' losing streak continues, I don't see the Blues recovering until it's too late.
(2) San Jose Sharks vs. (3) Los Angeles Kings
Regular Season Head-to-Head: 3-2 Los Angeles: 3-4 Los Angeles (OT), 3-2 San Jose (SO), 4-1 Los Angeles, 1-0 Los Angeles, 2-1 San Jose.
Could this finally be the year of the Sharks? For a team that gets constantly picked by pundits and media personalities to win it all and failing miserably, the Sharks have become much-maligned. Going up against the Los Angeles Kings, who took the Sharks in 7 last year, the Sharks have a point to prove.
Joe Thornton and Patrick Marleau are still great players, and with the rise of Joe Pavelski as the Sharks' leading goal scorer with 41, as well as a solid year by both Antti Niemi and Marc-Edouard Vlasic, the Sharks are offensively capable, and defensively sound. If they remain poised, they could be the dark horse team in the playoffs, though it can be the same story as the last few years with the Sharks.
The Los Angeles Kings are good. How good, you ask? They have an offense that boasts Jeff Carter, Anze Kopitar, and Mike Richards, among many others. Defensively, they're as solid as they come, allowing the fewest goals of any team in the NHL, followed only by the Boston Bruins and the St. Louis Blues, led by captain Dustin Brown. Jonathan Quick may have a sluggish regular season, posting a GAA of 2.07, but if there is anything he has proven, it's that he comes alive when the playoffs are on. Look for him to steal a few games.
PREDICTION: Los Angeles in 7, it will be a low scoring affair, but I think the Sharks choke again.
East:
(1) Boston Bruins vs. (WC2) Detroit Red Wings
Regular Season Head-to-Head: 3-1 Detroit: 4-1 Boston, 3-2 Detroit, 6-1 Detroit, 3-2 Detroit.
What a great matchup; the reigning Presidents Trophy winners against the longest active playoff streak; two original six teams facing off against one another. Sound the horn! It's old-time hockey time!
Where do you even begin with the Boston Bruins? Is it the lights-out, videogame-like statistics of Tuukka Rask? Is it the faceoff dominance when it matters most, frustrating teams trying to go on the powerplay? Is it the incredible depth and toughness that the Bruins have, including the top FOUR players with the highest plus-minus in the league? Is it Zdeno Chara? Wherever you choose to start, this looks like a herculean task for the Detroit Red Wings. The Bruins will look poised to take their failed cup run last year one step over further, and win it all this time.
If there's one team capable of thwarting the Boston Bruins and pull off a major upset, it's Team Sweden. My bad, I mean the Detroit Red Wings. Soon to be bolstered by the return of an injured Henrik Zetterberg, this team has the veteran presence of Daniel Alfredsson, the ridiculous skills of Pavel Datsyuk, and a solid tandem with Jimmy Howard and Jonas Gustavsson. This team would not be described as an underdog if it was up against any other team. Regardless of seeding, one should always look for the Red Wings to make some noise.
PREDICTION: Detroit in 7. Call me crazy, but I see the upset happening here. If the Bruins absolutely dismantle the Red Wings, expect a formal apology and retraction.
(1) Pittsburgh Penguins vs. (WC1) Columbus Blue Jackets
Regular Season Head-to-Head: 5-0 Pittsburgh, season sweep: 4-2, 3-0, 2-1, 5-3, 2-1.
As a Penguins fan, it's hard to approach this series objectively, taking into consideration that the Penguins beat the Blue Jackets every chance that they had. Much like me, it would be a huge mistake on the part of the Penguins to underestimate the Blue Jackets.
As I've already written before, the Penguins absolutely need to win this series. You read that correctly. Not "should", not "are going to", but "need to". Sidney Crosby had a lights-out regular season, winning the Art Ross Trophy by a ludicrous 17 points. Despite Evgeni Malkin having a "down season" and only scoring 72 points, the Penguins losing a total of 529 man games to injury, including extended absences by Rob Scuderi, Kris Letang, and Brooks Orpik; they managed to run away with the Metropolitan Division (13 points clear of the New York Rangers). All that considered, the Penguins have been less than stellar down the stretch, going a tepid 3-2-2 in April, combined with their recent playoff history, fans have reason to sweat what should be an easy series. In regards to Fleury's goalkeeping and Zatkoff's inexperience, a sigh of relief is on its way, though, with Tomas Vokoun returning from a blood clot suffered at the beginning of the season.
Former punchlines and perennial bottom feeders Columbus Blue Jackets have many saying that they benefited from a move to the Eastern Conference, myself included; however, upon closer inspection, those very same people could eat their words. The Columbus Blue Jackets were absolutely incredible down the stretch, going 14-7-2 since March. This impressive playoff push, propelled by Jack Johnson, Artem Anisimov, and reigning Vezina Trophy winner Sergei Bobrovski, could have put the Blue Jackets in the playoffs regardless of conference. The Blue Jackets are fast, young, and thanks to trades with the New York Rangers and GM Jarmo Kekelainen's work on the off-season, playoff experienced. Injuries to key men RJ Umberger and Nathan Horton will hurt the Blue Jackets' chances, though.
PREDICTION: Pittsburgh in 5. The Penguins will have either a shaky start, or a bad game in Columbus. Fleury shouldn't be a problem.
(2) Tampa Bay Lightning vs. (3) Montreal Canadiens
Regular Season Head-to-Head: 3-1 Tampa Bay: 2-1 Tampa Bay (SO), 2-1 Montreal (SO), 2-1 Tampa Bay (OT), 3-1 Tampa Bay.
Many people would claim that hockey does not belong to Canada any more, and their supporting evidence is that there is only one team that plays in a Canadian city in this year's playoffs. If history is any indication, they won't be around for long, either. Last time these two teams met in the playoffs, coincidentally, the first, the Tampa Bay Lightning went on to win the Stanley Cup after dispatching the Canadiens in 4.
As a fan of statistics (easily the better branch of math when compared to algebra and calculus), I think that the sample size of the playoff history between these two teams is not extensive enough to draw a conclusion. Having said that, generally, Carey Price does seem to have a pattern of having a good year followed immediately by a bad one, followed immediately by another good one. Since last year the Montreal Canadiens had a good season, but a bad playoffs (bowing out to the Ottawa Senators in 5 games), predicting Carey Price's performance would be difficult; however, having earned a gold medal as a starting goalie in Sochi proves that Carey Price is mentally tough enough to steal games in hostile territory. The added pressure of being the only team that plays in Canada (let's face it, most teams are mostly Canadian players anyway) should not weigh in on Carey Price's mind, leaving the way open for career-year Max Pacioretty, new arrivals Danny Briere and Tomas Vanek, scrappy youngster Brendan Gallagher and captain Tomas Plekanec to light the lamp. Hopefully reigning Norris Trophy winner P.K. Subban keeps his head about him to remain defensively sound as opposed to a liability.
The Tampa Bay Lightning, having snatched away home ice advantage over Montreal on the last day of the regular season, is a feisty team, led by goal-scoring extraordinaire Steven Stamkos, able to overpower almost any team with its fast-paced attack. In addition to Stamkos, deadline arrival Ryan Callahan and underrated grinder Teddy Purcell are very capable of finding the back of the net. Coupled with a tough defense in the shape of Eric Brewer, Victor Hedman, and experienced Sami Salo, the Lightning are a shadow of last year's 14th place in the East. The recent injury to starting goalie Ben Bishop is sure to be a factor if he is sidelined for long, as backup goalie Anders Lindback is inexperienced, and is going into the playoffs with a 8-12-2 record. The loss of veteran presence and usual Stamkos feeder/recipient Martin St. Louis will make it only slightly more difficult for the Lightning to find the back of the net.
PREDICTION: Montreal in 6. This will be a high scoring series. Stamkos always lights it up, but Pacioretty is having a career year, in which he's capable of outscoring Stamkos.
(2) New York Rangers vs. (3) Philadelphia Flyers
Regular Season Head-to-Head: Season Series tied, 2-2: 2-1 Philadelphia, 4-1 New York, 4-2 Philadelphia, 3-1 New York.
Commenting on this series is against my religion.
PREDICTION: Rangers in 7. Don't ask why, it just is.