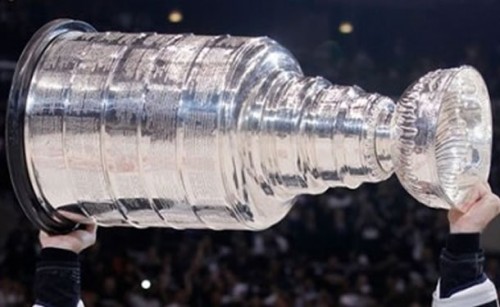 Apologies for the delay, dear fan(s?)… there was a bit of an issue with my computer.
Here it is: the conference finals. Based on the performance of all of the teams, and the general unpredictability of the round, I am quite unimpressed at the quality of my predictions, and overall disappointed with many teams, Pittsburgh Penguins inclusive. With all of that in mind, here I am, marking my last round predictions in between my tears of sadness, the scattered tees, and the lovely Titleist box staring at me begging me to bash it with my favorite driver. Remember, I get one mark for guessing the team correctly, one for guessing the number of games correctly, and a bonus if I hit both nails on the head.
WEST:
(1) Anaheim Ducks vs. (3) Los Angeles Kings
Original Prediction: Los Angeles in 7
Result: Los Angeles in 7
It seems as if any series involving the Los Angeles Kings is an incredible rollercoaster, in which the Kings deliberately choose to not play a few games, only to storm back and completely overpower the opposition. Though hardly the 3-0 hole they found themselves in during the first round, the Kings managed to take game 6 relatively early, having scored both their goals by the end of the second, while withstanding incredible pressure from the Anaheim Ducks. Game 7 was a whole different story altogether, with the Kings showing exactly what they were made of, jumping ahead to a 5-1 lead in the first period en route to a 6-2 rout. Touted prospect John Gibson's Justin Pogge-esque performance in game 7 didn't help Bruce Boudreau shake off the perception that he is not a playoff coach, bringing the Ducks' playoff run to an early end, as well as the illustrious career of the Finnish Flash, Teemu Selanne.
(3) Chicago Blackhawks vs. (WC1) Minnesota Wild
Original Prediction: Chicago in 5
Result: Chicago in 6
Though Ilya Bryzgalov played like the proverbial bear in woods he is so terrified of in the first two games, he came up humongous big in games 3 and 4, stealing games away from the Blackhawks, and keeping them close in losing efforts in games 5 and 6, shaking off the perceptions that his shortcomings were going to be the Wild's undoing. In the end, though, the big one-two punch of Toews and Kane was able to do the Wild in, providing much of the offensive punch in the series. So long, Bryzgalov-themed jokes.
EAST:
(1) Boston Bruins vs. (3) Montreal Canadiens
Original Prediction: Boston in 6
Result: Montreal in 7
This was a feisty series; one that fellow HOHM writer Kevin Sporka correctly called, and appropriately chastised me for. While I believed that the Bruins could overcome the Canadiens' depth, I was able to correctly predict the slowing down of Tuukka Rask's statistical dominance, making him look slightly less stellar, as his goals-against average dropped from 1.16 to 1.99, and his save percentage dropped to .928 from .961. I'd still easily like for Tuukka Rask to be in my team with those numbers. Funny thing about this series, though, only 2 goals came from Max Pacioretty, with PK Subban and surprise fourth-liner Dale Wiese taking the Bruins by storm, increasing Wiese's "draftability" in next year's fantasy pools.
(1) Pittsburgh Penguins vs. (2) New York Rangers
Original Prediction: Pittsburgh in 6
Result: New York in 7
Nope. This never happened. It's all a big setup. The Stanley Cup still has not been awarded, and therefore, the Pittsburgh Penguins still have a chance to hoist the cup. No? Fine, I suppose my Toronto Maple Leafs fan style denial is not going to get anyone anywhere. A series which proved to be all about scheduling and timing, with Pittsburgh taking advantage of a tired Rangers team at the beginning of the series, and the death of Martin St. Louis' mom, France St. Louis, as a rallying point for the Rangers in their 3-game comeback. Having played the day following her death, and on Mother's Day afterwards, as well as Henrik Lundqvist playing as if all of Sweden was standing in front of the net; coupled with the Pittsburgh Penguins' overall lack of motivation and drive the last few games, the Rangers find themselves in the enviable position of Eastern Conference finalists, as well as the unenviable position of the object of my wrath for the next season.
So, here is my score: West: 4/4, full marks for Anaheim-Los Angeles, bonus included, while I only guessed which team would move on in the Chicago-Minnesota series. East: 0/4, a shameful, shameful round in the history of sports predictions, where my predictions were less happy, and more death sentence for the chosen team. Maybe I can harness that power… Overall, 4/8 for this round, 14/24 for the playoffs so far; turns out my crystal ball was a little dustier than I thought, so after a thorough cleaning, here are my predictions for the Conference Finals:
WEST:
(3) Chicago Blackhawks vs. (3) Los Angeles Kings
Regular Season Head-to-Head: 3-0 Chicago, season sweep: 3-1, 1-0, 5-3.
How does a person even begin to break down the Chicago Blackhawks? In this series, a rematch from last year's Western Conference Finals, both teams look poised to be the eventual Stanley Cup Champion. Many pundits are already saying that this match-up will decide the eventual champ, but as far as I'm concerned, that's a thought for later on this month. Both teams have shown incredible depth, with the Blackhawks' offence coming from almost every line in their lineup, with Marian Hossa and Brent Seabrook leading the charge, having registered 2 goals and 9 assists each, and Corey Crawford showing that he still has what it takes to win a Stanley Cup, posting a save percentage of .931 with a goals against average of 1.97.
On the other side of the coin, the Los Angeles Kings, coming off consecutive game 7 victories in the first two rounds, look very strong after thrashing conference-winning Anaheim Ducks 6-2. Only three players that have dressed for the Kings have failed to register a point, namely Matt Greene, Jeff Schultz and Jordan Nolan (dressing for 9, 6, and 3 games respectively). Marian Gaborik leads the playoffs in scoring with 9 goals, while Anze Kopitar takes the crown in assists, and points overall, with 19 points, 14 of which are assists. Though Jonathan Quick's statistics are not as impressive as Corey Crawford (.914 Save Percentage, 2.72 GAA, pulled twice in favor of Martin Jones), the Kings have managed to overcome their opposition by overpowering them offensively, a factor that will come into play this series.
PREDICTION: Chicago in 7. It will be a hard-fought, wild series, but ultimately, the Blackhawks will make a return trip to the Stanley Cup Finals.
EAST:
(3) Montreal Canadiens vs. (2) New York Rangers
Regular Season Head-to-Head: 2-1 Montreal: 2-0 Montreal, 1-0 New York, 1-0 Montreal.
I'm still pretty upset about this match-up. The New York Rangers robbed the Pittsburgh Penguins of what could've been a lengthy cup run, or at least a dazzling series against Montreal.
Montreal pulled all the stops, with Carey Price coming up absolutely huge. This appears to be the year where he finally takes a Canadian team to the Promised Land.
EDIT: He's hurt. The Canadiens are done.
PREDICTION: Montreal in 6… Though I'm tempted to pick the Rangers as a death sentence. O Canada…
EDIT: New York in 5, without Carey Price, the Stanley Cup is closer to a trip down Broadway for a revival