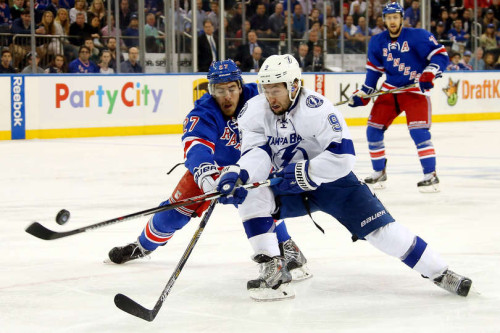 The 2015 Eastern Conference Finals have been very tough to get a read on. Two one goal games (one of them went to overtime), three blow outs, and one shutout, so it's only fitting that the series between the Rangers and Lightning is going the distance. This will be the second Game Seven of the 2015 playoffs for both teams, with Tampa Bay beating Detroit 2-0 in the first round, and New York besting Washington 2-1 in OT the second round. If the Rangers advance, they will host the winner of the west, while Tampa would host Chicago or head to Anaheim to open the series. Lightning Head Coach Jon Cooper could punch his first ticket to the Stanley Cup Final, while Rangers bench boss Alain Vigneault is hoping the third time's a charm for winning the Cup. There's plenty of storylines heading in to their final meeting of the playoffs:
-Extra Day of Rest:  Thanks to a Billy Joel concert scheduled at Madison Square Garden on Thursday night, there was an extra day off between Games Six and Seven. There's been a bit of a rumored bug going around the Lightning locker room, but an additional day off is beneficial to both sides to be a little fresher for the do-or-die game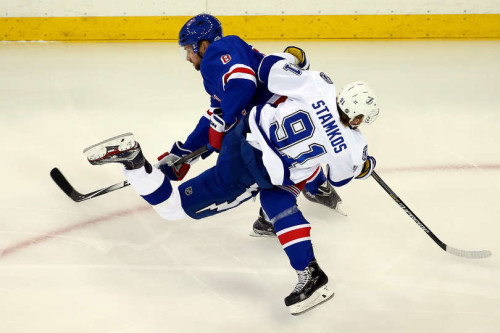 -Steven Stamkos: This will be the second time in his career that he's reached the seventh game of the Eastern Conference Finals. He's had a good series (four goals and three assists in six games), but this is a real chance for the 25 year old to add a signature playoff moment to his seventh season. You can bet the Rangers will be as physical as they can on Stamkos whenever possible, so he'll need to find ways to create space for himself.
-Ryan Callahan: The long-time Ranger and former Blueshirt captain could make his first trip to the Stanley Cup Final at the expense of his old squad, and in their building. There's no doubt that he'll bring his 'A' game (as Rangers fans can attest to) and he will be the usual forechecking pest he is. He had the lone Lightning goal of meaning in Game Six, and he won't be a wallflower on Friday night.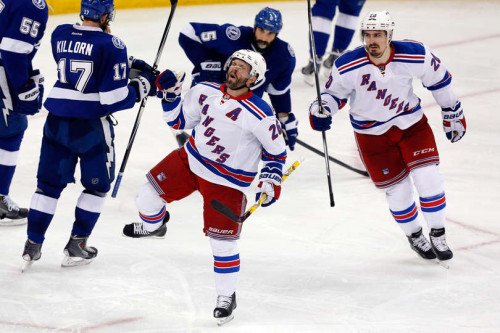 -Martin St. Louis: Speaking of guys looking to stick it to their old team, the graybeard is probably looking at his last opportunity to play for a Stanley Cup. He's an unrestricted free agent after this season, and I don't think anyone will argue that his performance during the playoffs has been subpar (one goal and six assists in eighteen games). If there is anything at all left in his tank, he needs to burn it to the max tomorrow night. He could make up for a poor playoff performance thus far in one game against his old squad.
-Rangers Game Seven Experience: Most of the current Blueshirts squad has been through the game seven ringer a few times (6-0 since the beginning of the 2011-12 playoffs), while the Lightning's lone game seven came earlier in the playoffs. While that is all history now, poise and discipline will be on New York's side. The Rangers also have Henrik Lundqvist, who has been about as great as a team would want in a seventh game. Speaking of the goalies…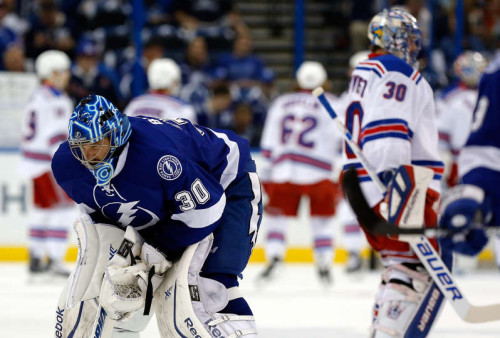 -Goals will be at a Premium: Other than Games One (2-1 NYR win) and Five (2-0 TB victory), the winning team has scored at least five goals in the other four contests. But don't count on this one being a high scoring affair. I expect both Lundqvist and Ben Bishop to be at the top of their games. Both have had bad games in this series, but both netminders have also made plenty of "How did he stop that" saves (one of Henrik's and one of Ben's). This game has a 2-1 score written all over it.
Love Reading About Hockey?

Subscribe to keep up-to-date with the latest and most interesting hockey news!
| | |
| --- | --- |
| | We hate spam just as much as you |