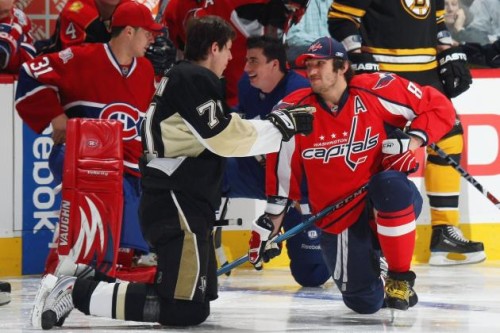 With the NHL announcing a brand new format for the 2016 All Start Game in Nashville this season, fans of the new three-on-three overtime format are going to get plenty more of what they love. Whether this ends up being great, or a complete dumpster fire, I give the NHL credit for really shaking up the format. I've always enjoyed watching the All Star Game, but it's almost too much offense, with teams routinely scoring in the double digits. After the Wales vs Campbell/East vs West format wore out, they tried "North America vs. the World" and then a fantasy-style draft (with player elected captains doing the picks) to select the squads over the past few seasons. While the new format doesn't do anything to help the poor goalies who routinely get lit up in the ASG, it will give us plenty of action up and down the ice.
The fans will get to vote on who the captain is for each division, but the rest of the players will be selected by the NHL. The league will also try and have all thirty teams represented. With those factors in mind, here is how I would construct the teams for each division: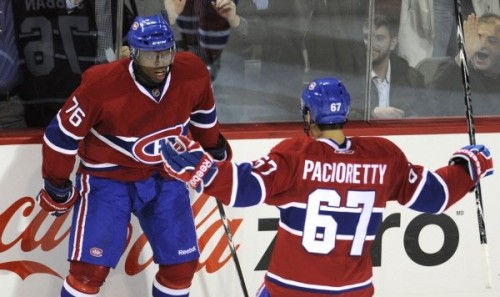 Metropolitan
Forwards:
Alexander Ovechkin (WAS)
Evgeni Malkin (PIT)
Claude Giroux (PHI)
John Tavares (NYI)
Phil Kessel (PIT)
Ryan Johansen CLB)
Defensemen:
Ryan McDonagh (NYR)
John Carlson (WAS)
Justin Faulk (CAR)
Goalies:
Henrik Lundqvist (NYR)
Cory Schneider (NJ)
Honorable mentions: Mats Zuccarello (NYR), Johnny Boychuk (NYI), Braden Holtby (WAS)
-My first "line" would be John Tavares, Alexander Ovechkin, and I'd have Carlson be their defenseman since there's familiarity with Ovie from the Capitals. Familiarity is the same reason why I'd put Penguins Malkin and Kessel together, with Justin Faulk manning the blueline. The third line would be Giroux, Johansen and McDonagh, whose styles would complement each other well. It would be tough to pick any goalie other than Lundqvist to start for this division, and the Devils owe a lot of their early season success to Schneider's play between the pipes.
Atlantic
Forwards:
Steven Stamkos (TB)
Ryan O'Reilly (BUF)
James vanRiemsdyk (TOR)
Henrik Zetterberg (DET)
David Krejci (BOS)
Max Pacioretty (MTL)
Defensemen:
PK Subban (MTL)
Erik Karlsson (OTT)
Victor Hedman (TB)
Goalies:
Carey Price (MTL)
Roberto Luongo (FLA)
Honorable mentions: Patrice Bergeron (BOS), Morgan Reilly (TOR), Pete Mrazek (DET)
-Stamkos headlines the group of forwards from the Atlantic. Putting Stammer with Pacioretty and Lightning teammate Victor Hedman gives them a big group that can move the puck well. The next group I'd put together is Krejci, Zetterberg, and Karlsson. Karlsson gives the unit speed, and all three are tough to take the puck from. Ryan O'Reilly provides the Sabres representation and is the play maker of the third unit, with vanRiemsdyk as the finisher and Subban as the quarterback. Despite some injury troubles, Carey Price is undoubtedly the starting goalie for this division, with Luongo providing a stable back up and representing the Panthers.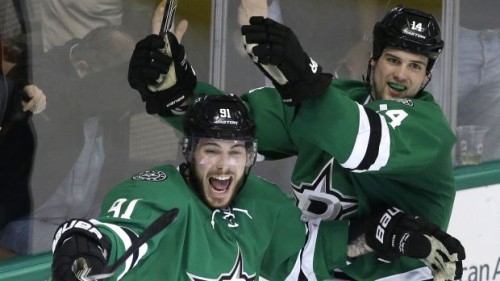 Central
Forwards:
Patrick Kane (CHI)
Jonathan Toews (CHI)
Tyler Seguin (DAL)
Jamie Benn (DAL)
Vladimir Tarasenko (STL)
Nate MacKinnon (COL)
Defensemen:
Ryan Suter (MIN)
John Klingberg (DAL)
Dustin Byfuglien (WPG)
Goalies:
Pekka Rinne (NAS)
Jake Allen (STL)
Honorable mentions: Blake Wheeler (WPG), Shea Weber (NAS), Devan Dubnyk (MIN)
-The Central may have the best group of forwards of the four squads. Putting the three Stars together (Seguin, Benn, and Klingberg) makes too much sense based on existing chemistry. The three of them moving the puck around with all of that extra space would be fun to watch. Toews & Kane already play together when the Blackhawks go to overtime, and Byfuglien would provide a booming shot from high in the zone while the Hawks do their work down low. The third unit of Tarasenko, MacKinnon and Suter would give the opposing squad a "pick your poison" scenario to defend. Pekka Rinne provides a dominant presence in the crease (and the Nashville representation) and Jake Allen sub 2.00 GAA and .935 save percentage (as of 11/20) is worthy of an All Star selection.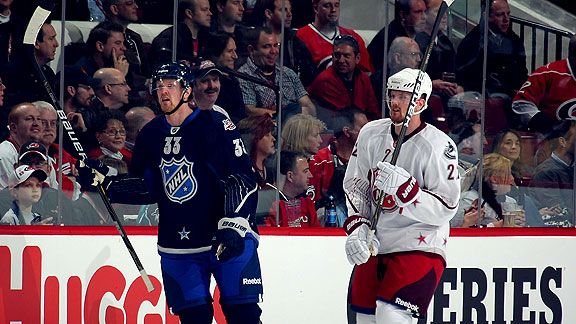 Pacific
Forwards:
Henrik Sedin (VAN)
Daniel Sedin (VAN)
Joe Pavelski (SJ)
Corey Perry (ANA)
Taylor Hall (EDM)
Johnny Gaudreau (CGY)
Defensemen:
Drew Doughty (LA)
Brent Burns (SJ)
Oliver Ekman Larsson (ARI)
Goalies:
Jonathan Quick (LA)
Martin Jones (SJ)
Honorable Mentions: Max Domi (ARZ), Sami Vatanen (ANA), Frederik Andersen (ANA)
-It's obviously a talented group, but I'd rank this bunch fourth out of four. The Pacific Division hasn't been great this year, simply put. I would put the three Swedes together (Sedin twins and Oliver Ekman Larsson) in one group. For the remaining units, I've been trying to keep together teammates and country mates, but I'm going to break up Sharks Joe Pavelski and Brent Burns. I'd have Pavelski play with Perry (who gets in because Anaheim needs representation) and Drew Doughty (the California unit), and put young guns Hall and Gaudreau together with the burly Burns. The Los Angeles Kings' goalie tandem from last season would be the netminders for this squad. Both have earned it, but there's not much competition from the rest of the backstops in the division right now.